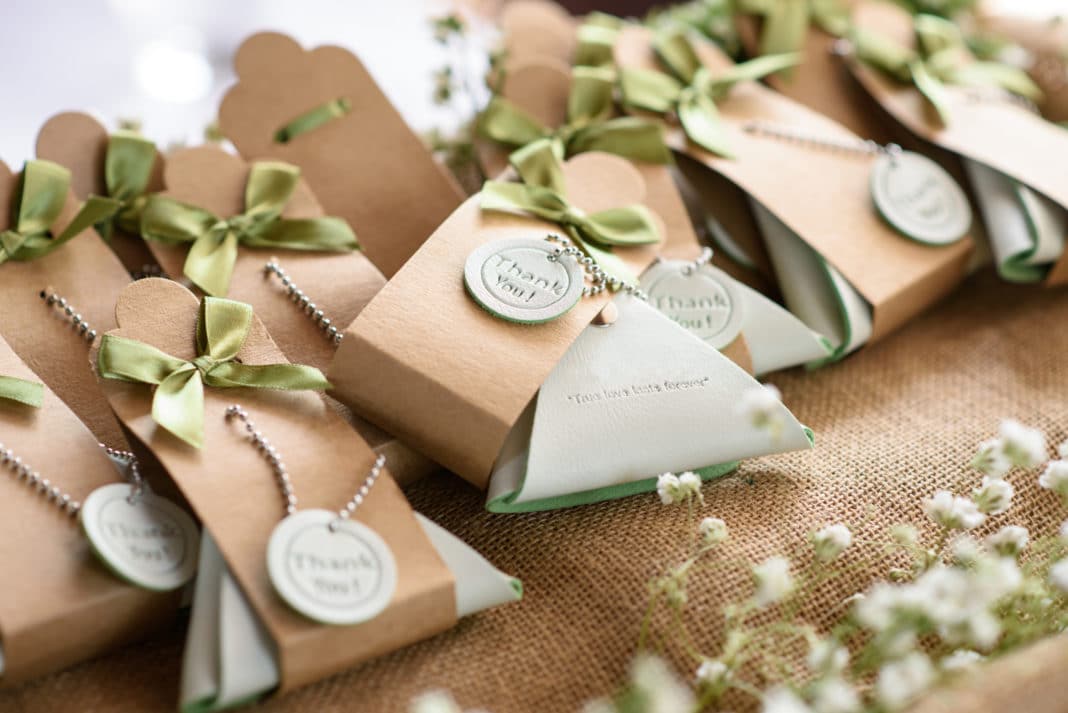 19 Cool Wedding Favors for Guests That Can Replace Candies
A wedding favor is a great way to show gratitude to guests for attending your wedding. Though these gifts are usually rather inexpensive, they help the memories of your wedding to stay with your guests long after your special day. Moreover, even the smallest present will show your care and appreciation of every guest who was at the ceremony.
Though candies still remain one of the most popular gifts, we offer you to have a look at 19 cool wedding favors for guests that can replace them and be not only beautiful but also useful.
Personalized Candles
Candles are present in almost any list of the best wedding favors for guests. Such gifts are rather compact and smell wonderful. Moreover, they are available in many designs, the most gorgeous of which are candles in jars, tins and cute boxes featuring the names of the newlyweds and their wedding date.
Personalized Tumblers
Tumblers are definitely among the party favors for wedding guests that can be used daily and will appeal to all. Your guests will recall your special day every time they have a drink.
Personalized Honey or Jam
In case you want to treat your guests with something sweet, mini jars with honey or jam will be a cute option. And don't forget to personalize the packages for your guests to remember where they took the sweets from.
Customized Bubbles
Bubbles are very creative wedding favors for guests and are perfect for young couples who want their wedding to be emotional and funny. Believe that not only kids love bubbles. You will be surprised but even your serious uncle may love that gift.
Personalized Matchboxes
Matchboxes are another variant of a practical present. However, make sure that the boxes look really nice and their color or pattern correspond your wedding theme and décor.
Custom Key Chains
Custom key chains may also serve as cool wedding favors. You can customize them with your names and wedding date or just opt for a cool design that you sure your wedding attendees will like.
Salt and Pepper Shakers
That's a very practical present that can also be really beautiful. We don't recommend opting for classic white sets but insist that you seek for something unique and really nice. For instance, the colors of salt and pepper shakers may coincide with your wedding colors.
Bottle Openers
We don't talk about classic bottle openers. You definitely need to seek for something creative to have unique wedding keepsakes. For instance, geode bottle openers look very interesting.
Creative Soap
Though soaps are rather widespread wedding guest take home gifts, handmade soaps of creative shapes packed in beautiful boxes will definitely please everyone.
Olive Trays
Actually, kitchen utensils are always a good idea. While plates, glasses and mugs are rather widespread options, olive trays are among very creative gifts.
Custom Bottle Stoppers
One more cool idea of unique wedding favors for guests is a bottle stopper. Wine lovers will surely appreciate such a gift that will help to keep their open bottle of wine fresh.
Playing Cards
This gift is rather specific, but even if your guests aren't fans of card games, they will keep the cards of unique design as a part of the memories of your wedding.
Monogram Wine Glasses
You won't surprise anyone with wine glasses unless they are unique. For instance, you can add the monogram décor to them and they will turn into amazing keepsakes.
Personalized Bottles
Personalized bottles are also among the most suitable wedding favor ideas for guests. You can order cool labels for mini bottles of water and wine and give them as presents to your guests.
Coasters
Coasters are rather cheap wedding favors for guests. They can be made of various materials, including wood and glass. However, don't forget to customize them so that they suit your wedding theme and décor.
Tea and Coffee Favors
Undoubtedly, wedding favors for guests can be tasty. A set of mini coffee or tea packs is a present that everyone will love. Moreover, if the packages have a unique design, it's especially cool.
Chocolate Bars
Who doesn't love chocolate? Chocolate bars in customized wraps are really great edible wedding favors for guests. All the sweet tooths will be excited to get such a present.
Measuring Spoons
Measuring spoons are one more practical idea of presents. Moreover, if they have a unique design, for instance in the form of hearts, that will be an extra bonus.
Cookies
Like candies, cookies are rather inexpensive wedding favors for guests along with being rather widespread. However, if the cookies have a cool design, they turn into a memorable gift.
So, we hope that you have got inspired by these cool wedding favors for guests and have already decided what suits your wedding more. No matter what you choose, a chocolate bar or kitchen utensils, the most important is to show that you are thankful to the guests for attending your nuptials.