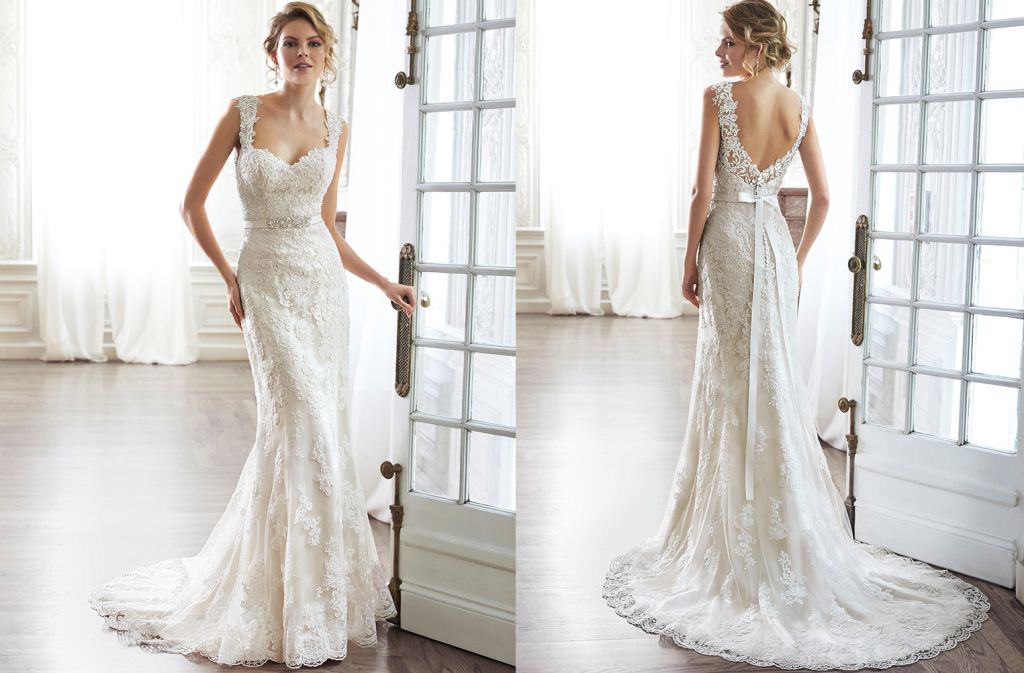 The Review of Pia Maggie Sottero Wedding Dress
If you dream about an astonishing designer wedding dress, but aren't ready to spend more than $5000 on your overall wedding look, pay attention to Maggie Sottero wedding dresses. They look fantastic and are rather affordable.
Let's have a look at the Pia Maggie Sottero wedding dress. What we like about it is that it's simple, classic and luxurious at the same time. That's why, we'd like to discuss it in more detail.
Who Will Like This Maggie Sottero Wedding Dress?
Bridal gowns by Maggie Sottero are known all over the world. They are available in a great number of possible designs and styles. Of course, tastes differ and some brides will fall in love with this dress while the others will find it rather ordinary. That's why, let's see whom the Pia wedding gown is suitable for.
Firstly, this gown is considered to be a sheath silhouette, but is often compared with A-line and fit-and-flare styles. That means that it suits a wider range of brides. It looks great at girls of any height. It will look amazing on petite brides, the ones with hourglass and apple-shaped figures as well as rectangle ones.
Secondly, it's one of those Maggie Sottero wedding gowns, which can be used for various types of ceremonies. We think that it's suitable to traditional as well as country and beach ceremonies.
Thirdly, if you seek for something elegant and feminine, this wedding dress Maggie Sottero is just the case. Though it's rather simple, the lace adds charm and festive mood to it.
Fourthly, if you have beautiful breast and back, this gown will make an accent on your merits as the dress features astonishing V-back and sweetheart neckline.
And finally, if you are a fan of lace, you will find many cool variants of wedding dresses Maggie Sottero. This one is just one cool example.
Description of Maggie Sottero Pia Gown
Here are the basic characteristics of the gown:
Silhouette: The dress is of the sheath silhouette, but is also referred as fit-and-flare. Also, its shape has some features of A-line dresses.
Style: It's a Maggie Sottero open back wedding dress with beautiful V-back. It features the sweetheart neckline and delicate cap sleeves. The waistline is decorated with a ribbon belt with beaded motif. Also, the gown has a beautiful train.
Materials: The wedding dress is fully covered with lace and features some embroidered elements.
Colors: The official site of the brand states that Pia model can be bought in ivory, ivory over light gold and white colors.
Sizes: The dress is available in 0-28 sizes.
Prices: In fact, Maggie Sottero wedding dress prices are rather affordable. The Pia model can be bought for $1000-1500. However, you can find the dress cheaper ($800-900)at some discount shops and sites. Also, you can buy a pre-owned dress.
Pros and Cons of Maggie Sottero Wedding Dress
Pros:
- In comparison with other designer dresses, the price of $1000 is rather affordable. But you can also get a similar wedding dress at more affordable price.
- Wedding gowns by Maggie Sottero are known around the world and so, you can boast that you are getting married in a wedding dress by a well-known brand.
- The dress is rather universal. It can be used for various types of weddings: from luxurious receptions to beach ceremonies in the presence of the closest friends.
- This Maggie Sottero lace wedding dress is suitable for brides with different types of bodies. Thus, it will look great at petite as well as tall brides. Also, both slim and plus size girls may wear it.
- The sweetheart neckline and cap sleeves will look good with small and big breast.
- The open back looks fantastic. It's the ideal variant for summer wedding ceremony.
- It's one of the examples of Maggie Sottero bridal gowns, which look extremely luxurious, but can be bought by people with medium income.
Cons:
- It's not suitable for everyone. For instance, it's not appropriate for pear-shaped girls and the ones with big breast. The first ones will make an accent on their hips while the latter ones will find it hard to support the breast in a dress, which feature the open back. However, there are some ways out.
- It can be a challenge to find this dress. As it is from one of the past collections, some retailers don't have it at their shops. That's why, you will need to order it beforehand or seek for some smaller retailers.
- Though the train looks fantastic, it may cause some inconveniences to you. There is no opportunity to attach it to the skirt beautifully and so, it will be constantly on the floor.
Alternatives to Maggie Sottero Dress
​
If you don't want to buy Maggie Sottero dresses, but want to have something similar, have a look at the following 3 alternatives.
Lace Wedding Dress with Illusion Back by Allure Bridals
Model 9206 by Allure Bridals has the similar sheath silhouette and is also covered with lace. However, it has a V-neck, which can stretch your silhouette and make you look taller. Also, the back isn't open, but is fully covered with thin lace. The price for it ranges between $1500-1999.
Morilee Mysteria Wedding Gown
Mori Lee 8180 model with V back, called Mysteria, is also fully covered with lace. It features a V neckline and a beautiful train. The gown is available not only in white and ivory, but also in nude color. The price range is between $1000-1499.
Mary's Bridal Lace Dress
Mary's Bridal model 6538 is the most affordable variant as it's sold for $750-999. The front is very similar to the Maggie Sottero Pia as it also features cap sleeves and sweetheart neckline. But the back is absolutely different. It's transparent and is decorated with lace. Moreover, the silhouette is something medium between sheath and mermaid.
So, Maggie Sottero gowns are known for their good quality and cool designs. The Pia model looks fantastic. It's classy and luxurious. Of course, it has both pluses and minuses and it's up to you to decide if it is right for you.