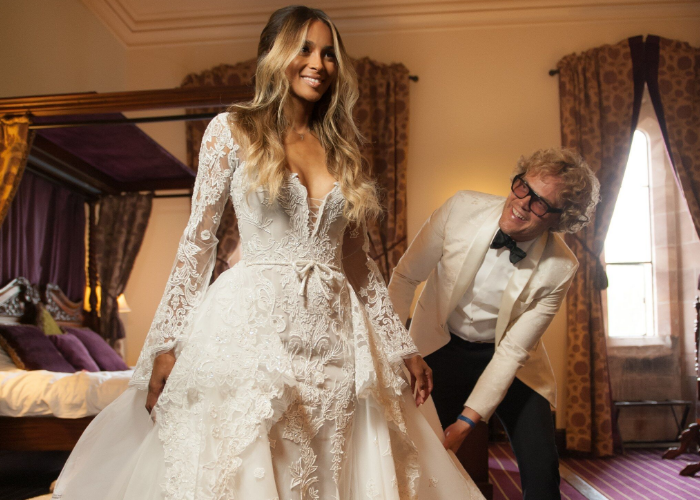 23 Best Celebrity Wedding Dresses Ever
Celebrities are always in the centre of attention. And when it becomes known that they are getting married, a real hunting for their wedding photos starts. One of the most important things is the bridal gown.
The celebrity wedding dresses are very different. Some brides decide to follow the traditions and wear classic full skirt dresses, while the others experiment not only with the silhouette but also with the color of the gown.
So, let's get some inspiration from famous brides and have a look at the best celebrity wedding dresses of all time.
Kate Middleton
Though the Duchess of Cambridge got married in 2011, her wedding gown is still much discussed and many girls around the world dream about it. It was designed by Sarah Burton for Alexander McQueen.
Pippa Middleton
The wedding gown of Pippa Middleton is also considered one of the celebrity best wedding dresses. The lace high-necked wedding gown by Giles Deacon looked no less luxurious than the Kate's one.
Nicky Hilton
The Nicky Hilton's dress by Valentino is one of the most luxurious celebrity wedding gowns. It was fully covered with lace and featured the incredible train.
Kate Moss
Kate Moss chose John Galliano as her wedding dress designer. The model's vintage gown was embroidered with gold sequins and decorated with beading and rhinestones.
Ciara
Ciara's wedding dress was designed by Peter Dundas, the creative director of Roberto Cavalli brand. The lace gown with sheer bell sleeves looked romantic and bohemian.
Chelsea Clinton
In truth, many wedding gowns of celebrities were designed by Vera Wang and Chelsea Clinton is one of them. The strapless gown with a multi-tiered skirt looked fantastic on the ex-president's daughter.
Ivanka Trump
The wedding gown of Ivanka Trump was inspired by the dress of Grace Kelly. The elegant lace dress with sleeves was designed by Vera Wang.
Gwen Stefani
It's hardly possible to forget the ombre white and pink gown of Gwen Stefani by John Galliano for Dior. It's often found in the ten best celebrity wedding dresses lists and is one of the most creative ones.
Amal Clooney
Amal Clooney's elegant gown, covered with Chantilly lace and decorated with beading and crystals, was designed by Oscar de la Renta. In 2014, this gown joined the list of the most beautiful celebrity wedding dresses and never left it.
Kim Kardashian
Kim Kardashian went to the aisle, wearing a Givenchy Haute Couture wedding gown by Riccardo Tisci. It was a lace mermaid wedding gown with beautiful cutouts.
Solange Knowles
Solange Knowles wasn't a traditional bride and that's why we think that her gown must be included into the best wedding dresses celebrity wedding list. The gown and cape were designed by Humberto Leon for Kenzo, but Solange also wore a pantsuit by Stephane Rolland.
Victoria Beckham
The satin princess-styled wedding gown of Victoria Beckham was created by Vera Wang. Victoria still has this gown in her closet as she wants to preserve it for her daughter Harper.
Princess Diana
The puff-sleeved, ruffled wedding dress of Princess Diana is unforgettable. It featured a 25-foot train and was decorated with lace, hand embroidery, sequins and pearls.
Grace Kelly
It's impossible to talk about the best celebrity wedding dresses and forget about Grace Kelly. The gown of the Princess of Monaco wasn't just beautiful; it became legendary and still inspires many wedding dress designers. It was created by Helen Rose of MGM.
Nikki Reed
If to talk about celebrity mermaid wedding dresses, we recollect Nikki Reed. The actress made a custom order for a wedding gown by Claire Pettibone. The bohemian-styled wedding dress featured an open back and illusion lace neckline.
Christina Ricci
Christina Ricci gave preference to a Givenchy wedding gown by Riccardo Tisci. It featured the beaded top with lace sleeves, cutouts at the shoulders and the silk tulle skirt with long train.
Katie Holmes
Katie Holmes wore an off-the shoulder wedding gown by Giorgio Armani in 2006, when she was getting married to Tom Cruise. The bridal look was complemented with a luxurious long veil.
Anne Hathaway
Anne Hathaway likes vintage celebrity wedding dresses and that's why, she opted for a Valentino gown with lace and embroidery and complimented it with a vintage headpiece and a long veil.
Salma Hayek
Salma Hayek's gown is one of the most luxurious celebrities wedding dresses. It was created by Nicolas Ghesquiere for Balenciaga. It had a full skirt and a beaded V-neckline bodice.
Sofia Vergara
In fact, celebrities in wedding dresses always look perfect. Sofia Vergara in her Zuhair Murad bridal gown looked both romantic and sexy. It was a silk-tulle wedding gown with hand-embroidered 3D embellishments and a detachable skirt.
Emmy Rossum
The off-the-shoulder celebrity wedding dress of Emmy Rossum was simple and elegant. Being designed by Carolina Herrera, it highlighted the beauty of the actress. Emmy also wore a long sheer veil, decorated with lace.
Eva Longoria
Remarkably, wedding dresses of celebrities can be designed by celebrities. Thus, Eva Longoria's wedding dress was created by her friend Victoria Beckham. The silk crepe mermaid wedding gown showed the beautiful body curves of the actress.
Dianna Agron
Dianna Agron proved that the bride doesn't necessarily need to wear white. Her nude-hued wedding gown by Valentino looked gorgeous thanks to beading and sequin embellishment.
So, you must have got inspired by these best celebrity wedding dresses. Want to have something similar for your wedding day? Nowadays, it's possible. There are many variants of similar wedding gowns by different brands and at different prices. Moreover, you always have an opportunity to make a custom order for the dress of your dream.