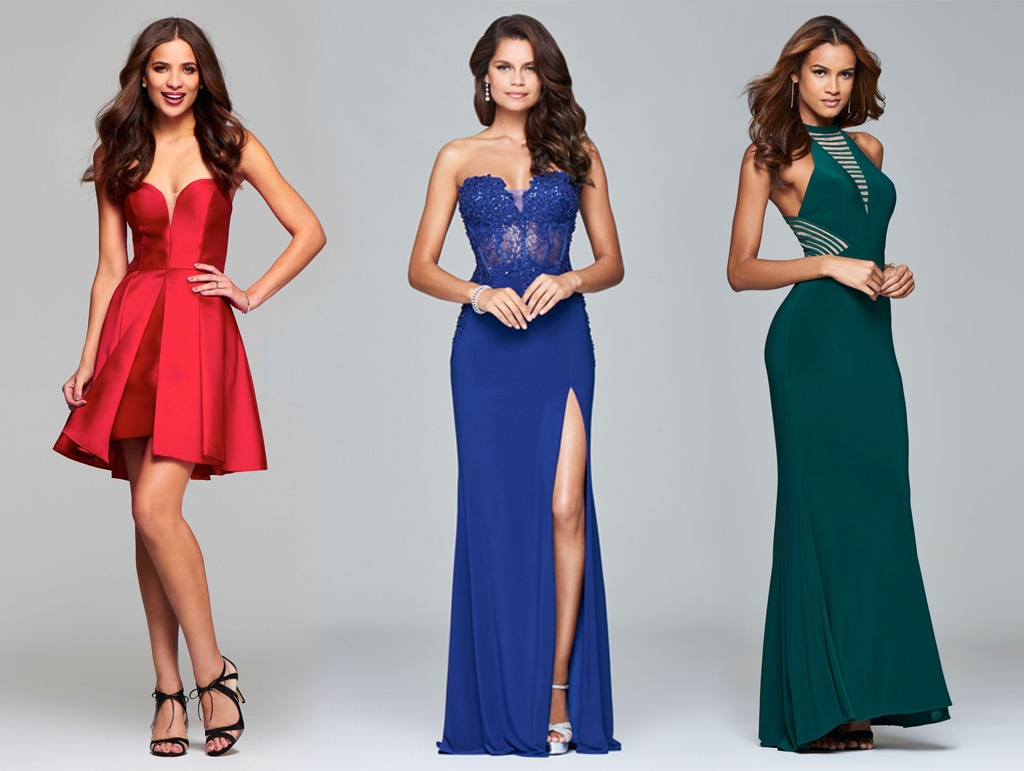 How to Save Money on Wedding Guest Dresses?
Have been invited to a wedding but have no desire to spend much money on your outfit? That's not a problem at all. Believe that you don't have to spend huge money in order to look great being a wedding guest.
In fact, there are dozens of ways of saving money on wedding guest dresses and, at the same time, look beautiful and stylish. So, let's discuss the possible variants of getting a nice dress at affordable price.
Rent a Dress
Dresses for wedding guests can be not only bought, but also rented. This is especially convenient if you are tight on a budget, but are invited to a black or white tie wedding, which demands women to wear evening dresses. Evening dresses may be very expensive. That's why, it's great if there is an opportunity to get the one much cheaper and return it after the wedding.
In truth, by renting a dress, you don't only solve the problem of spending much money, but also another one. It's possible that you need to visit several weddings a year and it's not good to come to every wedding, wearing the same dress. The renting services will help you to look different at all the weddings you need to visit without buying gowns
Also, even if you can afford buying a great number of dresses for a wedding guest and look different at each wedding you are invited to, you may face another problem. After several weddings, your wardrobe will be full of gowns, which you don't wear. If you rent a gown, you will avoid that.
And finally, it's possible to rent a gown from a famous designer or brand, which you can't afford buying. The prices for rent differ, but usually vary from 40% to 70% from the dress cost. In such a way, even the gowns of well-known brands, become more obtainable to ordinary people.
Enhance the Look with Accessories
Actually, you can visit several weddings in the same dress for a wedding guest, but look absolutely different. Accessories will help you in that. For instance, wearing the gown with different jewelry or adding a belt to it is one of the most widespread options.
Moreover, you can wear another pair of shoes and complement the look by some other pieces of clothes. A jacket is a good thing. Summer wedding dresses for guests may be worn with a jacket for an autumn or winter wedding.
But note: in order to create absolutely different looks using the same dress for wedding guest, this dress must be versatile. Don't choose ultra-fashionable gowns and the ones of complicated forms and bright colors. They attract much attention and that's why, your trick of wearing the same gown multiple times will be noticed.
The properly chosen accessories may help you in the other way. The ordinary dress can be turned into more festive with the help of accessories. The simple black knee-length dress, which you wear at the work, may be turned into something absolutely different. Wear it with a beautiful belt, necklace, earrings and bracelet and the wonders will happen just in a second.
Besides, there are some beautiful decorative collars, which are sold separately. If your dress allows wearing it, it will make the gown look absolutely different. In autumn and winter season, you may enhance the gown with a beautiful jacket and bolero as well as fur or faux-fur capes or coats.
Have Your Old Dress Tailored
You can give a new life to your old evening or bridesmaid dress. Believe that there are many ways of how every dress can be modified. Even the old evening dress can be turned into something beautiful and stylish. A long dress can be cut short or become a tea-length one. The dress with sleeves can be turned into sleeveless one. Moreover, you can change the size of the gown.
However, playing with dress length, sleeves and size aren't the only possible solutions. Almost each gown may be changed completely. You are free to change its silhouette and turn a fit-and-flare wedding guest dress into sheath one.
In addition, you may leave the dress as it is and enhance it with adornments. For instance, you can add lace applications, beading, rhinestones, sequins and some other decorations.
If you are good at sewing, you must have already imagined dozens of variants and are ready to start the creative process. But, if you are not, you, first of all, need to find a good tailor, who will help to bring your ideas into life.
Take into Account the Wedding Format
Before buying dresses wedding guest, you first need to find out the format of the wedding. Semi formal weddings as well as beach and daytime casual ones don't require wearing a luxurious evening dress. That's why, if the wedding is in one of these formats, you will definitely spend less on your outfit.
In fact, you can wear an ordinary beautiful dress, which you already have in your wardrobe. You can make it look more festive by adding some jewelry and accessories. For instance, the shoes and a clutch of the matching color as well as beautiful earrings and a necklace will make you look astonishing even in a casual little black dress.
Buy a Pre-Owned Dress
You must have heard that pre-owned wedding dresses are popular among modern brides. But there is also a possibility to acquire pre-owned wedding guest dresses. And believe, the choice is pretty large.
Almost all of us have some clothes on our wardrobe, which we don't wear. An evening dress is often in the lists of the clothes, which we use only once or twice. As some girls want to get rid of unnecessary things or just return some money from the purchase, they sell their gowns on Ebay or other places. If you surf on the net, there is a possibility that you will find the proper dress at a very good price. Moreover, by buying a pre-owned dress, you have a chance to get a cool designer dress at half the price.
Also, pre-owned gowns are sold not only by individuals but by companies as well. Some gowns, which have been rented, can be bought (if you don't like the idea of renting them). The prices are very affordable. But in this case, you need to look the dress very attentively in order not to buy the one with spots or holes.
Lend from a Friend
It's great to have many friends not only because you may have a lot of fun together but also because you can share the clothes and wedding guest dresses. If your friend has a beautiful gown, you may ask to lend it. And if you have several friends, you can lend the gowns to one another. That's very convenient.
Of course, it may happen that you wear the clothes of different sizes and it's impossible to lend a dress from a friend. But take into account that your friend may have another friend or colleague, who will be able to help you for free or for a reward.
Shop in the Sales and on the Net
That's not a secret that the majority of shops make clearance sales, including the ones where you can buy cocktail and evening dresses. It's really great to acquire an astonishing gown at a discounted price, especially if you are tight on a budget.
That's why, if you want to save some money on the wedding guest outfit, find out what shops have discounts at the moment and visit them. It's really possible to find something cool much cheaper than it used to be.
However, be careful. Sometimes, the discounted prices may be set for the gowns with some demerits. That's why, look through the dress very carefully before buying it.
While seeking for the places where to find wedding guest dresses, don't forget about online shops. It's a known fact that the majority of the items can be bought cheaper at online shops than at their brick-and-mortar analogues.
The main convenience of shopping online is that you see all the possible variants without leaving your home and don't spend weeks to visit a great number of shops. You can find the suitable dress within several hours. Moreover, if you aren't sure of what exact size you need, there are some companies, which can send you several variants and you are free to try them on at home and choose the one, which suits you.
But, of course, buying a wedding guest dress online may have some demerits. For instance, the gown may look a bit different in reality. It's normal that the companies choose the best photos of items in order to sell them, but sometimes they differ from reality considerably. Also, there is always a risk to become a victim of swindlers. That's why, buy only from reliable companies.
Choose the Shoes Which Go with Every Outfit
Actually, if you can't save on the dress, you can save on the shoes. By buying classic shoes, which may go with different dresses, you will make your life much easier. The boat shoes of black and nude colors are the most universal ones. They go with the dresses of any style and color. Moreover, they can be worn for any event, from business meeting to a black tie wedding. Some other neutral colors are also possible.
However, the boat shoes aren't the only variant. You can also buy high-heeled sandals of a neutral color, which can be worn for all the spring and summer events. The sandals and shoes of bright colors can be also worn. For instance, red shoes go well with red, white, beige, black, gray, navy and dark green dresses.
The same rule concerns other accessories. You can fail to save money on dresses for wedding guest, but save it on jewelry. We all know that the choice of jewelry is extremely large. That's why, you will have no problems in finding the necklaces, earrings and bracelets, which will go with any type of evening dresses. In such a way, you will have the ready set of accessories, which will complement your look whatever dress you wear.
So, it's up to you to decide what dresses to wear to a wedding as a guest and how much money you can spend on them. You see that it's really possible to look astonishing without spending huge sums of money on the outfit.