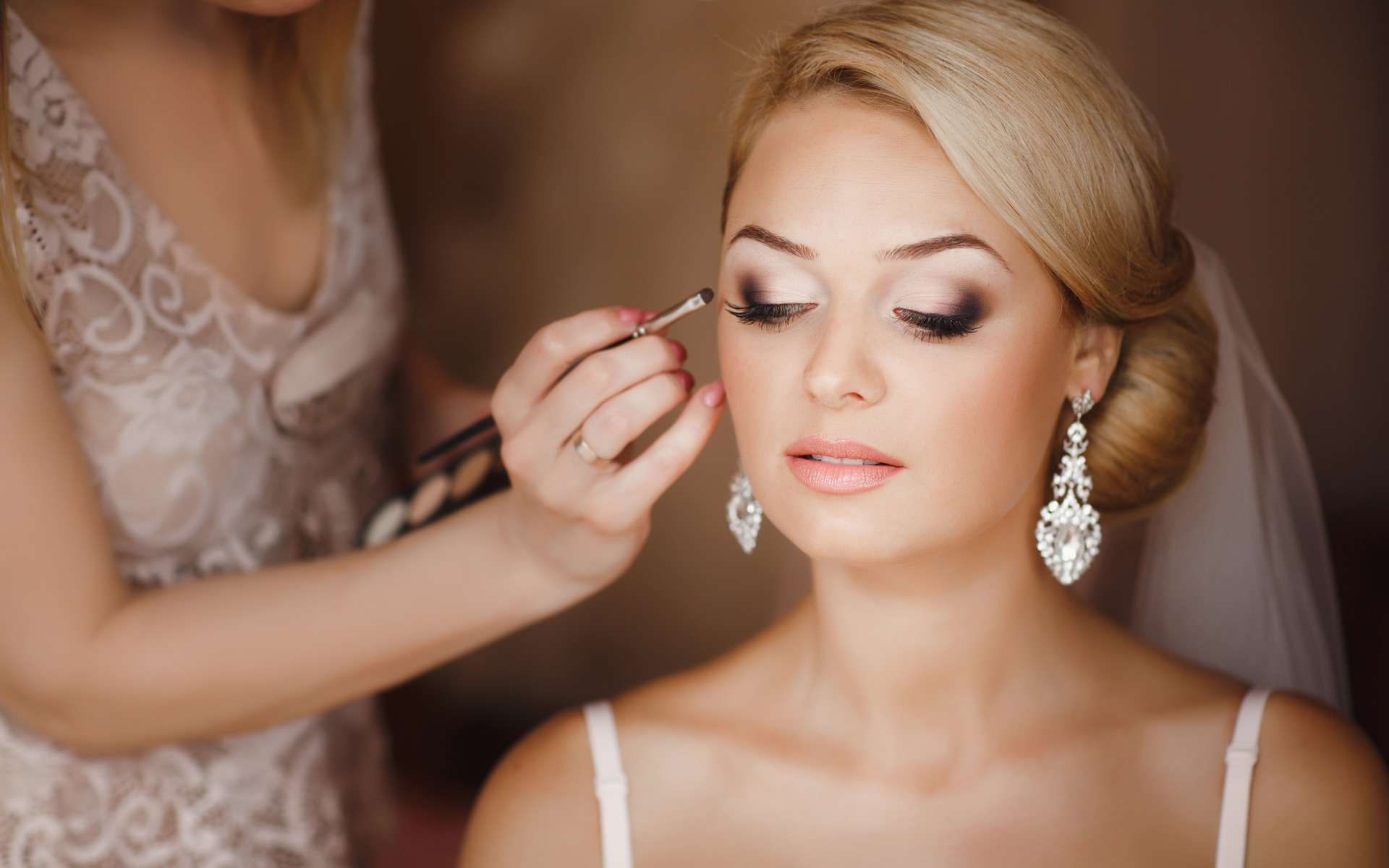 7 Most Important Bridal Makeup Tips
​
The bridal makeup and hairstyle aren't less important than the wedding gown. They help to complement the bride's look and highlight her natural beauty. However, while choosing the wedding makeup, many girls commit some mistakes. And we'd like you not to repeat them.
That's why, we've prepared some tips, which will help you to make the perfect wedding makeup. So, let's start.
Tip #1: Organize a Trial Run
Though some brides neglect this tip, it's highly recommended to schedule the bridal hair and makeup trial. It's important to choose the best wedding makeup products, which are suitable for you, and see what makeup and hair style are the most appropriate. Moreover, you need to get acquainted with the makeup artist and hairdresser beforehand.
Tip #2: Add Enough Color
Nowadays, natural bridal makeup is in trend. However, it doesn't mean that you must look pale. Your makeup needs to have enough color to compensate the white dress. Moreover, it must look different from your everyday look. For instance, the neutral lipsticks will look too blurred in the photos. Choose the lipstick of one or two tones brighter.
Tip #3: Get Glowy Skin
Clearly, wedding makeup looks must have some glowing, but not shining. Too luminous skin will make you look like a fairy, but it's not the best choice for the wedding. So, it's better to avoid products with glitter.
Tip #4: Don't Experiment
Of course, there are many cool bridal makeup ideas. But while making the wedding hair and makeup, don't make experiments like red lips or smoky eyes if you haven't done that before. Choose tones, you feel comfortable with. Of course, you must look more defined than usually, but you must retain your personality.
Tip #5: Use Individual Eyelashes
If you want to have false eyelashes, every wedding makeup artist will recommend you to choose the individual ones not strips. They look more natural and help to create the necessary length and thickness.
Tip #6: Skincare
Honestly, skin is the most important for the natural wedding makeup. That's why, you need to take care of it long before the wedding in order to make it look ideal. However, don't make any experiments with skin treatments and new beauty products.
Tip #7: Pack an Emergency Kit
As the wedding day is long, everything may happen. That's why you need to have some things at hand in order to fix the makeup for wedding if necessary. Among the key products are oil absorbing sheets, lip color, cotton swaps, translucent powder and lash glue.
Now, you know the main secrets of astonishing bridal makeup looks. Follow them and you will look ideally at your wedding day.