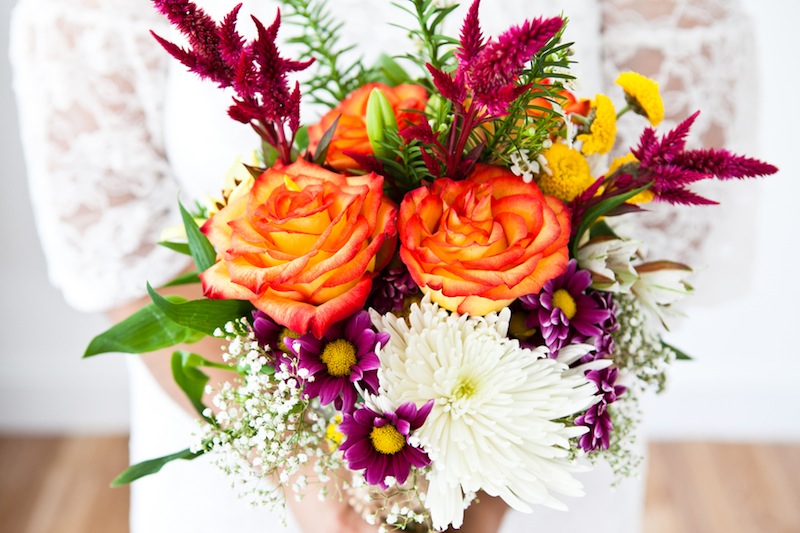 9 Cool Fall Wedding Bouquets Ideas
Seek for cool fall wedding bouquets? Can't decide what flowers and what colors are the best? We'd like to provide you with some inspiration. Here are 9 cute fall wedding bouquet ideas, which you will fall in love with.
Fall Wedding Bouquets with Purple
Purple color scheme is a frequent choice for autumn weddings. This fall hydrangea wedding bouquet in purple colors looks a bit mysterious, but is very cool.
Fall Wedding Bouquets with Sunflowers
Many of us lack sun in autumn. If you are afraid that the weather will be rainy or cloudy at your wedding day, add a couple of sunflowers to your bouquet in order to have some guaranteed "sun".
Bouquets with Anemones
If you want to use fall flowers for wedding bouquets, pay attention to anemones. They may look rather moody, but in combination with roses or other flowers in pastel colors, they look gorgeous and add an autumn mood to the bouquet.
Chrysanthemum Wedding Bouquets
Chrysanthemums are also autumn flowers. They look great alone as well as in compositions with other flowers, for instance, orchids, roses or peonies.
Dahlia Fall Wedding Bouquets
Dahlias are so great in combination with roses and chrysanthemums, especially if the bouquets are in creamy, peach and yellow colors.
Roses Fall Bouquets for Weddings
Though roses are classic for any season and type of wedding, you still can get a bouquet with roses in the fall theme. The roses of red, yellow, orange colors and their blends look like the coloring of tree leaves.
Orchids Bouquets
Usually, orchids don't look cool separately in a fall wedding bouquet. However, they can add some extravagance to the bouquets, which consist of other flowers like roses, dahlias and chrysanthemums.
Ranunculus Fall Bouquets
Ranunculus is also a great choice for the autumn wedding. They look very romantic and are ideal for rustic weddings in combination with seasonal flowers.
Bouquets with Leaves, Berries and Other Details
Clearly, a fall bridal bouquet may consist not only of flowers. Even the simple bouquet of roses or dahlias can become creative if some berries and autumn leaves are added. By the way, you can find astonishing bouquets on Bouquet Alternativi.