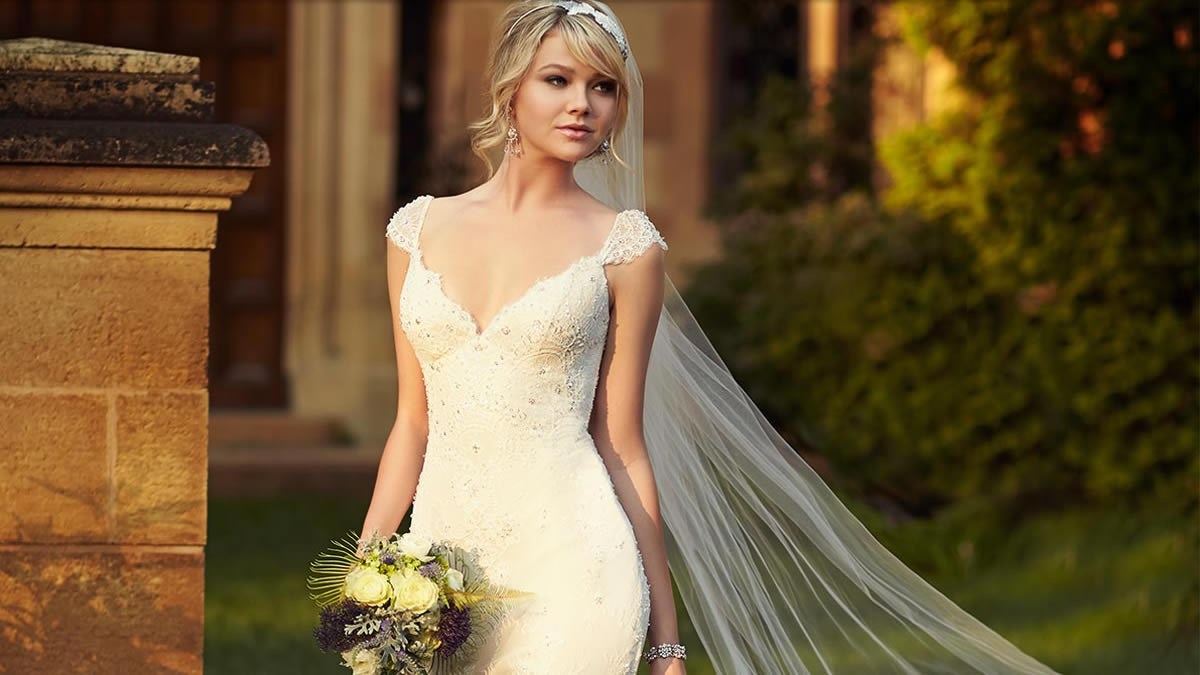 9 Ways of Getting Cheap Wedding Dresses
Seeking for the ways to save money on your wedding dress? This issue is actual for many brides as not everyone is ready to spend a fortune on the gown, which you will wear only once. In fact, there are many ways of how to get a dress at affordable price. Let's start and consider 9 ways of getting cheap wedding dresses.
Buy a Pre-Owned Wedding Dress
First of all, you can get wedding dresses for cheap if you seek for pre-owned gowns. Of course, the majority of us won't like the idea of wearing a second-hand dress, but the things are different with wedding gowns.
Brides wear their gowns only once for about 6-8 hours or even less. That's why, a dress, which was worn only for several hours, is usually flawless. By getting a pre-owned wedding dress, you get an almost new cheap bridal dress at half the price or even cheaper. Moreover, you have a chance to get a wedding dress by a well known brand, like Vera Wang or InesDiSanto, at a very good price.
There are two basic ways of getting pre-owned wedding dresses. You can look for them in the local online classifieds, at secondhand or consignment shops. However, the largest choice is online. There are some sites, which are dedicated to selling and buying pre-owned dresses. Among the most popular are PreOwnedWeddingDresses, OnceWed, Still White, Tradesy and Nearly Newlywed.
Here are some tips on buying a pre-owned wedding dress:
- When you buy the wedding gown online, read all the details carefully. Make sure that the dress has been cleaned and properly stored. Also, find out if the dress has some flaws.
- In order to understand what silhouette and what color of the wedding dress is the best for you, you can try on the dresses at brick-and-mortar shops and later, seek for the similar variants on the sites, selling secondhand wedding dresses.
- Be ready that by acquiring the wedding gowns cheap, you will possibly need to do some tailoring. Rarely, the dress fits ideally. The prices for dress alterations differ. If it's something simple like changing the dress length or taking in sides, you will likely to pay $50-150. Note that the wedding dress alterations cost more than typical tailoring.
- It's extremely important to be very careful while buying a pre-owned wedding dress on the net. Choose a reputable website, which will protect your shopping from scammers. It's great if there is an opportunity to pay for the purchase after you receive and examine the dress (for instance, Escrow.com services).
Rent a Wedding Gown
If you fail to find your dream dress among cheap wedding gowns for sale, think about saving money by renting and not buying the dress. The dress rental services are pretty popular nowadays and that's why, you can seek for the opportunity of renting the gown you like. You can ask about such a possibility at your local wedding boutiques.
Also, there are some online rental services. For instance, such sites as Rent the Runway and Vow to be Chic offer wedding dresses for rent from $85. The terms can be different. As a rule, you pay for the period you want to keep the dress for (like a three-day rental). The dress is sent to you and you send it back in the prepaid box after your wedding.
Some sites may also agree to send you a couple of dresses so that you can choose what the most proper one is. It's very convenient for cheap plus size wedding dresses as it's harder to choose the wedding dress for the girls with plump forms.
The main pluses of renting a wedding dress are that you save money and don't have to worry about the dress cleaning and storing.
Borrow a Dress
You have an opportunity not to get wedding dresses cheap but absolutely for free. If you have a friend, acquaintance or family member, who wears the clothes of the same size with you, and she has already celebrated her wedding, ask about the possibility of borrowing the gown.
Of course, some girls may refuse as the dress may have a special meaning for them and they simply don't want anyone else wearing it. If your friend agrees, try on the dress and make sure it suits you. If it needs some alterations or cleaning, ask your friend if it's possible to do that.
Shop Off-Season
As the majority of weddings take place in spring and summer, this time is considered to be the wedding season. Thus, cheap wedding gowns can be bought if you simply shop in the low season. As wedding boutiques need more space for showing their new collections, they need to prepare some room for them. If you are lucky, you may even get the dress of your dreams at one of the off-season sales.
For example, sleeveless, strapless and open-back wedding gowns are more suitable for the warm months. So, if you shop for them in autumn or winter, you can get them with a huge discount. If you are getting married in autumn or winter, you may complement such a gown with a bolero or fur/faux fur cape in order not to get cold.
Moreover, even if you plan a summer wedding, you can buy a dress beforehand in order to get it cheap. If you know exactly what you want, start the search beforehand and there will be higher chances to get your perfect gown cheaper.
Seek for Wedding Outlets and Big Sales
However, you can find cheap wedding dresses for sale not in the off-season time. Some discounts are possible even in the wedding season. If you have enough time, you can monitor the wedding boutiques of your city in order to know when the discounts are possible. Sometimes, the discounts can be made for the dresses with some defects. That's why, before paying for the gown, make sure that it's in proper condition.
Also, there are some wedding outlets, where you also have a chance to buy a cheap wedding gown. They may have the dresses of a certain brand or different ones. Though the dresses are from the past collections, we are sure that you will find a cool wedding gown.
Buy Cheap Wedding Dresses Online
Clearly, everything is cheaper on the net and wedding dresses aren't an exception. If you surf of the net, you will surely find the proper gown for your wedding at a better price than at your local wedding boutique. Of course, by ordering the dress online, you risk. That's why, you need to prepare for such a purchase.
Firstly, you need to make the measurements and define your wedding dress size. It's possible that it will be bigger or smaller than the one of your daily clothes. It's great if the site you are going to buy the dress at has a size chart. Secondly, you need to look through the photos attentively and read the description in order to make sure that the gown is suitable.
Also, buy only from a reputable site. As there are many scammers on the net, read the reviews of the online shop before you send the money to them. If you aren't sure that the size will suit you, ask about the possibility to exchange or return the wedding dress.
Good news: there are some sites, which don't only sell cheap wedding dresses but are also ready to send several dresses for you to choose the one, which fits the best, and return the rest to them. In addition, there are some sites, which sell cheap wedding dresses under 100 dollars.
Choose a Simple Wedding Dress
Seeking for cheap ball gown wedding dresses, you will hardly find too many suitable dresses. The thing is that such gowns cost pretty much because of the hard professional work and big material consumption. Also, cheap lace wedding dresses or the ones with beading are also rare. But you may find some variants from past collections or pre-owned gowns.
The solution is to seek for something simpler. The embellishments add much money to the general cost of the dress. So, by seeking for the fuss-free and minimalist gowns, you can really save much money.
First of all, you can seek for wedding gowns of traditional silhouettes. The ones, which are made of one fabric, like satin or taffeta, cost less than the ones, featuring multiple fabrics within a single item. Also, lace, rhinestones, beading and embroidery adds much cost to the dress. That's why, opt for the dresses with minimal embellishments.
Or, a simple wedding gown can be just a white or ivory evening or cocktail dress. Their cost is usually cheaper than the one of wedding gowns.
However, don't think that by buying a simple and cheap bridal dress, you will look too ordinary. Accessories are very important. They can make even a simple dress look absolutely different. For instance, think about jewelry. The large earrings, a cuff bracelet or a beautiful necklace will add the shining, which the dress lacks.
Another way of making cheap wedding dresses look more luxurious is to wear it with a lace bolero or add a waistband to it. There are many cool designs of waistbands, which can help to make your bridal look more complete. For instance, choose the one with rhinestones to add sparkling to the dress.
In addition, think about other wedding accessories. Thus, an extremely beautiful bouquet, a veil or any other headpiece as well as shoes play a very important role at weddings of any type.
Opt for a Non-Traditional Wedding Dress
If you are tight on a budget, think about organizing a non-traditional wedding and choosing a non-traditional bridal gown for it. For example, you can find many beach wedding dresses cheap. So, if you have an opportunity to organize a small beach party, you won't have to spend much on the gown. Or, you can organize a vintage wedding and seek for the proper gown at thrift shops.
Also, you can seek for the proper gown not at wedding boutiques but at the shops, which sell evening and cocktail dresses. Or, you can choose a wedding gown of a non-traditional length like mini, knee- or tea-length one.
Order a Custom-Made Wedding Dress
When we hear about custom-made wedding gowns, the majority of us think that it's very expensive. However, the prices may be different. If you order a dress at a wedding boutique or ask a famous wedding designer to sew a dress for you, you will pay pretty much.
But, by asking your local seamstress to create it, you may get rather a cheap wedding dress. In such a way, you pay only for the seamstress' work and materials and save money by not paying the markup between manufacturer and retailer. Moreover, the dress will be sewn, taking into account all your body peculiarities and will fit you perfectly. That's why, it's one of the best ways to get cheap plus size wedding gowns.
While choosing the dressmaker, give preference to the professionals, who already sewed wedding gowns and are able to show the photos of their works. As many dressmakers advertize their services on the net, you may also seek for reviews and testimonials from customers.
One more important thing about ordering a custom-made wedding dress: before making the order, ask about the turnaround time for your dress. Depending on the style and embellishments you choose, the wedding dress creation may take up from a couple of weeks to several months.
So, you see that it's not necessary to spend much money on the wedding gowns. These ways of saving money and get cheap wedding dresses really work and help many brides, who are on a tight budget.