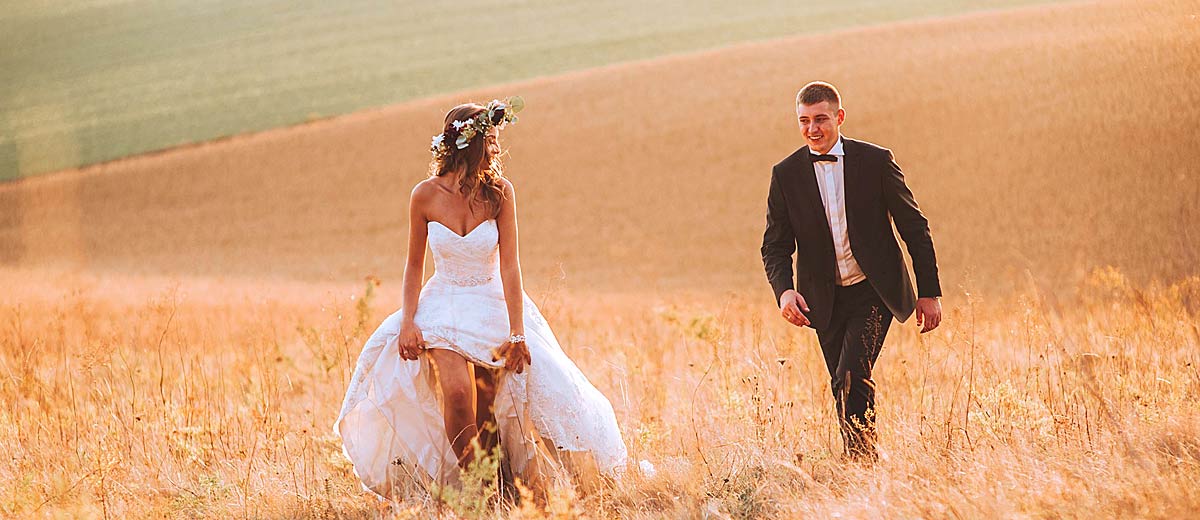 The Tips on Choosing Country Wedding Dresses
Do you dream about a simple but incredibly tender wedding? Then, think about the one in country style. Such weddings are very popular at the moment and are especially good if you plan to get married in spring or summer. In such a way, the nature will be one of the main decorations of your wedding day and will help to create the incredible atmosphere without much effort.
Country wedding dresses are known for their simplicity and lightness. They make the look of the bride romantic and tender. As such a format of wedding is close to nature, you don't need many accessories and posh decorations. You just need to keep the image simple but chic.
So, let's see what the peculiarities of a country-styled wedding are and how to choose a dress for the rustic ceremony.
Peculiarities of Country-Styled Weddings
First of all, country weddings stand out from the rest of other types of ceremonies by the location. Such weddings are held close to nature, in rural areas. It can be a place near lake or river, somewhere in the field or forest. It can be any other picturesque place, for instance a botanical garden or park.
Secondly, as rustic style presupposes the union with the nature, the wedding decor must be of natural materials. Thus, the tables and chairs must be made of wood. It looks cool if they are painted white. The textiles for the tablecloth and chair decor must be rather simple and of light colors.
Thirdly, country weddings may feature many DIY details. It's rather common to create unique decorations for weddings and this style makes it possible for every bride as the decorations are rather simple. There are dozens of various projects, which tell how to make amazing rustic-styled decorations.
The abundance of flowers is also a good idea, especially the field ones. They can decorate the wedding arch, tables and just be placed on the floor. Moreover, flowers can be used not only for the decor and the bride's bouquet but also as hair accessories for the bride and bridesmaids.
How to Choose Country Style Wedding Dresses
So, if you plan to organize a rustic wedding, you need to choose your dream gown from all the variety of country theme wedding dresses. It's not a secret that while preparing for a thematic wedding, the bride's dress is much more important that the groom's tuxedo. There are many variants of such wedding dresses from more classic to absolutely creative variants.
When watching western movies, you must have noticed that the ladies wear corset dresses. Though it's not obligatory to choose a corset dress for your wedding day, it may add a special chic to your style. The modern corsets aren't so hard and are almost invisible. The main plus of a corset dress is that it can highlight all the merits of your body and make the waist look slimmer.
In fact, a country wedding dress is, first of all, associated with light and flowing materials and minimalistic decor. Though such dresses may look rather simple, they make the bride look feminine and elegant. The empire waist and sheath shapes are the best option for country wedding dresses. The gowns with fluffy skirts and princess silhouettes aren't suitable for rustic weddings.
Most of all, the rustic wedding dresses are made of natural materials as they make the bride closer to the nature. However, other kinds of textiles can be also used. In the majority of cases, the cloth is light, flowing and simple. The lace can serve as decoration for a country dress, but give preference to simple laces without additional decor like rhinestones or sequins.
Very often, the bride's gown as well as country wedding bridesmaid dresses is decorated by ruches. They look very feminine and allow not to think about additional decor of the dress. For instance, it can be a dress with open shoulders and a huge ruche along the shoulder line.
Fringe is an ideal decoration for rustic country wedding dresses. It adds a note of authenticity to any type of clothes. Fringe may decorate the waistline, sleeves, the hem. However, the plus size brides must be careful with it and add just some elements. The dress, which is fully covered with fringe, may add extra centimeters.
Admittedly, nothing is so associated with country and western as denim. The wedding dress made of denim is a very creative variant and you must be ready that not all guests may understand that. The gown can be fully made of denim or feature only some denim elements.
The length of the country wedding dress can be different, from traditional long to daring mini. The same refers the color. Though the white and its shades are the best option, the pastel colors may serve as a cute alternative for the brides, who don't want to follow the traditions.
Moreover, don't underestimate the role of accessories for a rustic wedding. The wedding dress can be complemented by accessories in the Native American style, frenzies, beads as well as wooden earrings, bracelets and a necklace. Also, the dress can be decorated by a leather belt. Country wedding dresses with cowboy boots look fantastic and add more style to the bride's outfit.
It's better to leave the hair loose or make a simple hairstyle, for instance, you can just add some curls and that's it. The veils aren't obligatory for such a format of weddings. Instead, you can decorate the hair with flowers or a flower wreath.
7 Astonishing Ideas of Country Wedding Dresses
Now, when you know the peculiarities of rustic weddings and country-themed wedding dresses, it's time to consider more exact variants. Here are 7 marvelous examples of wedding dresses, which are suitable for rustic weddings.
Country Chic Wedding Dresses
Though, we state that luxurious dresses aren't suitable for country weddings, the bohemian ones are an exception. Unlike other kinds of dresses with beads, rhinestones and other sparkling elements, this type of wedding gowns looks chic, but, at the same time, is rather simple.
The bohemian country themed wedding dresses are the perfect variant if you like light dresses, made of flowing fabric, but which feature some chic elements. In fact, such dresses look very stylish and are great for both traditional and rustic weddings.
Lace Country Wedding Dresses
Country lace wedding dresses are loved by many brides. Even the girls, who prefer modest gowns, often can't stand the desire to acquire a dress with lace. It's not necessary that the dress is fully covered with lace. For example, it may have a lace top or lace sleeves.
However, be careful by choosing the dress with lace. Not every type of lace looks good at a country-styled dress. It must be more natural and don't have too many additional accessories, like beads or sequins. If you don't like simple laces, you can seek for the gown with 3d lace. Also, macramé elements are cool for country dresses.
Country Vintage Wedding Dresses
Vintage dresses are well-combined with weddings in rustic style as they also frequently feature a few decorations and are made of simple fabrics. The dresses from various epochs can be used, from the times of Wild West to the dresses of 1980s. The vintage dresses can be of various lengths and colors.
The choice of vintage dresses is pretty large as, at the moment, this direction is rather popular and many designers create retro-inspired collections. In addition, you may seek for a dress at vintage shops. Sometimes, not only unique but really cool things can be found there.
Country Western Wedding Dresses
The western dresses are, first of all, associated with corsets. However, it's not necessary to wear them as there are many other solutions. For instance, you can put on a dress from simple fabrics and complement it by leather accessories. Or, instead of a dress, you can put on a tulle skirt and a checkered or denim shirt.
Also, country wedding dresses with boots look extremely cool. You can wear a long dress and open your footwear to make photos. However, it looks better if the dress is short so that the boots are constantly seen. Also, a dress, which is short in the front and long in the back, as well as the one with a cut on the leg are suitable.
Casual Country Wedding Dresses
It's rather a common practice to wear casual dresses for country weddings. Obviously, luxurious princess-like gowns aren't appropriate in this case. And while seeking for less fluffy and less luxurious gowns, some brides give preference to modest dresses of simple fabrics. However, even the simplest dress can look astonishing if suits you and if you choose the appropriate accessories.
The plump brides choose plus size country wedding dresses of rather simple shapes and with minimalistic decor. Abundant ruches and 3d lace can make girls of plus size look more massive and so, in this case, the simpler the better.
Denim Wedding Dresses
In fact, when we talk about cowboy and western style, many of us start to imagine denim clothes. And a wedding gown can be also made of denim. If you choose such a non-standard fabric for a wedding dress, you can create the more festive look by choosing a princess or a-line silhouette.
It's not obligatory to make the whole dress of denim. You can also add some denim elements to it, like a waistband or a jacket. The bridesmaids' dresses as well as country wedding flower girl dresses may be also adorned by denim details.
Short Country Wedding Dresses
As we have already told, the wedding dress in country style may be short. There are three basic variants, which suit such a type of weddings. First, it can be a fluffy short dress in baby doll silhouette. It can be cutely combined with boots. The second variant is an empire waist dress from chiffon or any other flowing cloths. And finally, it can be a short lace dress, which sits tight.
Also, the wedding dress can be short in the front and longer in the back. Such a dress is something medium between short and long and it's very convenient. One more idea is a tea-length dress. It looks very stylish and elegant.
All in all, wedding dresses country style are the best solution for the brides, who want to look romantic, feminine and tender. They allow to show your beauty without luxurious decorations, huge trains and fluffy skirts. Moreover, as a rule, such wedding gowns are rather comfortable and light and break all the prejudices about tight corsets and heavy skirts of wedding dresses.