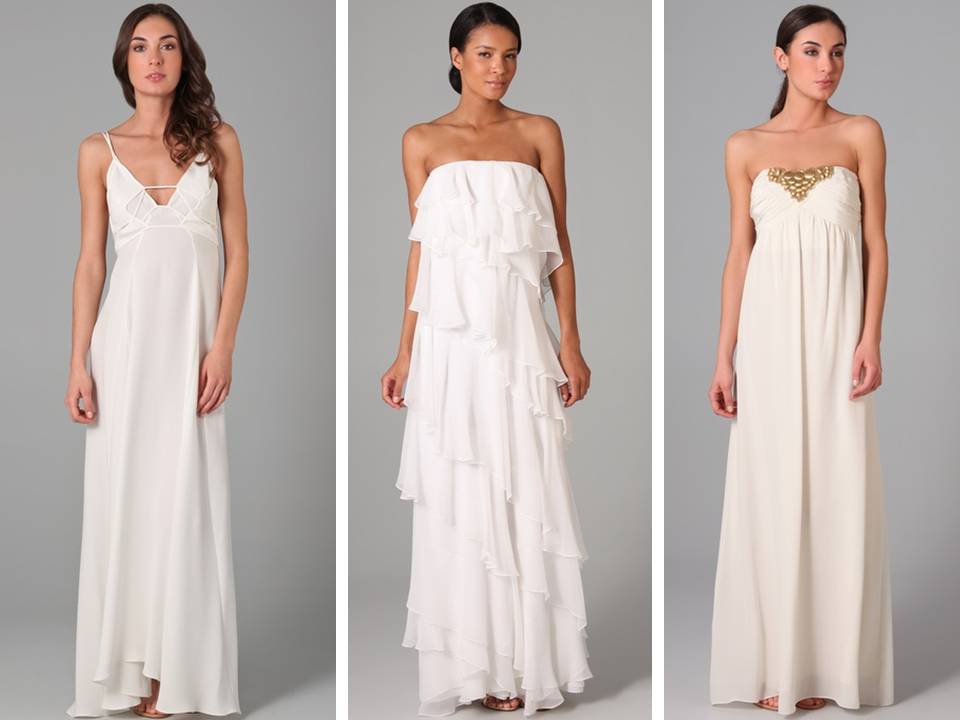 What Are Some Cool Informal Wedding Dress Ideas?
Thinking about having a modest wedding? Or you are tired of traditional wedding gowns? Informal wedding dresses are much simpler than traditional dresses, but they have a specific charm. A simple doesn't mean that the dress isn't beautiful. Believe, there is a great number of casual bridal gowns, which look amazing.
Today, we are going to discuss the reasons for the selection of an informal wedding dress and consider some amazing examples of such gowns.
Why to Choose an Informal Wedding Dress
Clearly, you may have various causes to wear a simple dress for your wedding. It can be just the matter of your personal taste, the casual wedding celebration or even the lack of money.
So, the main reasons to choose an informal wedding dress are:
- You want to highlight your natural beauty. Of course, traditional dresses look luxurious, but, in fact, they may distract the attention from the bride herself. The abundance of lace, rhinestones, beads and fluffy skirts isn't suitable for everyone. So, if you are a beautiful and self-confident girl, you will surely look brilliant even in casual informal wedding dresses.
- Simple dresses are convenient. You don't need to think about how to move properly and how to sit as casual wedding dresses are usually very comfortable. They are light and don't cause any difficulties in moving and treating them.
- You are getting married not for the first time. If you have already had a luxurious wedding dress, it's most likely that you will want something simple if you are getting married for the second or third time.
- Older brides prefer simple informal wedding dresses. When women are getting married at 40 or 50, they may look a bit weird in traditional gowns. That's why, it's better to choose something simple and elegant.
- You have a modest wedding. If you don't plan to have a reception for a great number of guests and just want to celebrate this event with your family, you can definitely save money on the dress.
- You have a country or beach wedding. Such wedding styles don't require that a bride is dressed into something luxurious. Vice versa, here, the simpler the better. When you celebrate the wedding close to nature, the dress must be, first of all, comfortable and suitable for the place you have the wedding at.
- You are tight on a budget. It's obvious that a simple gown will cost less than the traditional one. That's why, if you want to save money, choose the more modest variant of a wedding outfit.
Now, let's consider the ideas of cool informal wedding dresses.
Lace Informal Wedding Dresses
Frankly, an informal dress isn't always made of simple fabrics. For instance, it can be covered with lace. The lace doesn't always mean expensive. There are many variants of lace, which can be bought at affordable prices. So, if you are a fan of lace, you can definitely seek for a dress covered with it. The silhouette is usually rather simple, like a sheath or empire waist.
The wedding gown may have some lace elements. It can be rather simple in both look and texture, but the lace will make it look more gorgeous. Very often, the brides choose dresses with lace bodice or sleeves. The dress on the image below is a cool example of how lace elements add charm to the simple gown.
Also, the informal dress can be decorated with lace applications. As a rule, it's the best choice if you want to have some lace on the dress, but want to save money. However, there are expensive applications as well. But you can add just a couple of them to make the dress design more interesting.
Greek Style Wedding Dresses
Believe it or not, but simple Greek styled wedding dresses are among the most popular variants for informal weddings. They are great for beach and country weddings as well for receptions with the small amount of guests. Many of them can be even used as evening dresses later.
It's not a secret that Greek wedding dresses are made of light flowing materials, for instance, chiffon. The skirts at all dresses of this type are almost similar. They are plain and flowing. All the accents are made on the upper part of the gown. The tops look cool with V-neckline, which is traditional for Greek dresses. We also like the one-shoulder Greek styled dresses. But all other neckline types are used as well. Such gowns rarely have sleeves, but some variants are possible.
Greek style is also a good choice for informal wedding dresses plus size. Such a silhouette may help to highlight the beautiful breast and shoulders. It makes an accent at the femininity of the bride's body. At the same time, it helps to hide all the demerits. In addition, light flowing fabrics make the bride look airy and pull the silhouette.
Beach Informal Wedding Dresses
First of all, informal beach wedding dresses are associated with lightness and airiness. They are usually flowing and simple. The Greek style dresses are suitable for beach weddings, but aren't the only solution. The empire waist dresses with chiffon or silk skirts are similar, but have much more designs. The long sheath dresses are also suitable.
A cool idea, which is very trendy now, is to have a wedding gown, which consists of a short crop top and a skirt. In such a way, some part of your belly will be seen and you will look very sexy. It's very beautiful when the top is made of lace, but it can be sewed from any kind of fabrics. The skirt can be flowing, it may be of a trumpet silhouette or, even, a fluffy tulle one can be used.
The format of the beach wedding allows wearing short dresses. Their main plus is that their hem remains clean after the ceremony. The long dresses are usually spoilt. Moreover, high low dresses are a good choice. They look more festive than the short ones, but, at the same time, are more convenient than the long gowns.
Informal Plus Size Wedding Dresses
It can be rather a challenge to choose plus size informal wedding dresses. Here, the most important is to highlight the merits and hide the demerits. If you have a plump but proportional body, you surely can show that with a dress, which sits tight on your body.
Very often, plump girls have beautiful shoulders and the breast line. If you are one of them, highlight that with a dress with open shoulders or a deep decollete. For instance, it can be an empire waist dress like on the image above. Though it has both a decollete and open shoulders, it doesn't look vulgar because the rest of the body is hidden.
In addition, plus size wedding dresses informal may be short. However, only the girls with ideal slim legs can afford wearing mini. A knee-length dress is more universal and, in our opinion, is more suitable for a wedding, even if it's informal.
Informal Wedding Dresses Tea Length
Tea length dresses are very stylish. Such a dress looks less formal than a traditional wedding gown, but it can be used for a big wedding as well. The informal wedding dresses of tea length can have a fluffy skirt. In such a case, a dress almost doesn't have any decorations as the accent is made on the silhouette.
You can select a sheath tea length dress. However, it's better to have this one in traditional white color. The dress can be covered with lace or be fully made of a beautiful but simple clothes like on the image below. You see that the dress looks fantastic, though both the silhouette and fabrics are simple. However, such a gown looks great only at slim girls and the ones with beautiful body curves.
The empire waist tea length dresses are also amazing. It's beautiful if the bodice is made of lace and the skirt is simpler. The skirt can be made of silk, chiffon or even tulle (though the flowing one). And, of course, the gown can be fully covered with lace.
Informal Short Wedding Dresses
In general, many brides choose short dresses for informal weddings. They are very convenient and are available in cool designs. In fact, we consider that every short dress is already informal as it's far away from the traditional wedding gowns.
The short gowns look amazing in a baby doll silhouette. This silhouette features a fluffy skirt and a tight bodice. Such dresses look great on petite and slim brides. However, the skirt doesn't necessarily need to be very fluffy. The one on the image below is of medium fluffiness and also looks amazing. Its plus is that it suits a wider range of body types.
And, of course, the empire waist dresses and the sheath ones can be short. However, we recommend to choose the knee length as it's closer to an evening dress while too short dresses of these styles may look too simple.
Informal Wedding Dresses for Older Brides
Clearly, older brides usually prefer simple and modest wedding dresses. They are usually of a sheath or empire waist silhouette and are often in non-standard colors. The short and knee length gowns are also popular.
Many girls, who are getting married for the second or third time, prefer pantsuits. Before, the choice of wedding pantsuits was rather limited. But now, almost each wedding dresses brand produces them. Moreover, it's not necessarily a jacket and trousers. It can be a top or corset as well as a blouse. The designs of trousers also differ, from skinny to culottes. There are even pantsuits with trains.
An alternative variant to a suit is a jumpsuit. There are so many cool variants for sale that not even older but also young brides may find something amazing for them.
Colorful Informal Wedding Dresses
Perhaps unsurprisingly, we include colorful dresses to our list. We all know that white and ivory informal wedding dresses aren't the only possible solution. Of course, many of us may think that if the dress is informal in its shape, at least, the color must be traditional. There is much sense in this opinion, but it doesn't mean that everyone should follow it.
If you make up your mind to have a wedding dress of a non-traditional color, we recommend to choose among pastel colors. For instance, the popular blush color is amazing for a wedding dress. You can also seek for pink, light blue, mint or lilac gowns.
The craziest brides choose bright colors. The wedding dress in red or purple is unforgettable. Also, a white and black wedding dress is a cool idea. It's a mix of traditions and creativeness.
We hope that we have managed to prove that informal wedding dresses can be also beautiful. Moreover, their choice is extremely large as you may find them not only at wedding salons but also at ordinary stores and the ones, which sell evening and cocktail dresses.