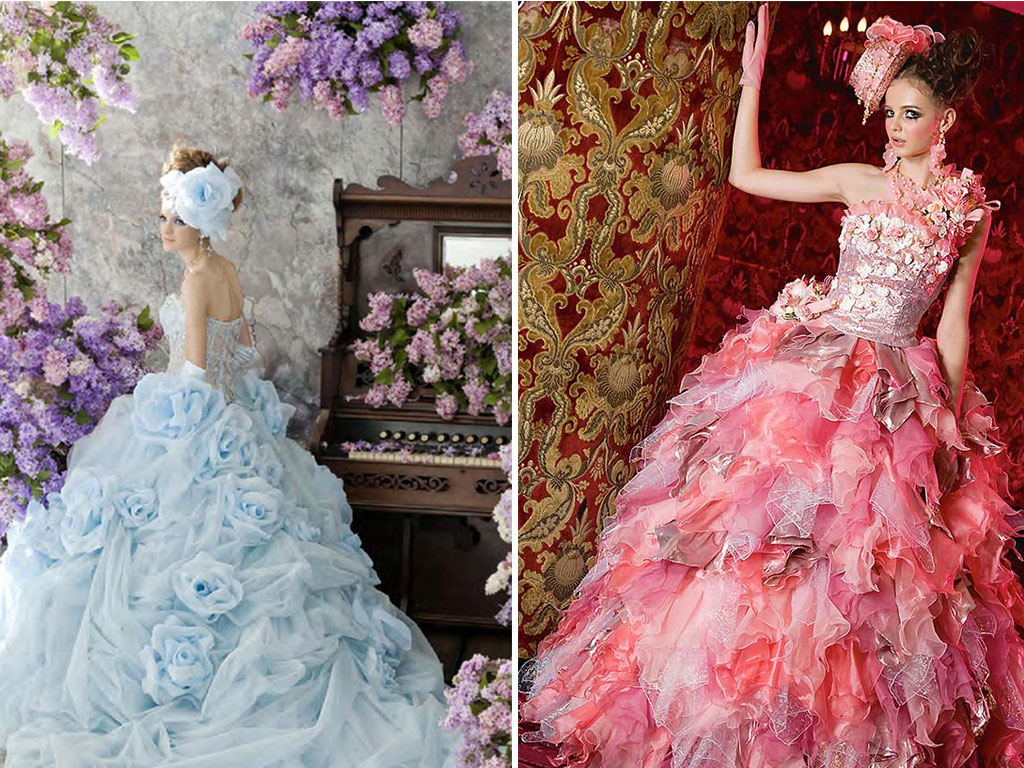 What are the Best Alternative Wedding Dresses?
Are you sick and tired of traditional wedding gowns and look for something more unique? You aren't alone in this aspiration. In fact, today many brides don't limit themselves with the choice of traditional white dress and seek for something original in order to create an unforgettable image for their special day.
The wedding dress doesn't only need to be beautiful and sit well, but it must also show the personality of the bride. If you feel that the traditional gown isn't for you, don't be afraid to choose the alternative version, in which you will feel comfortable. Moreover, by choosing the dress of a non-standard color or model, you will also impress the wedding guests by your creative look and they will remember your wedding for a long time.
So let's begin and consider the most amazing ideas of alternative wedding dresses, which will be great substitutions to traditional wedding gowns.
Short Wedding Dresses
When we talk about non-traditional wedding dresses, many of us start to think about short dresses. In fact, such models become more and more popular and have many pluses.
First of all, a short dress is convenient. Only a few of us wear long dresses and skirts in everyday life and while wearing the one for your wedding day, you may feel uncomfortable in it. The short dress makes the life easier as it doesn't demand any special skills in treating it. In such a way, your legs feel free and don't flounder in various tiers of the long dress.
As a traditional wedding dresses alternative, a short dress may show off your beautiful legs. If you are a daring bride, who wants to look hot and sexy, choose a mini. If you seek for more moderate variants, give preference to the knee-length gowns. The skirts can be both narrow and fluffy.
Also, pay attention to the tea-length wedding dresses. They look very stylish. They are more convenient than the long ones as you legs feel rather free. But, at the same time, they cover more and help to look more modest.
Usually, people tend to think that a short dress doesn't look festive. It's absolutely wrong. The short dresses may look as luxurious as the long ones. Everything depends on the decoration. If the gown is decorated with expensive lace or rhinestones, it's an absolutely equal substitution to a traditional dress.
Wedding Pantsuits and Overalls
Many people think that wedding pantsuits are preferred by business ladies and the ones, who marry for the second or third time. It was true in the past, but nowadays, the choice of pantsuits is so incredible that even a young and romantic girl may look extremely cool in it.
This alternative to wedding dresses looks better in white color as the colorful cloths can make it look too ordinary. The white color isn't used for wedding suits only and so, it's possible that such a wedding outfit can be put on some other occasion. Also, the cream, powder and pastel pink shades are appropriate for the wedding.
Undoubtedly, pantsuits and overalls are very convenient. It's very easy to put them on and a bride doesn't need the help of her bridesmaids as in the case with the classic dress. Moreover, suits and overalls are usually rather light and don't cause any unpleasant feelings when you put them on. Also, these alternative wedding outfits are suitable for any kind of weather.
In addition, if you want to add a bit of classic to the suit, choose a skirt instead of pants. The suits with various types of skirts are for sale. For instance, it can be a short fluffy skirt and a lace top.
Good news for the fans of trains: a pantsuit may also have a train. As a rule, it's the one, which can be easily removed after the official ceremony or as soon as you get tired of it.
Vintage Alternative Wedding Dresses
Frankly, vintage wedding gowns have already won hearts of many brides. The elegant styles and exquisite models of retro dresses attract attention and help the brides to look like real ladies. They are perfect for bright and creative girls, who aren't afraid of experiments.
As an alternative to white wedding dresses, vintage dresses are frequently made in numerous color variations from saturated hues to the pastel ones. As a rule, the flowing clothes are used for this kind of dresses. They are usually decorated with sequins, beads, spangles and fringes.
Of course, retro dresses can be of different length. The short dresses are as popular as long and tea-length ones. The silhouettes also differ. The dress can be fitting or fluffy. However, one of the favorites is the empire waist dresses. They look great in any length.
A vintage dress can be complemented with bright accessories like a luxurious necklace, an exquisite brooch, little handbag, long gloves or a waistband. Also, a hat or some other vintage hair accessories may be used and serve as a final touch in the creation of the retro look.
Ethnic Wedding Dresses
Believe it or not, but while thinking about the variants of alternative wedding dresses not white, you may draw inspiration from various cultures and traditions of other countries. The dresses with ethnic motifs always look cool and unforgettable.
Maybe, you already know what culture you'd like to follow in your wedding. If not, start the investigation of wedding gowns of various peoples and you will definitely come to what you are seeking for. For instance, you can choose the dress with Native American motifs like embroidery and feathers decor. If you can't find the suitable dress, you can buy the ordinary one, but complement it with Native American accessories.
The majority of us know that red wedding dresses are traditional for India. So, a ceremony in Indian style is a great chance to wear the bright dress for your wedding. This recommendation works only in the case if you love India and its traditions.
Also, the African motifs are rather widespread. We don't offer you to create the fully African image. You can just try to add a couple of picturesque details. For instance, it can be an embroidered waistband, a massive necklace or earrings.
Wedding Gowns with Unusual Decor
Quite simply, if you aren't ready to experiment with the dress color and style, feel free to play with the decoration. It's not a secret that a wedding dress can be decorated not only with lace, ribbons, rhinestones and beads. There are much more variants of how to make the dress look fantastic.
The first variant we offer is flowers. The dress with flowers is perfect for the summer wedding. There are dozens of ways how to decorate the dress with them. We especially like the idea of using huge volume flowers and 3d applications.
However, alternative wedding dresses plus size don't always look good with massive flowers. Such decorations may create additional volume, which can visually add extra centimeters. The solution is to choose cloths with floral prints and avoid 3d applications.
Another way to impress the guests of your wedding is a dress with feathers. As a rule, the top of such a dress is rather conservative and the skirt is fully or partially covered with ostrich feathers. The similar dress was worn by Penelope Cruz at the Academy Awards 2007.
The most tender and touching look can be created by a dress, decorated with butterflies. Of course, we don't talk about the real ones, but by applications in the form of butterflies. Small butterflies can decorate both the top and the skirt and be also used for the veil decor.
By and large, there are many other ways of how to decorate the wedding dress creatively. Among the craziest ideas are the decor with balloons, buttons, paper, plastic, candies etc. Some brides even pour paint on their wedding gowns to make them brighter.
Alternative Wedding Dresses of Bright Colors
Obviously, a wedding dress can be not only white or cream. Nowadays, wedding gowns in pastel colors are rather trendy. The light pink and powder colors are at the peak of popularity. The dresses in other light colors like blue and mint also look extremely cool.
However, the wedding dress can be also bright. For example, alternative wedding dresses green and orange look very fresh and there are surely only a few brides, who will make up their minds to wear the dresses in such non-classic colors.
While in India, a red dress is one of the best choices for a bride, in the United States, it's still considered to be rather provocative. In fact, we see nothing bad in the red wedding dress. Depending on the dress style, the bride may look rather tender and romantic in red. Moreover, the gown can combine red color with white or cream for a more moderate look.
The most extravagant brides will definitely like alternative black wedding dresses. Of course, such a dress looks rather gloomily and will look weird at the traditional wedding. However, if the theme and style of your wedding allows, you can definitely put on such a dress.
Another cool idea of a creative wedding dress is the one with watercolor effect. If you can't decide what color is best for your wedding dress, choose several colors together. The gown, which looks like a watercolor picture is unforgettable. The light flowing cloths are the most suitable for such dresses.
And finally, if you like brightness in wedding dresses, but aren't still ready to wear a fully colorful dress, play with accents. A traditional wedding dress may look absolutely different if some colorful accents are added to it. It can be embroidered applications of other color, a contrastive waistband or colorful accessories.
So, we have proved that there is nothing bad in deviation from traditions and choosing wedding dress, which makes you stand out from the rest of the brides. The alternative wedding dresses 2017, which we have discussed above, are great examples of how you can look creative, but extremely fantastic.
Now, stop hesitating and choose the dress, which you like and not the one, all the other people want to see you in. If you want a pantsuit instead of dress, buy it. If you want to break all the rules by one of alternative gothic wedding dresses, do that. It's your wedding day and you have a right to look the way you want.