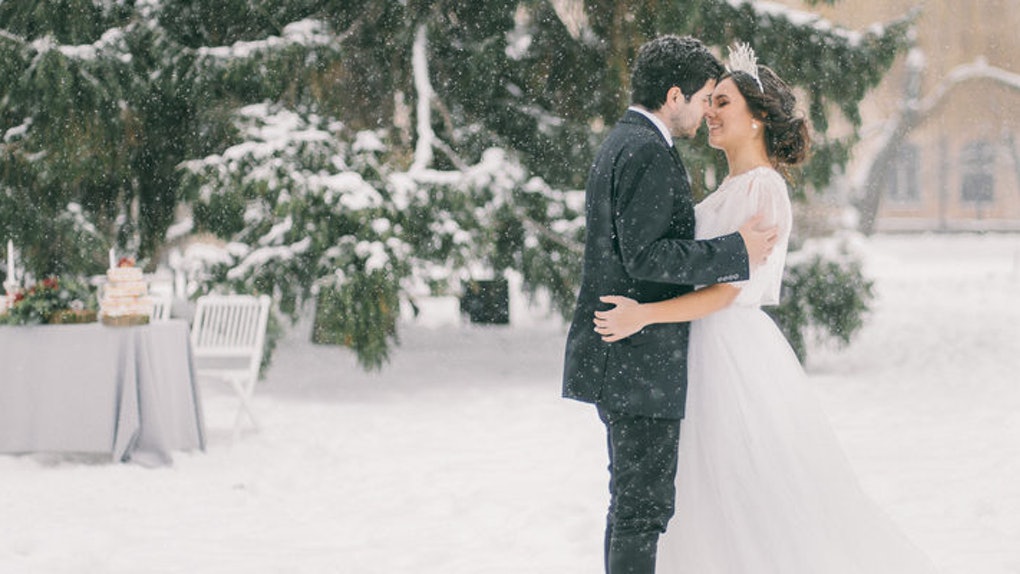 What Are the Hottest Trends for Winter Wedding 2019/2020?
Winter is the most romantic season for a wedding. Wedding photos made on the background of adorable snowy landscape look as if they were taken in decorations for a Disney fairytale movie. If you are of those brides who plan to get hitched this winter, we have prepared some cool ideas for you.
Here are 7 hottest trends for winter wedding 2019/2020 which you will definitely love.
Velvet Bridesmaid Dresses
Clearly, the winter weather can be pretty cold and light chiffon dresses may be not 100% comfortable for your bridesmaids. The way out is to opt for warmer fabrics like velvet. Velvet gowns look astonishing and very stylish. Moreover, their texture is ideal for colder seasons.
Geometric Jewelry
You need to sparkle at your winter wedding. That's why, you need to have at least one beautiful piece or a set of cool bridal jewelry. Jewelry of geometric shape is very fresh and interesting. It looks fantastic in combination with minimalist as well as heavily embellished gowns.
Unique Hair Piece
Today, there are so many cool ideas for bridal hair jewelry. Give preference to a piece, which highlights your beauty and accentuates your personality. Moreover, it must fit the style of your gown. It can be a luxurious crown, a delicate vine or even a floral hair piece. Everything depends on your wedding style.
Berries for Décor
Flowers are traditional wedding decorations. A cute alternative as well as a way to enhance a floral composition is a branch of berries. We like red berries for the winter weddings as they help to make really great accents opposite a white gown and white snow. Artificial berries are easier in use.
Feathers Decoration
Feathers decorations are pretty specific and aren't universal for any wedding. However, we like them so much that we can't resist the temptation of sharing this idea with you. They add a romantic touch to the wedding celebration and are absolutely non-banal.
Cotton Flowers Décor
Actually, cotton flowers look amazing in a wedding bouquet as well as wedding décor no matter what season you choose for your nuptials. They look the best in combination with fresh or artificial flowers but can serve as independent adornments as well.
Faux Bouquet
Have you ever thought of replacing a traditional wedding bouquet of fresh flowers with the one of artificial ones? Actually, today, more and more brides give preference to alternative bridal bouquets. Moreover, bouquets of artificial flowers don't spoil no matter how harsh weather conditions are. Moreover, they don't scatter if you toss them to your unmarried female guests.
We hope you have enjoyed these ideas and some of them will be a great addition to your winter fairytale wedding.