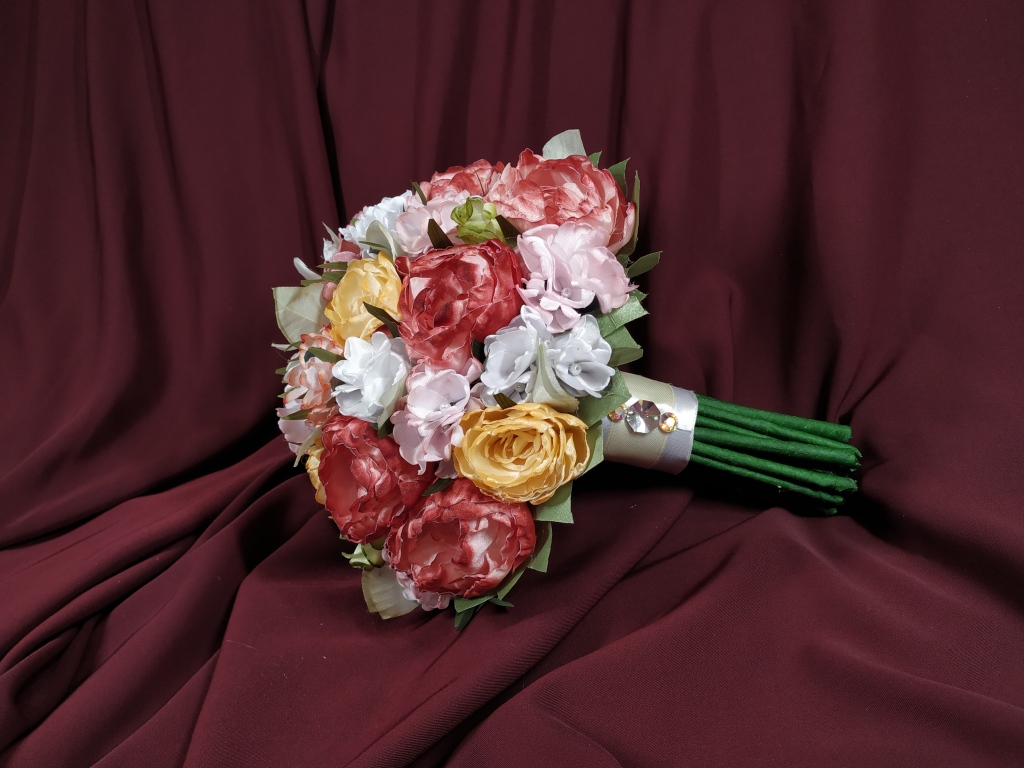 15 Fantastic Ideas of Bridal Bouquets Made of Artificial Flowers
Consider replacing a traditional wedding bouquet with the one of artificial flowers? Though the majority of brides still stick to traditions and opt for fresh blossoms, the trend of using faux flowers is gaining momentum.
The brides who prefer using bridal bouquets made of artificial flowers are usually aspire to save nature or save money. Moreover, artificial flowers allow you to have a bouquet of your favorite flowers regardless of the season. No matter what your reason is, we offer you 15 fantastic ideas of artificial wedding bouquets which look pretty realistic.
Pink and Ivory Orchids Bouquet
It's one of the most delicate and romantic wedding bouquet ideas. The combination of ivory orchids and pink roses looks pretty traditional and very realistic.
Ivory Peonies and Red Roses Wedding Bouquet
This bouquet looks simultaneously bright and delicate. If you are a passionate person, you will definitely like this bouquet consisting of red roses and ivory peonies.
Blush and Blue Bridal Bouquet
The combination of blush and blue is considered to be one of the trendiest at the moment. The bouquet consists of roses and peonies as well as features some ivory blossoms.
Burgundy and Blush Wedding Bouquet
The saturated hue of burgundy peonies looks really cool in combination with soft blush roses. This bouquet will look amazing at a fall wedding as well as is one of great ideas of winter wedding bouquets.
Peonies Wedding Bouquet with Beads
Beads add a special charm to this peony wedding bouquet. What we also like about it that each flower features a soft transition from ivory to peach.
Wedding Bouquet with Realistic Stems
If you want it to be hard to understand if the bouquet is faux or fresh, opt for this variant with realistic stems. It's made in soft colors and looks extremely beautiful.
Blue and White Orchid Bouquet
This bouquet is one of the top selling ones thanks to its neat look. Moreover, it's one of pretty cheap wedding bouquets, which any bride could afford. The combination of blue and white looks classic and is always in fashion.
Ivory and Blush Peonies Bouquet
Is it possible to have a look at this bouquet and not to fall in love with it? It wins the heart of everyone who sees it at least once. The combination of blush and ivory with cappuccino elements looks astonishing.
Purple and Ivory Bouquet
Purple is loved by many brides thanks to its saturated hue and royal-like look. This bouquet features ivory roses, lilac peonies and small purple flowers. Moreover, cascading lilac ribbons look pretty nice.
Dusty Blue and Blush Wedding Bouquet
It's one of those artificial wedding bouquets, which look even cooler than their fresh counterparts. The combination of dusty blue and blush looks very gentle and stylish
Ivory and Blue Peonies Bouquet
It's one more variant for the fans of blue color. Blue roses and ivory peonies are brilliantly combined while the beads make this bouquet look extremely gorgeous.
Blush Roses Wedding Bouquet
If you seek for something minimalist but beautiful, we recommend paying attention to this variant. It consists of blush roses plus small blush and ivory violets. It's pretty simple but very elegant.
Ivory, Blush and Lilac Bouquet
The silk wedding bouquets in such soft colors are often preferred by romantic brides who like to surround themselves with beautiful pieces. Ivory peonies, blush roses and lilac violets are a really great variant for a spring or summer wedding.
Pink and Burgundy Orchids and Peonies Bouquet
This amazing bouquet features ombre pink orchids, ivory and burgundy peonies plus ivory violets. The orchids are dyed manually to achieve such an ombre effect. Though, it seems to be a cool idea of a DIY wedding bouquet, not everyone is able to create such a beautiful piece without having some special skills.
Ivory and Pink Bridal Bouquet
Bridal bouquets are often made in delicate hues and so, this variant of ivory peonies and pink violets seems to be pretty traditional. It will look great with the wedding dress of any color and is suitable for any wedding theme.
We think that we have proved that faux flowers may look very beautiful and interesting. And one more plus, by opting for artificial blossoms you don't have to worry about the wedding bouquet preservation.
​