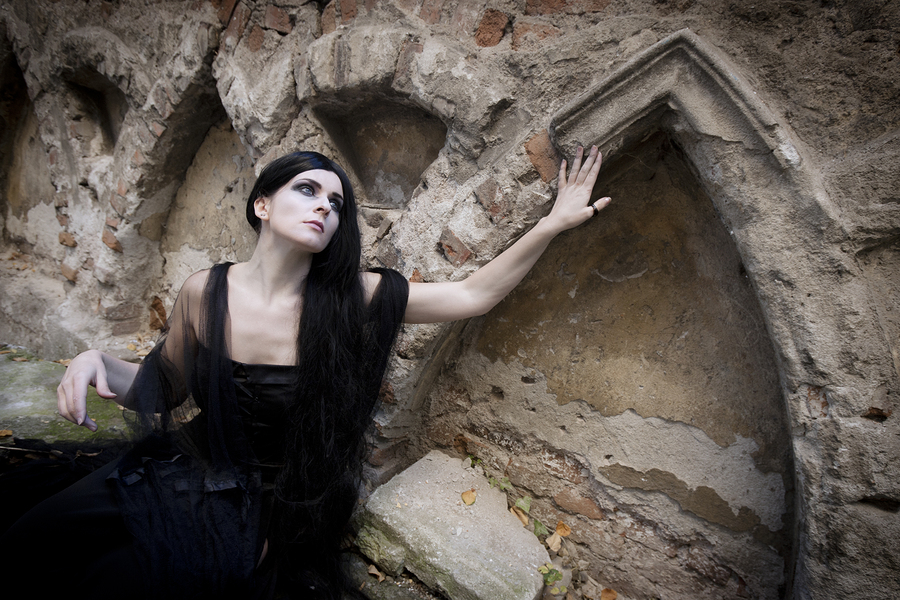 How to Look Less Gloomy in Gothic Wedding Dresses?
Do you plan to have a gothic wedding? Such weddings aren't very widespread, but there are some couples, which dare to organize them and do that very beautifully.
One of the key issues is the choice of a wedding dress. Gothic wedding dresses are known for being gloomy and some brides are afraid of that. However, it's possible to wear a gothic-styled wedding dress and look astonishing in it. And we are going to show you how to do that.
How to Choose Black Gothic Wedding Dresses?
Undoubtedly, when we talk about a gothic wedding dress, the first what comes to our mind is a black wedding gown. We associate the gothic style, first of all, with the black color and later, all the other attributes come.
Of course, many people consider that black isn't a suitable color for a wedding dress as it's often associated with mourning. However, this color also has many other meanings. For example, black is the color of elegance, power, sexuality, sophistication, wealth, mystery, depth. Moreover, in Spain, women wear black gowns, which symbolize that the bride is faithful until death.
By the way, you don't have to wear an entirely black dress. While the basic color can be black, the adornments can be of other colors. For instance, black and red gothic wedding dresses as well as black and white gothic wedding dresses are pretty popular. Also, the combination of black with metallic colors, like silver or gold, looks very beautiful.
If you have made up your mind to wear a black gown for your wedding, do that. In fact, the choice of such a gown doesn't differ a lot from the choice of classic wedding attire. The most important is that the dress silhouette and neckline are flattering for your body type. The size and the length must be appropriate. And, of course, you must like what you buy.
Basically, before starting the search of the gown, you need to think over how you imagine your wedding. For instance, you may want a wedding with vintage elements in the style of Count Dracula. In this case, you can find your perfect gown among gothic Victorian wedding dresses. Or, you may plan a modern wedding with gothic elements. Here, you can choose something very close to the traditional wedding gowns, but in the dark color.
Though the idea of wearing a gothic dress seems to be very cool and interesting, it can be a real challenge to find the proper dress. The thing is that gothic wedding gowns aren't very widespread. It's possible that you won't find the dress at your local bridal boutiques. That's why, you can seek for the proper variants online.
Also, the gothic wedding dresses can be found at the stores, which sell gothic attires and accessories. Or, you may seek not for a wedding gown but for an evening one, and the search will become much easier. And, of course, one more way to get the wedding gown of your dream is turn to a wedding dress designer, seamstress or any other professional, who can sew a dress for you.
What Are the Other Possible Colors of Gothic Style Wedding Dresses?
However, black isn't an obligatory color for your dress. There are many other color variations, which can suit the gothic style perfectly. Here are 7 cute variants:
1. Purple. Purple is associated with royalty and stands for magic, mystery, creativity and strength. The purple dress was chosen by Dita von Tease for her wedding with Marilyn Manson. A purple wedding dress looks very rich no matter how much embellishment it has. A fully purple wedding gown or the one, mixed up with black, will suit the gothic theme perfectly no matter if it will be a vintage or modern wedding style.
2. Navy Blue. Dark blue color symbolizes stability and security. A navy blue dress looks luxurious and very interesting. It's a good alternative for plus size gothic wedding dresses as navy, just like black, can make you visually slimmer. Besides suiting the wedding theme, navy blue gowns also look very stylish and unusual.
3. Burgundy. Being one of the shades of red, this color must be considered separately. It's very trendy at the moment and so, a burgundy wedding dress won't just be good for a gothic wedding, but will also be a stylish and unusual solution. Moreover, this color looks very rich.
4. Red. A red gothic wedding dress is the second popular choice of the brides after black. Red is the color of strength, health, vitality, love and passion. It looks beautiful in combination with black and white as well as independently. Red color absolutely corresponds to the gothic theme.
5. Grey. Grey is the color of a compromise. And, in fact, it's a compromise between white and black, which is ideal for the girls, who can't decide on the color of a dress for their gothic wedding. By the way, very often, a dress, that seems to be grey, turns out to be a mixture of white and black. For instance, a tulle skirt, consisting of the layers of black and white colors, looks as if it were grey.
6. Green. Among a great variety of shades of green, the most suitable for gothic weddings are dark emerald and olive hues. Green is a great choice for vintage gothic wedding dresses. Moreover, it's very creative.
7. White. It's rather strange to see a white color among the possible variants for a gothic bride dress. But, in fact, it can be used for a gothic wedding. In the majority of cases, a white bridal gown features some gothic details. For instance, a white dress may be adorned with black lace or have black parts on the top or skirt. Also, gothic corset wedding gowns in a vintage style may be white. By wearing a white gothic dress, you will look more like a traditional bride, but, at the same time, will stick to the chosen theme.
What Are the Best Accessories for Gothic Bridal Gowns?
Accessories aren't less important than a wedding gown for the creation of the ideal bridal look. That's why, as soon as you have chosen the dress, start to think over the accessories.
First of all, think if your dress needs some embellishments. If you think that your entirely black gown needs some chic, adorn it with a beautiful waistband. It can be adorned with beading or crystals. Also, the waistband can be of a contrastive color like white or red. The same concerns the dresses of other colors. Or, gothic corset wedding dresses may have the ribbon of another color.
Another important element of the bridal attire is a veil. Its color must match the dress. If your wedding gown features several colors, you may select among them. If you don't plan to wear a veil, you can have a gothic-inspired headpiece, for instance, a flower crown or a comb. As an alternative, you can decorate the face with a beautiful mask.
Actually, the shoes must be absolutely classic as it's rather hard to find the ones in a gothic style. The most important is that you feel comfortable in them and that they are in harmony with the wedding dress. Traditional black shoes on heels will suit many types of wedding dresses in dark shades or the ones with black elements. Also, you can opt for the shoes of a matching color with your dress.
Clearly, the jewelry must be also thematic. The traditional bridal jewelry will look very weird in combination with a gothic wedding dress. The necklaces, bracelets and other pieces must be of the corresponding style.
Also, a bridal bouquet must suit the theme. Very often, it's made from dark flowers, usually roses and callas, and features the details of the same colors. The combination of red and black is very popular and suits the majority of brides. Bouquets in purple, burgundy or other dark hues of red are unforgettable. Besides, many other flowers in various colors can be used. For instance, traditional creamy roses can turn into a gothic bouquet with the help of black ribbons, ostrich feathers and other accessories.
All in all, gothic wedding dresses are an absolutely non-standard choice for a bride. However, it's impossible to deny that no one will forget a bride in such a dress. Now, you see that black isn't the only possible solution for a gothic wedding. You can opt even for a traditional white dress, but create the necessary atmosphere with the help of details.