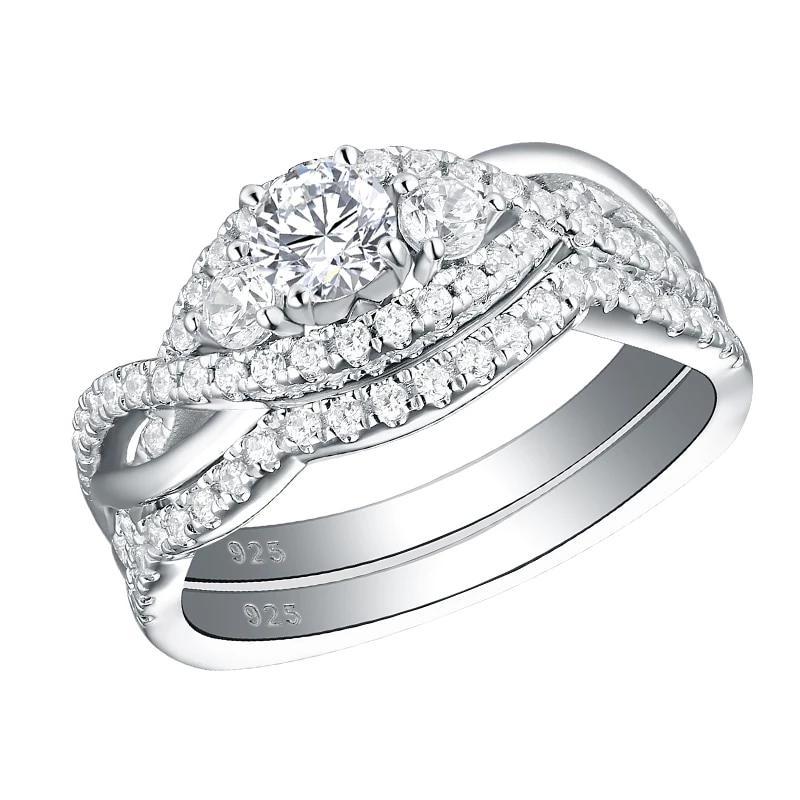 Pros and Cons of Silver Wedding Rings + Some Cool Ideas of Them
Silver wedding rings are pretty popular among modern newlyweds thanks to their platinum-like look and comparatively cheap price. Pure silver is very soft and that's why, many jewelers prefer to create bands of sterling silver, which is more durable. Basically, sterling silver is pure silver alloyed with some other metals, usually copper. Moreover, items made of this alloy are often rhodium-plated for better look.
Let's see if it's proper to have cheap sterling silver wedding bands as well as consider their advantages and disadvantages. As a bonus, we will offer you 7 amazing variants of the bands, which look fantastic but are pretty affordable.
Pros and Cons of Silver Wedding Bands
Prior to making the final choice, you need to be aware of what pluses and minuses silver rings may have. Here are the main ones.
Pros:
Lightweight metal. Silver wedding rings are pretty light in comparison with gold and platinum bands. That's why, by wearing them, you won't feel any inconveniences.
Shining. Undoubtedly, no other metal has the radiance, inner glow and natural brilliance of sterling silver. Despite their affordability, real silver wedding rings look very luxurious, especially if they are combined with crystals.
Various Styles. High demand leads to a great number of offers. That's why there are thousands of various band designs: from simple minimalist rings to the ones decorated with crystals and even precious stones. There are great designs for both women's and men's silver wedding ring as well as sets. Moreover, you are free to buy an engagement ring made of this material.
Low Cost. Sterling silver rings are the cheapest option if you seek for precious metals. Everything that costs less has nothing other but spiritual value only.
Cons:
Low scratch resistance. Even the most beautiful silver wedding rings are prone to scratches. Though sterling silver is more durable than pure one, it still wears out after being utilized for some time and requires re-polishing.
Proper care and cleaning. No matter if you buy silver wedding rings for her, him or sets of wedding bands, keep in mind that they will keep their good look only if you provide them with proper care and regular cleaning.
7 Cool Ideas of Sterling Silver Wedding Rings for Women
Now, let's get inspired by some cool and affordable ideas of bands.
A Ring with White and Blue Rhinestones
If you want to have something unusual, pay attention to silver marriage rings which combine white and blue stones. They look really cool and unusual. Moreover, the pictured band actually consists of three rings, which can be mixed in different ways.
A Ring with Square Central Stone
Square stones always look modern and stylish. Such a two-piece ring manages to be both traditional and fashionable. Moreover, the two rings can be worn separately as well.
A Ring with Round Central Stone
Actually, silver wedding rings for women with a round central stone are classic. They are universal for all girls and will never go out of fashion. Moreover, it's great that this item is a set of three rings, which can be worn separately if you are getting tired of wearing all three of them.
A Ring with Drop-Shaped Central Stone
Rings with a drop-shaped central stones will lose in the battle with the bands featuring round and square stones as they are less popular. However, they look no worse than their more traditional competitors. It's just a matter of taste.
A Ring with Three Rows of Rhinestones
This is a solid ring with three rows of rhinestones. It looks more minimalist than the listed above ideas, but it's more convenient for daily use. Moreover, we like that the central row features bigger stones than the upper and lower ones.
In truth, it's one of our favorite rings. It's rather minimalist and features a very stylish interweaving design. Moreover, it looks astonishing when one string remains simple while the other one is adorned with crystals.
This is a gold and silver wedding ring for the ones who like the combination of metals. Actually, both gold and silver parts are of sterling silver, but the rose gold part features special plating. Moreover, it's actually a set of three rings, which can be applied in various ways.
So, you see that cheap silver wedding bands are a pretty good idea for your nuptials if you have a restricted budget. Though they aren't as durable as platinum rings, they look very decent and are available in many gorgeous designs.