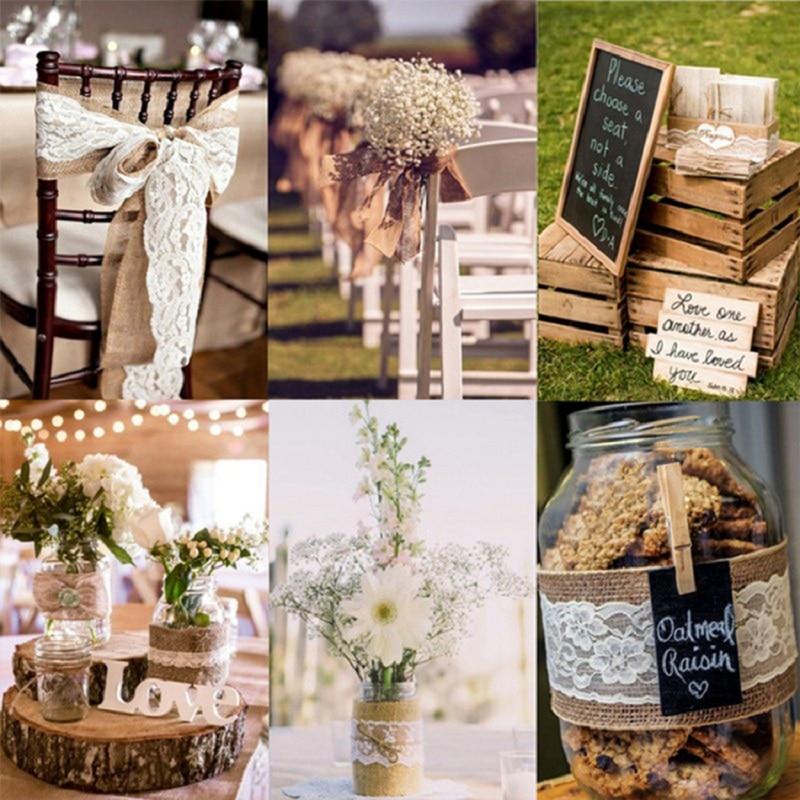 How to Save Money with DIY Wedding Décor for Your Rustic Ceremony?
Rustic weddings have conquered the hearts of a great number of couples recently. They are among the most romantic wedding styles. However, in order to make everything look both beautiful and relevant to the theme, you need to do some work. If you have a wedding decorator, the things will be easier for you as you just need to choose among the offered variants.
However, if you organize everything yourself and think about the ways of having beautiful decorations which cost pretty cheap, you may think about adding some DIY wedding décor to the venue. And actually, rustic weddings are the ideal choice if you plan to make decorations with your own hands as hand-made items fit the theme perfectly.
Though there are many cool DIY projects for wedding decorations, some of them can be pretty difficult for an average person. That's why we have prepared 7 easiest ideas of wedding decorations you can make yourself no matter how talented and how experienced decorator you are.
So, let's dig a little deeper and see what you can do for enhancing your wedding décor without spending much money.
Burlap Adornments
Burlap is a material, which fits the rustic theme perfectly and can be combined with various color schemes. Though it's pretty rough on its own, it helps to create a warm atmosphere at a wedding. Moreover, it's one of the hottest trends right now thanks to its versatility.
There are a great number of variants of DIY wedding décor featuring burlap. You can add a burlap ribbon to your wedding invitations, table runners, chair décor, centerpieces, a bridal bouquet or a groom's boutonniere.
Moreover, you can enhance some other decorations with burlap. For instance, you can take a vase or a mason jar and add some burlap décor to it. You can attach a burlap ribbon to the vase with the help of hot glue. In order to add uniqueness to the vase, cut some flowers out of burlap or use ready artificial flowers and attach them to the vase. Moreover, you can add some lace, ribbons or feathers to your creation. By the way, you can do the same with candles or candleholders.
Artificial Flowers Decorations
Artificial flowers can be applied for various cheap wedding decorations diy. In some cases, they can become a more budget-friendly alternative to fresh flowers. Moreover, they can be used for other projects after the nuptials.
For instance, you can buy branches of artificial flowers and just put them in vases. Such adornments are suitable for table centerpieces as well as the aisle décor. If you want to add more rustic mood to the composition, place the flowers into the vases with burlap décor. The other cool idea is to locate them in vintage wood boxes. Flowers in wood boxes look very impressing and are ideal for outdoor weddings.
Another our favorite idea is a flower wall backdrop. You must have seen such adornments on Pinterest as many people really like them. Actually, you can buy a ready decoration. However, if your budget is restricted, you can save pretty much money by doing everything yourself. Moreover, by making that decoration yourself, you will make it suit all your requirements, including the proper size, flowers type and colors.
Thus, for a basis, you need to take a PVC pipe stand and drape it with fabric. The other idea is to use sheets of plywood. After the basis is ready, attach the flowers to it using hot glue. It's better to use silk flowers with no stems, for instance like these ones. You are free to use the blooms of various colors, sizes and types. Moreover, you can complement the wall design with ribbons, beads or crystals.
Mini Wood Hearts DIY Wedding Decorations
No other wedding decorations look so cute as mini wood hearts. We don't offer you to make them yourself as it's pretty hard and takes up much time. Though, you are free to try. But it's more convenient to shop for the ready ones and apply them in your diy projects.
The easiest way is to fill vases or other transparent reservoirs with these wood hearts and use them as table centerpieces or as wedding aisle decorations diy. Moreover, you can scatter some small portions around the venue. For instance, you can locate them on the aisle sides or on tables.
Another variant is to use a wooden frame and wood hearts instead of a guest book. You can ask your guests to write short wishes on the hearts and place them in a frame. Such a decoration looks very interesting along with being functional.
Dried Reed for DIY Rustic Wedding Decor
Dried reed is one more cool way to make your rustic wedding décor nature-inspired, stylish and unforgettable. The reed can be employed for various projects. First of all, you can place bunches into vases either separately or in combination with flowers. Such adornments are amazing diy wedding table decorations. Moreover, they can be located near the aisle.
Secondly, reed can be applied for your wedding arch like in the picture above. At that image, reed is just an accent, but you are also free to make it the main material for your arch. Thirdly, reed can be a cute addition to your wedding bouquet and a groom's boutonniere. Additionally, you free to employ it for décor of other wedding supplies like a guest book, a wedding sign or a photo frame. Just turn on your imagination and use it wherever it looks beautiful.
Hanging Flowers Ceiling Décor
Flowers hanging out from the ceiling look extremely gorgeous along with being the major wedding trend. However, not everyone knows that such adornment can be a part of diy wedding décor and not only professional decorators can do that.
We recommend using artificial flower vines for this project as it's easier to work with them than with real flowers. If the ceiling of your restaurant or tent features some metal or wood constructions, you can attach the flowers to them. In other cases, the vines can be attached to chandeliers.
Be ready that in order to create a really great decoration, you will need hundreds of vines. However, you can make some accents with the smaller amount. Artificial flower vines are pretty lightweight and so, you can attach them to the ceiling with the help of a tread or thin rope. Also, you can employ thin metal wires.
Wood Wedding Signs
Wood wedding signs are among easy and cheap diy outdoor wedding decorations. In order to make the simplest one, you just need a piece of wood. You can attach it to a wood stick or place it on a stand or even on an easel. Then, you need some paints to add the words to it. If the wood is of medium or dark color, use a white paint. And if it's very light, opt for a black or even colorful paint. You can apply the text yourself or use a stencil.
The other idea of a wedding sign is to use a chalkboard. Evidently, you will need to write the text by chalk. Moreover, you may recollect your school years and add some pictures like flowers or hearts. By the way, not only white chalk can be employed but colorful ones as well.
Ribbons
Ribbons are universal decorations for a wedding of any style no matter what venue and what season you are getting married at. They are used for wedding bouquets, boutonnieres, ring pillows, candleholders, arches, table centerpieces and many other wedding accessories. Along with venues, they also adorn cars. Silk, satin and organza ribbons are the most widespread ones. The first two types have a sleek classic texture while organza ribbons are very light and semi-transparent.
Moreover, ribbons can serve as a separate adornment. Thus, you can use them for chair décor by simply tying several pieces to a chair or by making bows. If you want the ribbons to hang beautifully or be used for elegant bows, use satin ribbons. And if you want to have big volume bows, organza ribbons are the best choice. Also, a cute wedding arch can be made of hanging satin ribbons. For these projects, you can use ribbons of one or two colors as well as multi-colored ones. The latter variant looks especially cool at outdoor summer ceremonies.
So, you see that you can make many cool DIY wedding decorations on a budget. Even a single ribbon can be employed for various projects to tell nothing about artificial flowers and burlap.