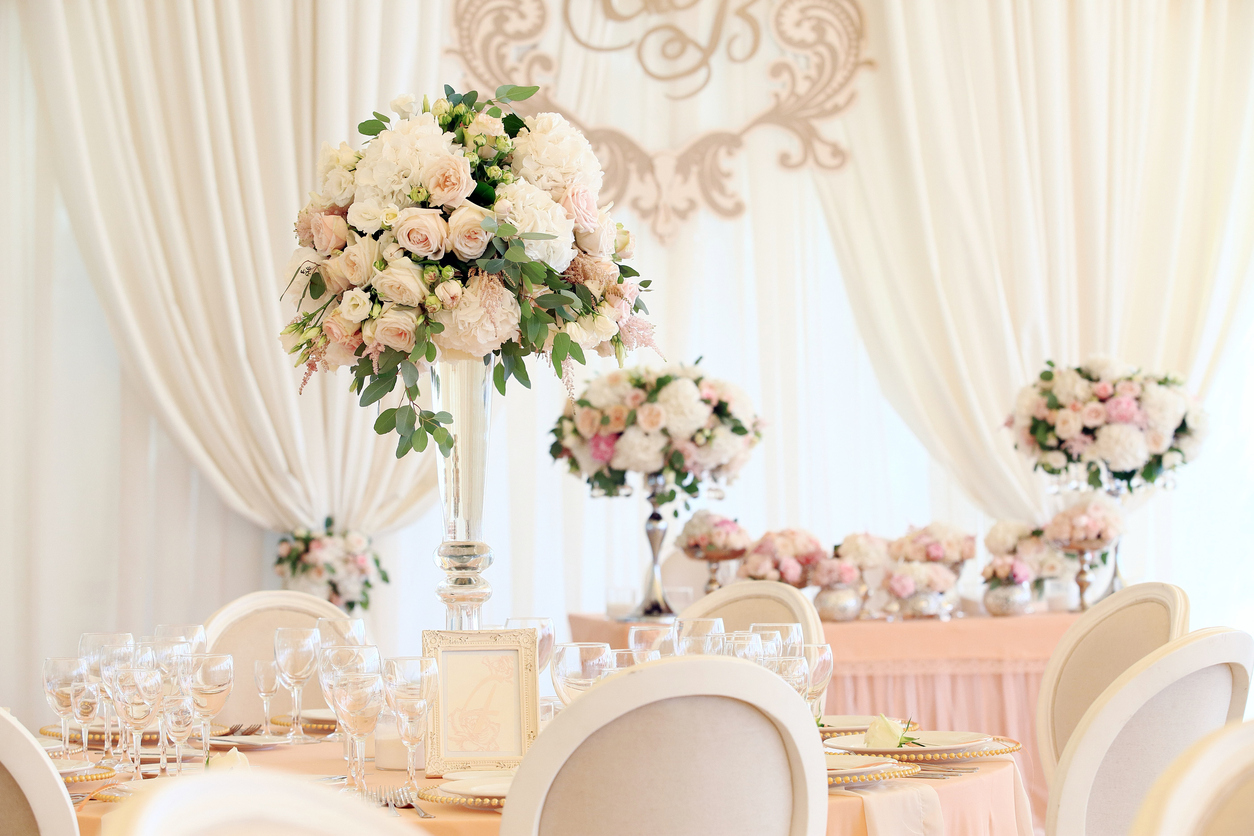 15 Magnificent Wedding Decoration Ideas
Every bride knows that wedding decoration is no less important than a wedding dress, wedding rings or wedding food. Clearly, there are no absolutely universal wedding decoration ideas which will fit every wedding and will be liked by everyone. However, we have tried to determine the most magnificent ones.
So, let's have a look at the best wedding decor ideas which will be a great addition to a wedding of any style no matter what season and place you are going to tie knots at.
Flowers
Flowers are essential elements of any wedding. They are used for a bride's bouquet, groom's boutonniere and, of course, for wedding décor. In the majority of cases, flowers are placed in vases to decorate tables and are employed for wedding arch and aisle adornment. But there are much more good wedding decoration ideas with flowers.
Thus, you may place flowers in an unusual way. And that will look gorgeous at wedding photos. For instance, hanging flowers are eye-catching and unforgettable, making the wedding reception looking like a paradise garden. Or, a flower wall is a great way to create an astonishing photo zone for you and your wedding guests.
Another cute idea is to place single flowers in various places: near your wedding cake or other wedding adornments, on the chairs and tables as well as at any other place you want to look beautiful.
Moreover, there are much more things which can be made of flowers, the cute ideas of which are listed in this post. There can be flower balls or wreaths, garlands or even art compositions.
Fabric Décor
Fabric can serve as a universal method of adorning your wedding ceremony no matter if you seek for winter, spring, summer or fall wedding decoration ideas. Traditionally, fabrics are used for table skirts and seat covers, but they can be of much more use.
For example, beautifully draped fabrics may serve as a cool addition to your wedding arch. You are free to use one type and color of fabric as well as several ones. Moreover, draperies are marvelously combined with flowers, feathers, bows, ribbons and garlands.
Another cool variant is a piece of fabric draping from the ceiling or chandelier. Such a design looks impressive and expensive while its cost will fit a wedding with any budget. Note that it's better to use sheer fabrics for wedding décor like chiffon, organza or tulle. However, in some cases and places, rich thick fabrics can make a big statement.
Wooden Decorations
First of all, wooden pieces are associated with rustic wedding decor ideas but, actually, they can be employed for any other wedding style. There are so many beautiful things made of wood that they may look pretty expensive and unique.
Wooden wedding signs will make any outdoor wedding stylish along with serving as a great place for wedding photos. Or, wooden Mr and Mrs decoration will remind the bride and groom about their new status.
To tell the truth, there are many cute wooden wedding details for sale and it's impossible to count them all. You just need to have a look at them and then, you will understand what exactly you need.
Decorative Lighting
Today, lighting is much more than a way to get rid of darkness in the room. It's an important decorative element at any home. So why not apply it for your wedding if it will help to create a pleasant and romantic atmosphere?
String lighting is one of the easiest ideas. Strings of little lights can be located on the ceiling, walls, wedding arch and even for table centerpieces. If you have an outdoor wedding, they can be placed on trees and bushes for creating a fairytale atmosphere. By the way, white Christmas lights will cope with this task brilliantly.
Moreover, you are free to have some other light elements. Thus, vintage lanterns look very cute and make the atmosphere extremely romantic. Or, huge lamps of various shapes (often balls) may also create an unforgettable accent at your wedding.
Decorative Vintage Elements
Despite being very popular at the moment, weddings in vintage style aren't loved by all brides. However, some vintage adornments are so unique and beautiful that it's hard to refrain from temptation to use them for a wedding. And, actually, you are free to do that even if you don't plan to organize a wedding in vintage style.
Vintage photo frames, vases, candle holders, lanterns, bird cages are just a few things which can add chic to your wedding day. Just turn on your imagination and you will see how cool your wedding décor will be.
Tissue Paper Decorations
The great news about tissue paper things is that they can be pretty cheap wedding decoration ideas. Simultaneously, they make the wedding reception look bright, colorful and creative. Moreover, you are free to make such decorations with your own hands as no special skills are needed for that.
So, what tissue paper adornments do you need to pay attention to? Firstly, it's pom poms. These massive adornments look the best while hanging out from the ceilings but can be applied for walls as well. Secondly, garlands for walls and a wedding arch are another good option. And, of course, tissue paper flowers look cute at weddings.
As you see, tissue paper decorations can be used for walls, ceilings, wedding arch and some other locations. However, their main minus is that they are suitable for indoor weddings only. They can be used outdoors only if the weather is neither rainy nor windy.
Dreamcatchers
Surprisingly enough but a dreamcatcher can serve as an astonishing wedding decoration. It will suit outdoor weddings the most as well as the ones in boho, country and rustic styles. There are many designs of dreamcatchers, but we think that crochet ones in light colors as well as the ones with ribbons or feathers are the best possible options.
You can simply hang dreamcatchers on the wall or ceiling. However, if you have an opportunity to place them on trees, do that. You will be surprised how cool, romantic and creative such a design will look.
Artificial Flowers
Artificial flowers are a good alternative to fresh flowers, which are available in all possible color schemes. Firstly, they are a more budget variant as it's no need to tell that fresh flowers cost much more. And if you want to have many fresh flowers at your wedding, be ready to spend pretty much money on that.
If you dream about decorating your wedding ceremony with some rare flowers or not seasonal ones, it will cost you much energy and money to find them. So, secondly, artificial flowers can serve as substitutes of rare flowers. For instance, it's much easier and cheaper to use artificial cotton flowers instead of real ones, which aren't sold in big amounts and are rather pricy.
Basically, artificial flowers are usually made either of fabric or of silicone. They are good for both indoor and outdoor wedding decorating ideas.
Candles
Probably, candles are in top wedding decoration ideas on a budget which create a fairytale atmosphere without significant costs. They can serve as table centerpieces, wall decorations as well as may be located around the place you have your wedding at.
While candles can be absolutely ordinary, you are free to place them into beautiful candle holders which suit the theme and style of your ceremony. By the way, there are many DIY projects on creating nice candle holders.
Dried Berries and Plants
Dried berries and plants are fantastic wedding table decoration ideas. However, you are free to apply them in some other places as well. Actually, you may use artificial berries and plants as they cost less but look no worse than their natural analogues.
Dried plants can be also placed on the napkins. We are sure that you have already seen how cool it looks on Pinterest or Google. And what's great is that such a stylish décor is very affordable. Moreover, berries can be used for the newlyweds' bouquet and boutonniere to tell nothing about garlands and wedding arch.
Pins
You might have been pretty surprised to see pins among simple wedding decoration ideas for reception. However, we don't tell about ordinary clothespins but mean decorative wooden pins adorned with hearts. They look very cute and will be liked by any romantic soul at your wedding.
Such pins can be placed on seating cards or they can hold photos if you use them for décor. Also, they can be hung on a rope, creating a cute garland. What's great about this decoration is that you can use pins for your home décor in the future.
Wedding Décor with Feathers
If you seek for unique decoration ideas for wedding, consider diluting your décor with feathers. This is one of the hottest trends at the moment. Feathers look impressive, unusual and very luxurious.
Huge ostrich feathers in white color look brilliantly as ceiling and wedding arch adornments as well as table centerpieces. Smaller feathers can be used for the same purposes plus can be added to a bridal bouquet and a groom's boutonniere. They also look great in installations which hang down from the ceiling and can serve as adornments for some other decorative pieces.
Additionally, you can buy some ready garlands made of or featuring feathers. They can be employed for both indoor and outdoor weddings.
Crystals
It's pretty hard to find a girl who doesn't like crystals. Their sparkling surface catches the eye immediately and holds attention pretty long. If you plan a luxurious wedding, crystals are a great option for you.
One of the most astonishing ways of using crystals for wedding décor is to have their strings hanging down from ceilings or chandeliers. Believe us it looks fantastic. Also, strings of crystals may adorn various shelves, flower stands and other high objects.
Additionally, crystals can be placed in transparent vases, candle holders along with serving as adornments for wedding glasses, bottles and other tableware.
Balloons
Actually, balloons are 100% traditional wedding reception decoration ideas. But what we like about them is that they create a festive mood no matter what occasion they are employed for. Moreover, today, there are so many cool designs of balloons for sale that along with great mood they can make your wedding stylish and beautiful.
As a rule, balloons in white and pastel colors are used for weddings. However, depending on your wedding theme, you are free to buy other colors. Thus, if your theme is black and white, opt for the balloons of these two colors. Or, if you have a rainbow wedding, enhance the interior with multi-colored ones.
Additionally, you can make the balloons personal by ordering special prints on them (like your names or wedding date). Also, don't forget that balloons can be combined with other decorations. For example, a simple balloon can be turned into a cute art object if it's covered with tulle or other sheer fabric.
Ribbons
No one will disagree that ribbons are a nice decoration for wedding. They aren't pricy and may look fantastic if to apply them correctly. Actually, there are dozens or maybe even hundreds of ways how ribbons can be applied.
For instance, ribbons may serve as a more affordable option for seat covers which are pretty expensive. Or, they look astonishing as ceiling and wall decorations. Moreover, you can make cute bows of them or employ ribbons for candle adornment.
So, we hope that you have got inspired by our list of wedding decoration ideas and already know how to make your wedding venue suiting all your needs and desires. Remember that many of these ideas can be beautifully combined for the creation of really unique and unforgettable décor.