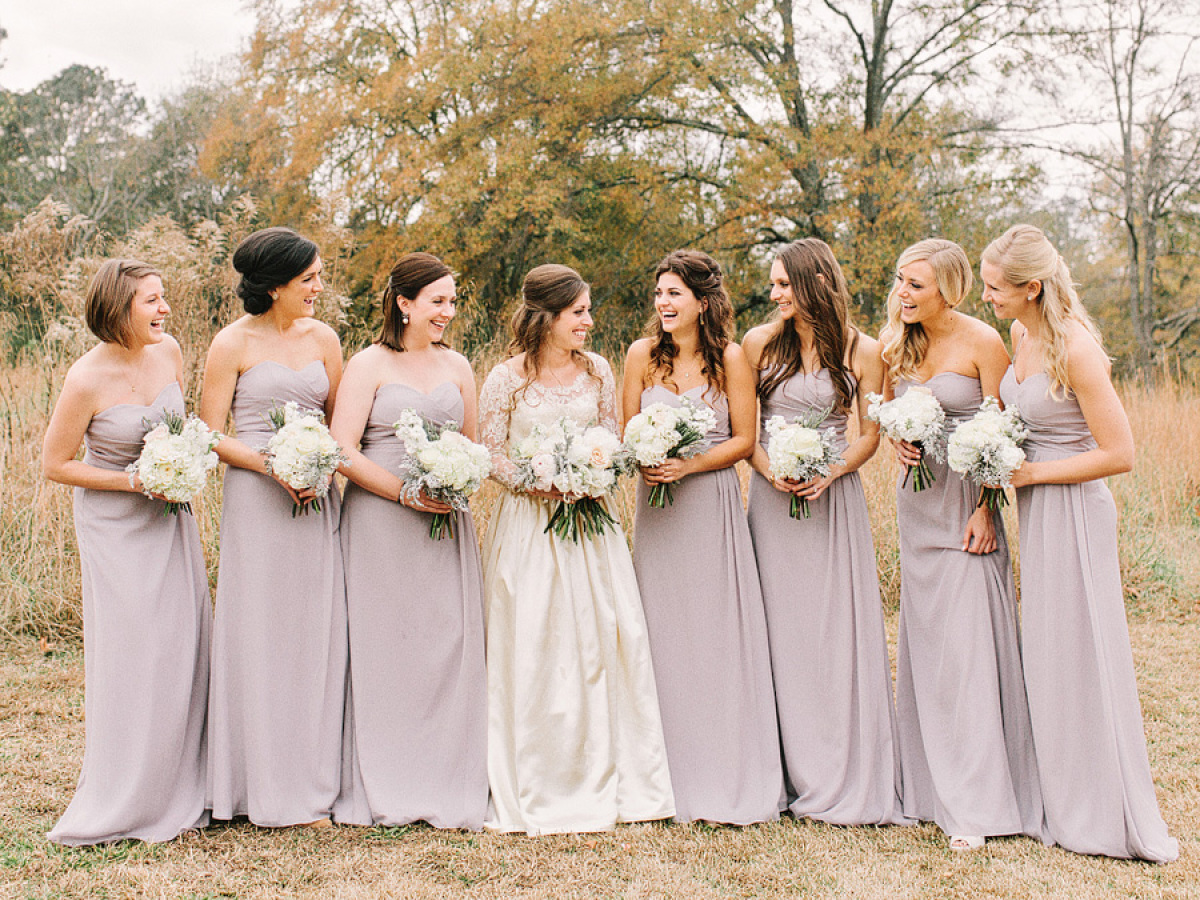 Are Long Bridesmaid Dresses a Better Option Than Short Ones?
The choice of bridesmaid dresses is rather a tricky business. You must take into account many factors, including your wedding format, style, color scheme, location and personal taste. Moreover, you need to think about your bridesmaids and find the dresses which they will like and feel comfortable in.
Many brides prefer long bridesmaid dresses as they look more elegant and festive. Undoubtedly, long gowns are always a good idea and, actually, they may be good for any type of wedding as there are many possible designs and styles.
However, are long dresses more suitable for wedding than their shorter analogues? Let's study this problem to find out what the better option is.
The Reasons to Opt for Long Bridesmaid Dresses
So, why should you opt for long gowns for your bridesmaids? Here are the main reasons to do that.
1. Long dresses always look elegant and classy. They can make every girl look feminine and tender. Actually, even a tomboy can turn into a real lady is she wears a beautiful long gown.
2. Long gowns are the best option for formal occasions like black tie and white tie weddings. Basically, even guests are supposed to come to such events in long evening attires. And as the role of a bridesmaid is much more important, black and white tie weddings are one of those rare occasions when longs dresses for bridesmaids are a must.
3. With covered-up legs, self-conscious bridesmaids don't worry about pale or scarred legs. We know that many girls want to look ideal at such an event as their friend's wedding, but very often they meet some obstacles on their way to the perfect look. Thus, they may just fail to have enough time to sunbathe or maybe they have some scars they would like to hide. Thus, long dresses may assist in hiding those parts of body which a girl has no desire to demonstrate.
4. Along with some body defects, long dresses may also cover the shoes. It means that it's not required to wear high heels and each bridesmaid is free to choose for a comfortable pair of shoes, even if they feature no heels at all.
5. And finally, the choice of long gowns is very wide. They have various colors, designs and embellishments. You can find astonishing burgundy bridesmaid dresses long or the ones in blush color. You are free to buy dresses with sleeves and strapless ones, simple as well as heavily embellished gowns. Actually, there are dresses for any type of wedding and for any budget.
What Are Advantages of Short Dresses for Bridesmaids?
Clearly, short bridesmaid dresses look funny and cute. But these aren't their only advantages. Let's see why you should consider opting for short dresses for your girls.
1. Undoubtedly, it's easier to wear short dresses than long ones. A few of us wear long clothes daily and that's why, some girls may feel uncomfortable and even awkward in a long gown. At the same time, short dresses are more familiar to us and cause no discomfort.
2. Short dresses are a great opportunity to show beautiful shoes. If you or your bridesmaids are shoes addicts, you are free to make an accent on beautiful shoes and demonstrate them by wearing a short dress.
3. The shorter variants of dresses will be highly appreciated by your bridesmaids if you are going to get hitched on a hot summer day. The thing is that even if the dresses are made of the same fabrics, shorter variants will always feel lighter and more comfortable for hot weather. Additionally, if you plan a beach wedding, short and tea-length dresses for bridesmaids are an amazing idea.
4. Surprising enough but short gowns may be more flattering if your bridesmaids are of different height. The thing is that while petite girls may feel they drown in a long gown, the statuesque ones may fail to find extra long bridesmaid dresses. In order to avoid that problem, opt for shorter variants of dresses and everyone will remain content.
However, note that the dresses shouldn't be of identical height. It will be more beautiful if they will look proportional at each girl. For instance, each dress can be a couple of inches below the knees of each girl no matter what her height is. As a result, the dresses will have various lengths but will look identical as soon as your bridesmaids put them on.
5. Darker shades don't look gloomy with short attires. Today, deep dark colors are pretty popular. However, some people consider that bridesmaids in such dark colors may look pretty gloomy and may fail to be harmonious with the bride. Actually, it's nonsense as weddings where burgundy, navy, dark green or purple colors are employed may be very stylish and beautiful.
At the same time, if you are afraid of adding too much dark color to your wedding celebration but still like dark shades, consider buying short dresses for girls. For instance, a black floor length bridesmaid dress can look very gloomy while a short variant in this color may look astonishing and festive.
Things to Consider Before Choosing the Bridesmaid Dress Length
Now, you know that both long and short dresses are appropriate for bridesmaids and may feel even more confused of what's better. Basically, you need to take into account a number of factors prior to making the final decision. Here are the main things you need to consider.
1. Formality of the event. Traditionally, long dresses set a formal tone for a wedding, but, actually, they can be worn for semi-formal celebrations as well. There are so many different styles of gowns that you may find long but very simple dresses.
On the other hand, short dresses are considered a suitable option for daytime weddings and casual ceremonies. But, they may also look very posh. Moreover, in order to make them look more festive, you may opt for some cool accessories and make statement shoes the main accent.
2. Weather conditions. This factor is very important if you are planning an outdoor wedding. Take care that your girls feel comfortable no matter what season you are getting hitched at. Short dresses can be a better option for hot weather as well as for a rainy or snowy day. However, if you have an indoor ceremony, long maid of honor dresses are as good as short ones.
3. Your bridesmaids' heights. As we have already mentioned above, shorter dresses are a cool idea if your bridesmaids are of various heights. However, if they are of approximately similar height, they will look gorgeous in both long and short attires.
4. Dress styles. The dress styles may look absolutely different in various lengths. The general rules of choosing a bridesmaid dress' are:
a) Curvy figures look the best in belted dresses or the ones with a defined waist;
b) Empire waist looks great at girls with apple-shaped bodies;
c) Broad shoulders look more harmonious with the bottom in A-line dresses;
d) Rectangular bodies can look more feminine in draped dresses;
e) Fit-and-flare gowns are an astonishing variant for girls with smaller top and wider hips.
To tell the truth, the majority of dress styles go well with both long and short lengths. However, make sure that the exact variant you choose will look great in the length you want and be flattering for your bridesmaids.
5. Your bridal gown and wedding theme. The last but not the least is to make your bridesmaids look harmonious with you and your ceremony in general. If you plan a wedding in a certain color scheme, make sure that your bridesmaids have dresses in this color or, at least, that their gowns have some elements corresponding to the wedding theme.
Also, the styles of your girls' dresses must complement your own bridal look and never be more luxurious than your gown. Thus, blush bridesmaid dresses long will be absolutely inappropriate if a bride wears a blush dress of knee-length. Or, long navy blue bridesmaid dresses may be out of style if you have a red sash on your wedding dress and red accents in your wedding décor.
What Are Cute Alternatives to Floor-Length Bridesmaid Dresses?
Actually, there are much more variants than just long and short dresses. Let's have a look at 4 cool options if traditional bridesmaid gowns are too boring for you.
Dresses with Slits
A long bridesmaid dress with slit may look much more intriguing and sexier than a classic long dress. A dress can feature a slit at one side, both sides as well as on the front or back of the gown. It can be just a small slit which goes from knee to the hemline or you are free to opt for more dramatic variants with high slits. However, the latter idea works well if all your bridesmaids have beautiful legs and are eager to demonstrate them.
Bridesmaid dresses with slits look fresh and unusual. However, make sure that the gowns aren't too revealing. Thus, if a dress features a high slit, open back and a deep plunging neckline, it may be more suitable for any other party but not a wedding.
Tea-Length Gowns
Tea-length gowns have almost become as traditional as long ones. Today, they can be worn even for formal weddings and are available in very luxurious designs. They also go well with different types of necklines and sleeves. Actually, tea-length gowns are an astonishing alternative to dark burgundy or navy bridesmaid dresses long but they look much brighter.
The good news is that tea-length dresses suit many girls. They look gorgeous at petite girls as well as plus size ones. The only exception is statuesque girls as such a length may highlight their tall height and make them feel uncomfortable.
Knee-Length Dresses
Knee-length dresses are employed for a great number of occasions, including weddings. They are already not so formal as long ones but are still less provocative than mini dresses. Moreover, as they suit girls of any height and body type, you are free to order identical dresses for your bridesmaids with no feat that someone will feel uncomfortable.
Knee-length gowns go in vast number of styles and can be pretty simple as well as heavily embellished. So, your bridesmaids may look luxurious not only in long gowns but in short ones as well.
Mini Dresses
That's definitely the most provocative variant. Mini dresses are a proper option for daytime and casual weddings as well as for backyard ones. You can also opt for such attires if you have a short bridal dress. It will be more logical when both bride and bridesmaids wear short dresses than when a bride has a short gown while her bridesmaids wear long ones.
Note: if you opt for mini length, the dress top must be more discreet. Thus, it can be a high neck or a neckline with thick straps. Non-deep V-necklines may also be suitable. Or, you may go with long sleeve bridesmaid dresses or the ones with three quarters ones.
So, you see that long bridesmaid dresses are classy and beautiful but they aren't a must for your wedding. If you consider short gowns to be more suitable for your special day, don't hesitate and trust your intuition. It's you wedding and you are free to choose whatever you like no matter if you want to go with long black bridesmaid dresses or opt for red mini dresses.