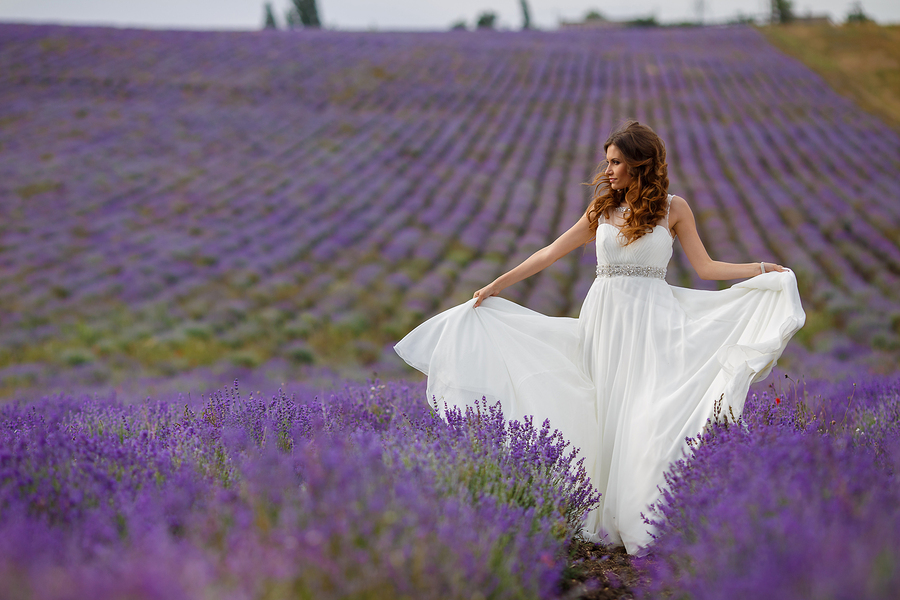 How to Look Stylish and Beautiful in Casual Wedding Dresses?
Are you one of those brides, who don't dream about a princess ball gown with luxurious beading and a dramatic train? Want to have something simpler and more elegant? Or just don't want to spend much money on the wedding gown? Casual wedding dresses will be suitable for you in all these cases as well as in a number of other situations.
However, while choosing a casual dress, it's possible that you will be afraid of looking too simple at your wedding day. And today, we are going to discuss how to wear a casual wedding dress and look both beautiful and stylish in it.
Less Is More: The Reasons for Wearing a Casual Wedding Dress
You might have already heard the saying "less is more". But you have hardly ever thought that this saying may be used concerning wedding dresses. Sometimes, a luxurious wedding dress with crystals and dramatic train is simply inappropriate and it's better to give preference to something more casual. So, let's see what reasons may be for wearing simple informal wedding dresses.
Firstly, simple dresses are worn by older brides and the ones, who get married for the second time. Casual wedding dresses for second marriages are much more modest than the ones of the girls, who get married for the first time. You will rarely see much beading and crystals on them as well as tulle skirts.
Secondly, if you plan a casual city hall ceremony in the presence of closest relatives and friends, you may want to wear something light and simple. Wedding dresses for casual wedding can be not only long, but also tea-length and short. All the variants may look stylish.
Thirdly, if you plan an outdoor wedding, it's not always convenient to have a huge dress. That's why casual beach wedding dresses as well as country wedding dresses are often rather simple in their form and adornments.
Fourthly, if you have a tight budget, you can save much money by giving preference to a simple wedding gown. A cute dress can be bought even for $100. The most important is that it fits you and you like it.
And finally, even if you plan a traditional wedding, you are free to wear long casual wedding dress in case you are a fan of minimalism. For instance, a simple satin or Mikado dress may look very interesting and stylish.
The Ways of Making a Simple Wedding Dress Look Brighter
If you have already bought a casual wedding gown and think that it looks too plain, there are four main ways of making it look more interesting.
Shoes
Basically, you can compensate a simple dress by choosing beautiful shoes. The shoes can feature some interesting decor. The most widespread adornment ideas for bridal shoes are bows, crystals, pearls, rhinestones and lace. If you have some embellishment on the wedding gown, it's better that it looks harmonious with the shoes. Thus, if you have some lace elements, the shoes with lace are the best option.
If you need to find the proper shoes for casual wedding dresses for summer, you are free to opt for sandals instead of classic shoes. It you have an outdoor wedding, you can even wear a wedding dress together with sandals and shoes without heels. And in winter, you may wear beautiful bridal boots.
Moreover, some brides opt for more unusual combinations. For instance, a wedding dress can be worn together with sneakers. Their combination looks very cute. Or, beach wedding dresses casual can be worn with no shoes at all but with beautiful bracelets on ankles.
Lace
Undoubtedly, lace will make any dress look more luxurious. If it's possible to change the dress design, you can add some lace elements on the top as well as on the hem. Or, you can add some lace accessories, like a lace bolero or capelet. The waistbands with lace are also nice.
Also, lace appliques are often used for the wedding dress embellishment. It's very easy to add them to the dress even without help of a professional seamstress.
Waistbands
There are many variants of cool waistbands for any type of the dress, including plus size casual wedding dresses. For example, you can enliven the dress with a belt of another color. The black ones look very stylish and turn a simple dress into a creative black and white one. In fact, you are free to choose any color of the belt you want. It's great if that color is also used for the wedding accessories and decor.
The waistbands can be also embellished. They can be adorned with crystals, sequins, pearls, beading and some other things. Also, metal silver or gold belts may brilliantly complement a minimalist dress.
Accessories
The proper accessories are very important if you have a casual wedding. They help to create the necessary style and atmosphere. If you have a plain wedding dress, complement the bridal look by a beautiful headpiece or veil, by jewelry and gloves. Also, don't forget about a beautiful bridal bouquet. It can be rather bright and feature various kinds of flowers as well as such adornments as pearls, ribbons and jewels.
If you have a casual beach wedding dress or a country-styled one, take into account that it looks astonishing with flowers. Thus, by wearing a beautiful wreath on the head and creating beautiful wedding decor with flowers, you will make your wedding look very stylish.
The casual wedding dresses for fall and winter can be complemented by various wraps. It can be a bolero, a jacket or a capelet. For example, the simple strapless gowns look cool with lace capelets and boleros. If it's cold outside, you can wear a jacket, made of fur or faux fur.
The Ideas of Casual Wedding Gowns for Stylish Brides
If you are still in the search of the proper wedding gown, have a look at the following stylish variants of dresses.
Vintage Dress
Vintage gowns look very unusual and so, even a simple dress in such a style will look unforgettable and unusual. The dresses, inspired by 1920s, are one of the most popular variants.
Short Wedding Dress
Short casual wedding dresses look very cute. They can be of various lengths from daring mini to elegant tea length. Moreover, the silhouettes can be different, including sheath, fit and flare and ball gown styles.
Wedding Dress with Open Back
If you opt for modest wedding gown, you can add a bit of sexuality to it by opening the back. The low back dresses are very intriguing and are one of the best choices if you have a beautiful back.
High Low Wedding Dress
If you can't decide between long casual wedding dresses and short ones, opt for the high low gowns. They are suitable for beach and country wedding as well as for casual ceremonies in the city hall.
Off-the-Shoulder Wedding Dress
The dresses with open shoulders are still at the peak of popularity. They make the bride look sexy without revealing her legs or decollete. The combination of the off-the-shoulder neckline and a big ruche looks very nice, especially at the outdoor wedding.
Two-Piece Wedding Dress
Naturally, two-piece wedding dresses look very stylish. If you have a thin waist, you can even open the part of your belly. Or, the top can cover a part of the skirt. A cute idea is when the top is made of lace, while the skirt is made of satin or chiffon.
Wedding Pantsuit
The most creative brides will like the idea of wearing a pantsuit instead of a classic wedding dress. This idea is more suitable for older brides. However, there are so cute designs of wedding pantsuit that even a 20 year old bride will look astonishing in it.
So, you see that casual wedding dresses may look really astonishing. The most important is to choose the gown, which really suits you and fits your wedding format. Believe, you can look luxurious even without tulle skirts and beaded corsets.