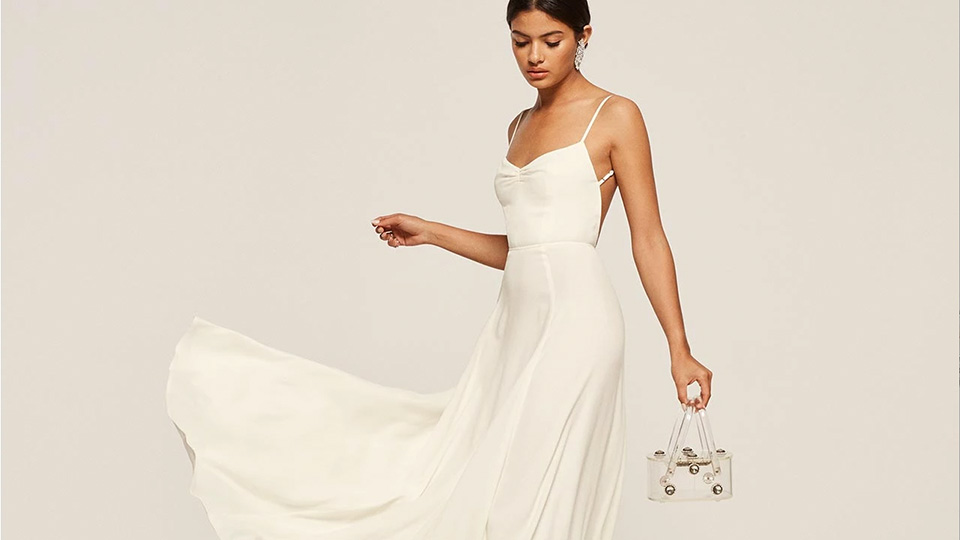 35 Inspirational Ideas of Simple Wedding Dresses
Are you one of the brides, who don't dream about luxurious princess wedding gowns, but want to have something simpler? We think that even a simple wedding dress may look astonishing and we are going to prove that with some fabulous variants of wedding gowns.
So, let's take a closer look at 35 inspiring simple wedding dresses ideas.
Simple Elegant Wedding Dresses
1. Empire Waist Silk Wedding Dress
A simple wedding dress made of silk and chiffon looks both informal and luxurious. The zest of the dress is in the unusual neckline, which is perfect for the girls, who can boast of beautiful breast. The dress is decorated with gold and silver beads as well as crystals, which add a festive mood to it.
2. Sheath Wedding Dress
While looking for wedding dresses simple and elegant, you will definitely face many interesting variants of sheath dresses. The one on the image above would look too casual but for the lace decor on the top. It adds femininity and tenderness to the bride's look.
3. A Simple High Neck Wedding Gown
At first sight, all simple white wedding dresses without any decorations look boring. But have a look at this variant. Though it's rather casual in both form and texture, it looks extremely stylish and is perfect for the brides, who don't like sparkling elements on the dress like crystals and beads as well as are tired of lace.
Simple Beach Wedding Dresses
4. Greek Styled Wedding Gown
In fact, Greek styled dresses are among the best options for beach wedding ceremonies. They are light, flowing and have no unnecessary decorations. This dress may be too simple for the traditional wedding, but will look fantastic at the beach. The bride's look may be contemplated by a flower wreath or a hairstyle with flowers.
5. Sexy Beach Wedding Dress
Many brides like beach weddings because they may wear a dress, which can be considered rather provocative for any other wedding format. The deep decollete, open shoulders and the slit on the skirt are suitable only for self-confident brides, who want to show the merits of their body.
6. Open Back Beach Wedding Dress
If the previous variant is too daring for you, but you still want to have some open parts of the dress, choose among simple wedding dresses for the beach with an open back. This one is covered with thin lace and features cool rushes, which make the dress look lighter and more suitable for summer wedding.
Simple Wedding Dresses with Sleeves
7. Minimalistic Wedding Dress with Long Sleeves
Simple long sleeve wedding dresses are available in many variants. This minimalistic wedding gown looks very elegant thanks to the smooth texture and trumpet silhouette. However, the top is decorated with draperies, which make this dress unique and stylish.
8. Wedding Dress with Short Lace Sleeves
The simple tulle wedding gown may look absolutely different if the short lace sleeves are added. They make the dress look more complicated, but very feminine. The sleeves are also decorated with beads, which harmonize with the waistband.
9. V-Neck Wedding Gown with Long Sleeves
Clearly, such a dress can be worn only by the brides with beautiful breast, who look for long sleeve simple wedding dresses. The combination of V-neck, sleeves and lace looks very sexy and intriguing. Moreover, if you are short, the V-neckline will make you look taller.
Simple Short Wedding Dresses
10. Short Lace Wedding Dress
Undoubtedly, lace makes even the short simple dress look more luxurious and festive. Though the silhouette is very simple, the dress looks great thanks to the beautiful lace and a waistband, decorated with crystals. The closed top makes this dress a good variant for brides with small breast.
11. Smooth Short Wedding Gown
Firstly, it seems that this dress is just one of the easiest variants of short simple wedding dresses. It looks absolutely smooth, but it has its specialty. The lower skirt and the waistband are made of a textured fabric, which adds an incredible charm to this dress. We think that it's a great variant if you have a vintage wedding.
12. Short Wedding Dress with Draperies
If you are tight on a budget, you can find some nice models of simple wedding dresses under 100 dollars. This chiffon wedding dress doesn't cost much, but looks cool thanks to a great number of draperies on both top and skirt. Its main plus is that it can be later used as a cocktail dress.
Simple Country Wedding Dresses
13. Country Wedding Dress with High Slit
Simple summer wedding dresses often feature various slits, decollete and open back. This dress is very modest in general, but a high slit on the leg makes it sexier. Though the dress is very simple, the light draperied fabrics will be the ideal choice for hot weather.
14. Western Wedding Dress with Denim
A country wedding is a great opportunity to refuse from all wedding standards. Thus, instead of the dress, you may put on a tulle skirt and a denim shirt. The look can be complemented by leather accessories. Moreover, simple wedding dresses plus sizes can also consist of a denim shirt and a skirt.
15. Vintage Wedding Dress
This vintage dress can be used not only for weddings but for other occasions as well. The empire waist and the V-neckline may make your legs visually longer. We also like the nude color of the dress. It's very trendy now.
Simple A Line Wedding Dresses
16. A-Line Wedding Dress with Strapless Neckline
It's a classic variant of an A-line wedding gown. Though the dress is made of a heavy fabric, the skirt is covered with one layer of chiffon, which makes it look more airy. The dress is decorated with simple, but cute embroidery. Moreover, it's a good variant of simple plus size wedding dresses.
17. Satin Bateau Wedding Dress
This bateau wedding dress looks very moderate and stylish. Though the both silhouette and texture are very simple, the dress looks elegant and charming. It's the good choice for any season and is suitable for traditional as well as less formal wedding formats.
18. Simple A-Line Dress with V-neckline
It's one more cool idea of plus size simple wedding dresses. The V-neck helps to demonstrate beautiful decollete and shoulders. At the same time, the draperied top will help to hide all the demerits of the waistline. Such a variant is also appropriate for petite brides.
Simple Lace Wedding Dresses
19. V-Neckline Lace Wedding Gown
The brides, who seek for elegant wedding dresses, will surely like this lace V-neckline dress. It will look amazing at a petite bride as well as tall one. The waistband, decorated with rhinestones, makes the dress brighter and more festive.
20. Ivory Short-Sleeved Wedding Dress
Clearly, simple ivory wedding dresses are good alternatives to white gowns. This dress in sheath silhouette is covered with lace and features a high neckline and short sleeves. It looks rather informal, but is very beautiful and stylish. It will serve as a cool country wedding dress.
21. Lace Trumpet Wedding Dress
What we like about this dress is that it's simple and luxurious at the same time. The trumpet silhouette dress with a heart-shaped neckline and without train might have looked rather boring but for the fantastic lace, which covers the whole dress. It's one of the best examples of lace simple wedding dresses.
Simple Boho Wedding Dresses
22. Boho Wedding Dress with Halter Neckline
This bohemian wedding dress looks a bit vintage. The halter neckline is a great option for the brides, who don't like to open their breast line by heart-shaped and V necklines. In this dress, we like that it is decorated by macrame and not ordinary lace.
23. Off-Shoulder Boho Wedding Gown
Before, we have already told you that off-shoulder dresses are in trend now. The sheath dress with a cute ruche, which opens the shoulders and highlights their beauty, is an amazing example of a boho gown. It looks very feminine and sexy.
24. Short-Sleeved Bohemian Dress
In truth, it's almost a standard wedding gown in bohemian style, which consists of a flowing skirt and a lace top. The main plus of this dress is that it may fit many types of body shapes. Something similar can be also found among simple wedding dresses plus size.
Simple Mermaid Wedding Dresses
25. Mermaid Wedding Dress with Lace Back
Among all the variety of simple informal wedding dresses in the mermaid silhouette, a few brides would choose this dress if they saw it only in the front. However, when we have a look at the amazing back, which is decorated with lace, it's impossible not to fall in love with it.
26. Satin Trumpet Wedding Gown
Actually, this satin gown is only for the girls with an hourglass body type. As it doesn't feature any decorations, except some beads in the top, the accent is made on the bride's beautiful body curves. If you are the happy owner of them, you will look amazing in such a dress.
27. Sweetheart Mermaid Wedding Gown
This gown has much in common with simple aline wedding dresses as it's also a single-cut one. It means that it stretches the silhouette and even the brides, who can't boast of tall height and the ideal proportions may wear it. In addition, this dress can be used as an evening, bridesmaid's or wedding guest's gown.
Simple Chiffon Wedding Dresses
28. Chiffon Empire Waist Wedding Dress
Chiffon gowns can be often found among cheap simple wedding dresses. This empire waist variant will make you look like a Greek goddess. The draperied top, which opens the shoulders, adds tenderness and femininity to the bride's look.
29. One-Shoulder Wedding Dress
Frankly, one shoulder dresses always look unusual and creative. This gown is airy and light and that's why it's great for spring and summer weddings. The empire waist bodice is draperied and decorated with beautiful lace applications, which stretch on the shoulder.
30. High-Slit Wedding Dress
If you want to look sexy at your wedding day, this variant is for you. The high slit will show your beautiful legs while the top with transparent elements will make you look intriguing. The combination of chiffon and lace makes the dress look simple, but gorgeous.
Simple High-Low Wedding Dresses
31. Strapless Simple High-Low Wedding Dress
This dress looks very elegant and stylish. Though it's made of simple satin, it wins our hearts by its shape. The strapless bodice helps to make an accent on beautiful breast and shoulders. We also like the length of the dress, which is midi and maxi.
32. V-Neckline High Low Dress
You see that this gown is so simple that it can even be used as an ordinary summer dress. Though it's made of simple fabrics, the draperied V-neckline top with cuts on the waistline makes the bride look airy and, at the same time, sexy.
33. High-Low Dress with Long Sleeves
You must have heard a fashion rule, which recommends to open only one part of the body in order not to look vulgar. This dress is a wonderful example of that rule. While the legs are demonstrated, the top features a high neck and long sleeves.
Simple Wedding Dresses for Second Wedding
34. Wedding Pantsuit
The girls, who are going to get married for the second time, don't only prefer simple classic wedding dresses but also pantsuits and jumpsuits. The pantsuit on the image above looks very elegant and is a great solution if you don't plan a luxurious wedding.
35. Short Wedding Jumpsuit
If you are a lucky owner of beautiful slim legs, you can wear shorts instead of pants. This short jumpsuit is luxurious thanks to the lace, which covers it. The high neckline and long sleeves help to make the outfit look less provocative.
We hope that you have got inspired by our simple wedding dresses ideas and, now you know what exactly you want. As wedding dress is one of the most important things at wedding, start the search right now in order to find your dream dress in time.