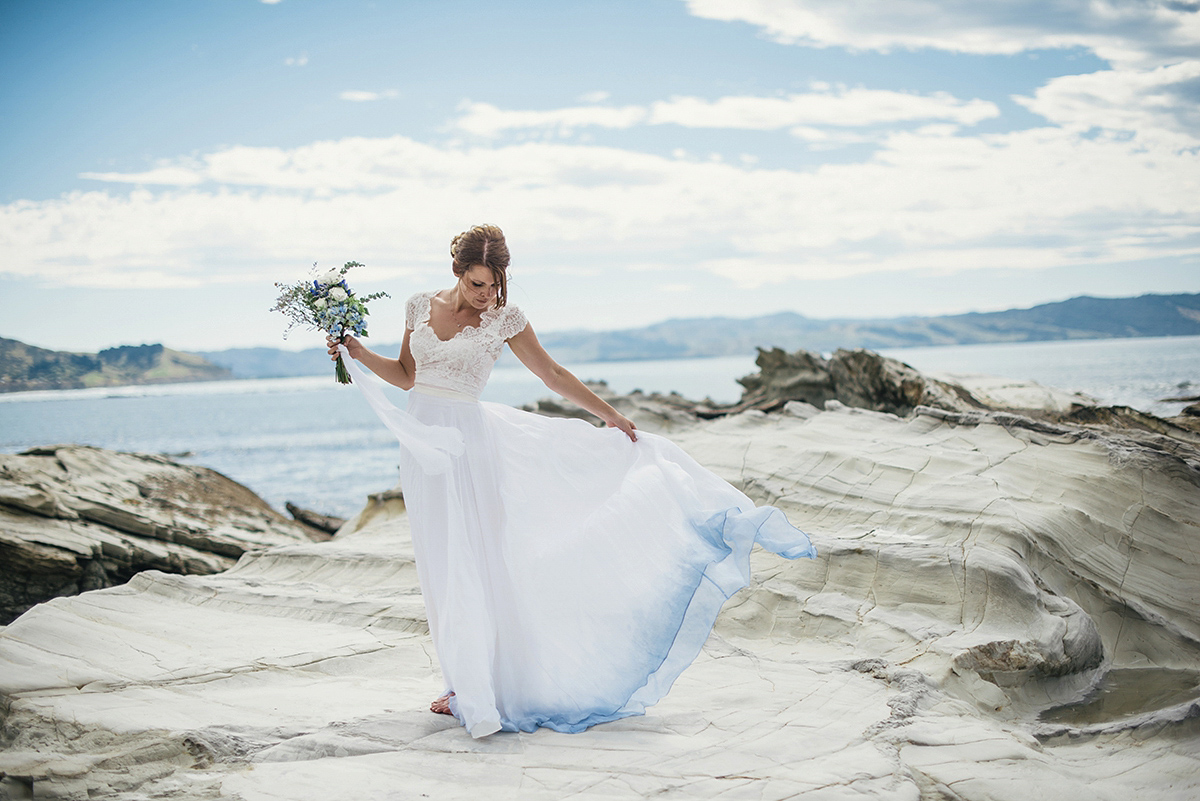 Tips on Choosing Beach Wedding Dresses for Destination Weddings
​
Beach weddings are so romantic. Many of us dream of getting married by the ocean and some brides make these dreams true. While preparing for the destination wedding, the choice of the wedding dress is still the most important thing.
The choice of beach wedding dresses is pretty large. However, while seeking for the one, don't forget to take into account the peculiarities of the place you are going to have your wedding at. We offer you some tips, which will help you to choose the proper beach wedding gown.
Recommendations on the Choice of Wedding Dresses for Beach Wedding
Before you start the search of your beach wedding dress, read the following tips, which will help you to make the right choice.
Style
Though the majority of brides prefer simple wedding dresses for the beach, it doesn't mean that you must do the same. While choosing the dress for a beach ceremony, it's better to give preference to the one, which is convenient, beautiful and flatters your body type.
But the latter point is the most important. No matter if you are going to choose among beach wedding dresses cheap or will buy a luxurious designer wedding gown, the most important is that it fits you perfectly and highlights the merits of your body.
However, if to talk about the silhouettes, the most convenient are empire waist and sheath wedding gowns. Also, A-line wedding dresses are suitable. The ball gowns and mermaid gowns aren't very convenient for the beach, but can be worn, especially if they are flattering for your body type.
Light Fabrics
As the majority of beach weddings take place in summer, the weather can be rather hot. When the ceremony is held under the direct sun light, it's crucial not to get overheat. That's why, seek for wedding dresses for the beach made of light and breathable fabrics. For instance, the chiffon and charmeuse gowns are suitable.
Casual Dresses
Obviously, a beach wedding doesn't demand from you wearing a traditional wedding gown. This format of celebration allows wearing simple and casual beach wedding dresses. Besides being more comfortable than classic wedding gowns, casual dresses may also help you to save much money on your wedding outfit.
Dress Length
Undoubtedly, wedding dresses with trains look gorgeous. However, in this case, the train may cause many problems. The sand may spoil the dress and make it look grubby on the photos. However, if you have always dreamt about a wedding dress with a train, buy it. Don't sacrifice your dreams for the sake of convenience.
If you want to have a luxurious wedding dress with a train which can be worn for a ceremony at a beautiful location in Italy, but, at the same time, think about its convenience, ask your wedding boutique about the possibility of having a dress with a detachable train, which you can take off after the ceremony and feel more comfortable at the reception.
Shorter styles of wedding dresses are perfect for beach weddings. First of all, you can opt for short beach wedding dresses. They are very convenient and there are many ideas of them. Secondly, you can buy a tea-length gown. Though there are many vintage gowns of this length, the stylish contemporary ones are also for sale. The same concerns beach wedding guest dresses.
Thirdly, high low wedding dresses are great for the beach ceremonies. The difference in length can be different. For instance, the knee length in the front and long in the back wedding dress will make you closer to a traditional bride, but, at the same time, looks very creatively.
Transportation Issues
If you don't live by the ocean side, it's most likely that you will need to transport your wedding dress to the place, where the ceremony will happen. As a rule, beach style wedding dresses are rather light and compact. They can be carried onto the plane as hand luggage. The dresses with multiple skirts and trains are heavier and occupy more place.
Accessories
Though a veil is a traditional part of the bridal outfit, it's not a good idea to wear it for the beach wedding. As some breeze is possible, the veil can go flying. Moreover, you hairstyle can be spoilt as well.
One more important part of your wedding look is the shoes. High heels and sand don't work together. That's why, leave stilettos for other occasions. You can go to the aisle in flat shoes, pumps, flip flops or even barefoot.
5 Ideas of Stylish Beach Wedding Gowns
Now, it's time to get inspired. Here are 5 cool examples of beach wedding dresses.
Stella York Beach Wedding Dress
Style 6542 by Stella York is made of lace and chiffon. It features a sweetheart neckline under the illusion halter neck and beautiful illusion back. The dress is of the relaxed sheath silhouette and so, it's very convenient for the beach wedding. The price is around $2000.
Watters A-Line Wedding Gown
A-line wedding dresses are liked by many brides and suit the majority of body types. That's why, this silhouette is a good variant for beach bridal dresses. LD3569 model by Watters is made of silk charmeuse and lace. It features the bateau neckline. The price is $2500-3000.
BHLDN Wedding Dress
If you seek for elegant and simple beach wedding dresses, think about having a dress of sheath silhouette made of one type of fabric. For instance, this BHLDN wedding dress, called Sawyer, looks very cool. Moreover, it has an open back. For a more luxurious look, combine it with beautiful jewelry. The price is $800.
Berta Mermaid Wedding Dress
Though it may be inconvenient to have a dress with a train for a beach wedding, it's very hard to refrain from buying a dress like this. This Berta mermaid dress (style 17-144) has a detachable train and it's very convenient. The mermaid wedding gown looks extremely sexy thanks to the open back, lace and illusion details. The price is between $8000 and $11000.
Open Back Wedding Dress by The Best Wedding Dresses
If you seek for a simple and stylish dress, you may fall in love with this variant. It features a flowing skirt and a lace top. However, its main accent is a sexy open back. Moreover, this dress is pretty lightweight and can be packed even in a suitcase.The price is $65.
What could be better than getting married to your sweetheart at the ocean or sea shore, wearing a beautiful wedding gown? Now you know the peculiarities of shopping for beach wedding dresses and will easily cope with this most important task.