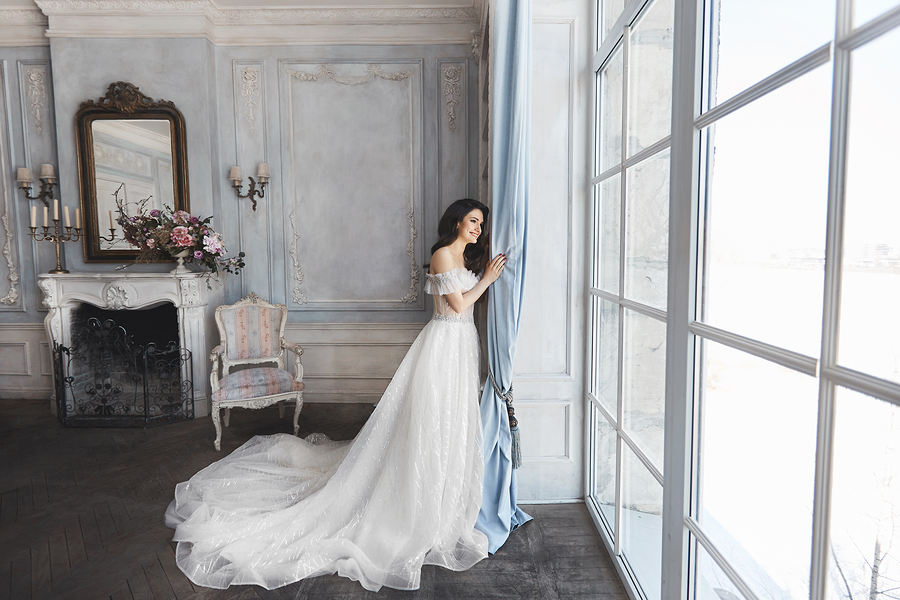 15 Fantastic Ideas of A-Line Wedding Dresses
A-line wedding dresses are the most popular choice among brides. They are liked for their classic and elegant silhouette as well as for the fact that they suit the brides of all shapes and sizes. The silhouette was called in such a way because its outline resembles letter "A". The gown features an unbroken line from the top to the bottom, which is created with the help of a fitted bodice and a flowing to the bottom skirt.
Let's dig a little deeper and discover why this silhouette is considered to be universal for all brides. Moreover, we are going to provide you with 15 inspiring ideas of A-line bridal gowns.
The Universality of an A-line Wedding Gown
An A-line wedding gown is characterized by a fitted top and waistline and a skirt, which flares to the hem, forming "A" shape. The term "A-line" was invented by designer Christian Dior in 1955, when he created the new silhouette for his Spring-Summer collection, which is now known as "Christian Dior New Look". The designer's aim was to infuse femininity back in ladies' outfits after the World War II.
A-line silhouette suits almost every bride. It can add curves as well as hide the imperfections of the waistline and hips. That's why both slim and plus size girls look wonderful in such gowns. Also, both short and tall brides will look proportional and beautiful in the dresses of this silhouette.
Moreover, an A-line bridal dress can be very different. Depending on your body peculiarities, you are free to choose the neckline and style, which suit you the most. Also, the fabrics and embellishments may be different. You may wear a minimalist satin gown as well as a luxurious dress, embellished with lace, crystals or beading.
A-line gowns are suitable for any type of a wedding, from a modest ceremony in the backyard or on the beach to the luxurious wedding ceremony at church.
15 Ideas of Beautiful A-line Wedding Dresses
Now, let's get inspired by the following 15 stunning variants of bridal dresses in A-line silhouette.
Tulle A-line Bridal Gowns
An A-line tulle wedding dress is a classic variant, which suits the most romantic and tender brides. The tulle skirt creates the volume, which helps to make a princess-like look, but the outline of the dress remains more elegant and suitable for all the body types. What we like tulle gowns for is that they look very light and convenient.
The bodices of tulle gowns often feature draperies. An entirely tulle wedding gown looks rather minimalistic. The chic can be added with the help of an embellished waistband or embroidery. Also, the bodice as well as the skirt can be adorned with lace appliques or sequins.
Lace A-line Style Wedding Dresses
Undoubtedly, a lace A-line wedding dress is a very feminine and romantic option. As there are many types of laces, you are free to select any lace you like, from thin Chantilly, which is ideal for summer season, to beaded guipure, which looks extremely luxurious and chic. If you love lace, but not too much to have a dress fully made of it, you always have an opportunity to have some lace elements on the top as well as on the skirt.
There are dozens of ideas of how an A-line lace wedding dress may look. It may feature various necklines: from sweetheart to high-neck, have sleeves and be sleeveless. Also, the location of lace may differ. Very often, lace adorns the bodice and may gradually extend to the skirt or decorate the hem and the train.
Satin A-line Bridal Dresses
If you are fond of minimalism, think about a dress, made of satin. It's smooth and looks very stylish. Though someone may think that a satin dress is too simple for a wedding, we can surely state that it's elegant and may look as gorgeous as a gown with much embellishment.
However, some adornments can be added, like a beautiful waistband or a bow. Also, the satin skirt can be combined with a lace bodice or feature some smaller lace details, like sleeves or back.
Wedding Dresses with Tiered Skirts
Many of us associate tiered skirts with ball gown wedding dresses. However, such a complicated skirt design may be used for other silhouettes as well, including A-line dresses. Here, the most important is not to create the unnecessary volume. That's why, all the tiers must be arranged in such a way that the A-like outline is preserved.
The skirt can be made of different fabrics: from light tulle and chiffon to heavier satin. Also, lace elements can be added. As the accent is made on the skirt, the bodice design can be rather simple. For instance, it can be covered with thin lace or feature delicate draperies.
A-line Wedding Dresses with Sleeves
In fact, A-line wedding gowns with sleeves are worn not only by the brides, who get married in fall or winter but also by the summer ones. The sleeves can be very thin and almost invisible. For example, illusion sleeves are one of the greatest trends.
The sleeves may be of various lengths. The cap sleeves are very popular now. But you can have short, three-quarters and long ones. Moreover, the sleeves design may be different: from classic straight to romantic flutter. All the types and lengths of sleeves are well-combined with the A-line silhouette.
Open Back A-line Wedding Dresses
Open and low back dresses are loved by many girls. They make the bridal image sexy and intriguing. An A-line with open back is a wonderful chance to add a bit of sexiness to a traditional gown.
Very often, in order to avoid too many open parts, open back is combined with a long sleeve A-line wedding dress or the one with high neck. If you want to have a more revealing front, you may opt for a back with illusion parts or the one, made of thin lace. Clearly, the least modest brides may combine open back and plunging neckline.
Illusion Bodice Wedding Dresses
Perhaps unsurprisingly, the wedding gowns with illusion bodices remain trendy for several seasons. They are a great mixture of sexiness and tradition. The A-line dress with an illusion bodice is definitely one of the most popular choices today. Moreover, they are a great option for a summer wedding.
The dresses with illusion bodices may be sleeveless as well as feature sleeves of all possible lengths. They are usually adorned with lace appliques, which are sewn to the bodices of nude color, creating the illusion of a bare body.
V-Neck Wedding Dresses
V-neck is one more popular trend at the moment. Its depth can be different: from a small cut to a plunging neckline with a deep decollete. And it means that V-neck suits the girls with various breast sizes.
The V-necklines can be made of various materials: from draperied tulle and sleek satin to lace. For example, the combination of a lace V-neck bodice and a tulle, organza or satin skirt looks very beautiful. Also, the top and the bottom can be of the same fabrics. For instance, the dress can be entirely from satin or thin lace.
High-Neck A-line Wedding Dresses
High-neck wedding dresses are loved for their convenience. They suit the girls with various types of figure, from petite to plus size. They are good for the brides with wide shoulders. Today, it's pretty popular to combine high-neck with illusion design. For example, a sweetheart bodice may have an almost transparent part, which extends to the shoulders and allows it to sit more comfortably.
High-neck gowns may be minimalistic, like the ones made of satin. They can be fully covered with lace, beading or sequins. The most widespread variant is a dress with a lace top and a tulle skirt.
Off-the-Shoulder Bridal Gowns
Obviously, off-the-shoulder bridal gown is an astonishing opportunity to show your beautiful shoulders. Such a dress suits both petite and plus size brides. The only exception is the girls with broad shoulders as this neckline can make them look bigger in the top. An off-the-shoulder A-line dress will help to create a tender and sexy bridal image.
Like many other types of necklines we have already stated, off-the-shoulder neckline can go in various combinations, from a fully satin dress to the one with lace and beading.
Strapless Wedding Gowns
A strapless A-line sweetheart wedding dress is classic. However, the strapless bodice can be also straight or asymmetrical or in the form of a wave. The bodice without any straps suits slim girls with small and medium breast as well as medium shoulders.
An A-line wedding gown with a strapless bodice looks very traditional and is liked by many girls. It looks cool with a tulle or tiered skirt and a draperied or lace bodice. Also, the combination of a richly embellished top and a simple satin skirt looks beautiful.
Wedding Dresses with Bateau Necklines
Also, A-line bridal dresses look amazing with bateau necklines. Though it's a kind of high-neck bodices, it has some peculiarities. For instance, bateau necklines aren't suitable for the girls with wide shoulders. At the same time, they are great for the brides with narrow shoulders as they help to make them visually bigger.
Bateau neck dresses look great with illusion bodices with sweetheart or even plunging necklines, which extend to the shoulders with the help of a thin tulle or lace. The beading and rich embellishments are a great addition to a bateau neckline dress.
Plus Size A-line Wedding Dresses
Frankly, A-line wedding gowns are one of the best variants for plus size brides. The properly chosen materials and details may make a plump girl look much slimmer, hide the imperfections and highlight the most beautiful parts of the body. For example, asymmetrical draperies may make the waist look thinner as well as add some height.
If you like lace, avoid too big and too small patterns. Give preference to something medium. Also, avoid illusion bodices and 3D details. As to the neckline, strapless and spaghetti straps bodices aren't good. Give preference to V-neck with thick straps, high-neck and bateau necklines. Sleeves are also a good idea.
Short A-line Wedding Dresses
Clearly, short wedding dresses may be also of A-line silhouette. They look much more romantic than fitted dresses and have less volume than baby-doll style ones. And, of course, they suit a wide range of brides. The short bridal dresses can be both simple and luxurious, depending on the embellishments.
The short A-line gowns can be made of satin or silk as well as from chiffon. The top can feature draperies or can be made of lace. All the types of necklines and bodices can be used, depending on your body peculiarities. Moreover, you may have a high-low wedding dress. It's a wonderful mixture of short and long dresses.
Simple A-line Wedding Gowns
Of course, simple wedding dresses can feature the A-line outline as well. Usually, such gowns are made of simple fabrics like jersey or cotton. And what many girls like them for is that they look more like evening, cocktail or even everyday dresses than the bridal ones. That's why, you can surely wear the one after your wedding.
Casual A-line gowns are suitable for destination weddings, beach and country-styled ceremonies as well as for modest weddings in the company of the closest people.
In short, an A-line wedding dress is timeless. It was, is and will be actual thanks to its universality and a wide choice of possible combinations of fabrics, necklines, styles and embellishments. This silhouette suits almost every girl and so, it will never go out of fashion.