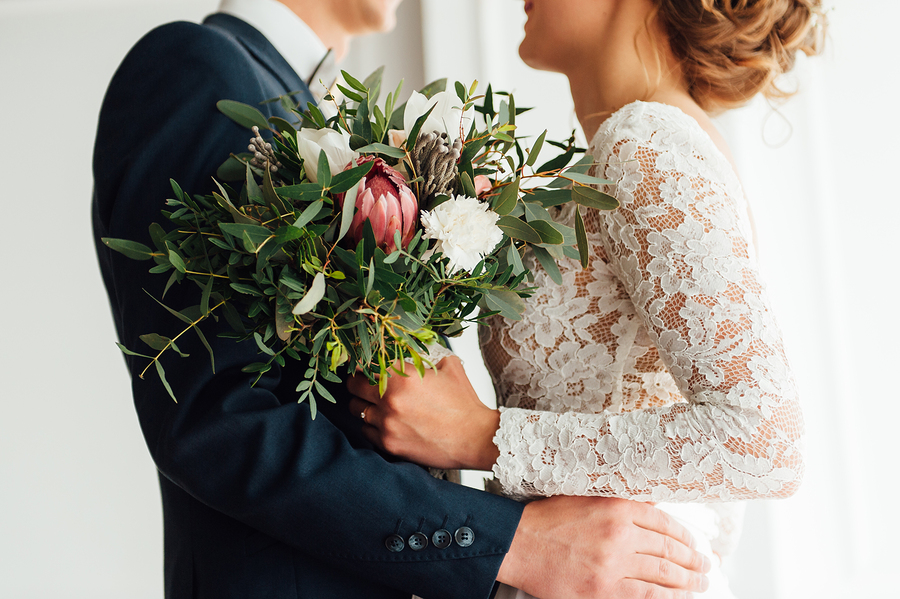 What Wedding Dresses with Sleeves Suit Spring and Summer Weddings the Most?
Are you fond of wedding dresses with sleeves? There are no doubts that they look classy, elegant and simply beautiful. Many brides consider such gowns to be more suitable for colder seasons, thinking, first of all, about long sleeves. However, there are so many variants of sleeves, that you will find the appropriate variant not only for warmer seasons but also the one, which will suit your perfectly.
So, let me show you what types of sleeves exist and how to choose the best wedding dress with sleeves.
Types of Sleeves for Wedding Dresses
Evidently, sleeves on wedding dresses can be of different lengths and styles. Here are the most widespread types of sleeves, which are used at wedding dresses.
Fitted Sleeves
Fitted sleeves end at the wrist and fit the arms closely. They may seem to be rather conservative. In order to make them look more interesting, many wedding designers made them see-through, using lace or tulle. Such sleeves suit the brides with almost any body type and may go well with ball gown wedding dresses with sleeves as well as sheath ones.
Flutter Sleeves
Flutter sleeve is a loose light-weight type of sleeve, which flutters when you move. It's usually made of sheer fabric. It's ideal if you want to look romantic and feminine. This type of sleeves won't suit the girls with wide shoulders as they will look bigger. At the same time, petite and pear shaped girls will look astonishing with them.
Bell Sleeves
They are full sleeves, which flare on their way to the wrist. Variations of bell sleeves are butterfly sleeves, which flare a bit lower and form a "skirt". Bell and butterfly sleeves are great for bohemian and vintage gowns, which are made of lace or sheer fabric. They look the best on the girls of medium or tall height as well as the ones with slim bodies.
Cap Sleeves
A cap sleeve is the smallest of all sleeve types. It covers the shoulder tip and is usually 1.5-3 inches wide. In such sleeves, there is no fabric under the arm. They look more like an extension of the neckline. Cap sleeves are trendy at the moment and look very stylish. They look the best on petite and slim brides.
Short Sleeves
Short sleeves are, as a rule, 5-7 inches long. They can be flat or puffed. Such a type of sleeves is usually used for less formal and simple wedding dresses. They suit almost all body types. They are rarely used at ball gowns, but can be seen at sheer and sheath dresses. The flat sleeves suit almost everyone, while the puffed ones are good if you have narrow shoulders.
Elbow Length Sleeves
Clearly, these sleeves end at the elbows and they are something medium between short and ¾ sleeves. They are usually fitted. They go well with almost all wedding silhouettes. However, if you have a seam or a waistband on the waist, it's better that it won't be on the same level with the sleeves, forming a horizontal line. Make the sleeves either a bit shorter or longer.
¾ Length Sleeves
These sleeves end mid-way down the forearm. They look very elegant and are a bit less formal than long sleeves. They are more popular than long sleeves at the moment thanks to their convenience and universality. ¾ length sleeves suit the girls with any figure and any height. Moreover, they are used at wedding gowns of all possible silhouettes.
Full-Length Sleeves
This type of sleeves ends at the wrist and is a bit loose in comparison with fitted sleeves. It may be loose on the wrist or feature a cuff, which closes with a zipper or button. Such sleeves aren't recommended for plus size wedding dresses with sleeves as they may add some unnecessary volume to the arms.
Illusion Sleeves
Illusion sleeves can be of elbow, ¾ and full lengths. They are made of illusion lace or tulle, adorned with lace appliques. This type of sleeves is one of the most popular as it covers the arm, but still some skin is seen through. In the majority of cases, such sleeves are combined with illusion necklines. They are used with all types of wedding gowns and suit almost every girl. Such sleeves are ideal if you want to be sexy and modest at the same time.
Bishop Sleeves
Bishop sleeves are long sleeves, which are fitted near the elbow and become wider as they move down to the wrist, where they form a cuff. Bishop sleeves are usually used for vintage-inspired dresses. If you have too thin arms, they will help you to hide that. Also, such sleeves can help you to make the upper part of the body more proportional with the hips if you have a pear body type. At the same time, the girls with wide shoulders aren't recommended to wear the gowns with such sleeves.
Off-Shoulder Sleeves
Off-shoulder sleeves start below the shoulder bone. They can be of various lengths from tiny to full length ones. They make the bride look feminine and romantic. Also, open shoulders add sexiness to the bridal look. While such sleeves and neckline don't suit brides with wide shoulders, they look great at all other body types.
Cape Sleeves
Cape sleeves are wide and flowing. The loose and voluminous sleeves allow the arms moving freely. They look astonishing at bohemian wedding dresses. Such voluminous sleeves suit the girls with narrow shoulders and pear-shaped body types. They look the best if they are made of thin lace, tulle or chiffon.
Cold Shoulder Sleeves
Cold shoulder sleeves are the sleeves with the holes at the shoulders. They look very creative and interesting and make a dress with long sleeves sexier. They can be made of both thin and thick fabrics. As a rule, such an accent on the shoulders looks better on the brides with medium shoulders.
10 Cool Ideas of Wedding Dresses with Sleeves for a Summer Wedding
In truth, there are so many cool variants of sleeved wedding gowns, starting with lace wedding dress with sleeves to more discreet ones, that it can be very hard to choose the best one. We offer you to have a look at 10 astonishing ideas of wedding dresses with sleeves, which will be ideal for the bridal outfit at spring and summer wedding.
Illusion Bodice Wedding Dress
Illusion bodices are very sexy and are in high trend at the moment. They look amazing with all the types of sleeves, which fit tight. Their main plus is that they are suitable for any dress silhouette: the ball gowns with illusion bodices look as cool and sheath dresses.
Usually, such bodices are made of thin tulle, often of nude color, and are adorned with lace or lace appliques. Some places on the bodice, like a breast zone, can be closed with thicker fabrics. In such a way, the dress looks like it's transparent, when in fact, it's not.
Off-Shoulder Wedding Dress
It's not a secret that off-shoulder sleeves are at the peak of popularity. And what's great about them is that they are suitable for the weddings in any season. Off-shoulder gowns may feature all the sleeves lengths from short to long ones.
Moreover, such gowns and their sleeves can be made from a vast number of materials. However, the most appropriate for warm seasons is a wedding gown with lace sleeves or the one with tulle. The illusion sleeves are also a great idea.
Cape Sleeve Wedding Dress
In truth, cape sleeves aren't so widespread as illusion or cap sleeves. But they still look gorgeous and are a great variant of sleeves design for a hot weather. As they are voluminous and are usually made of thin materials like tulle, chiffon or thin lace, they don't perform any function but for being a cool part of a wedding dress design.
The cape sleeves can be used for lace wedding dresses with sleeves as well as the ones made of other materials. They look the best with sheath, mermaid and empire waist silhouettes, but can be also used for A-line gowns.
Open Back Wedding Dress with Cap Sleeves
Cap sleeves are the most popular variant for a summer wedding. They are so small, that they will never make your bridal look "too warm". They are just a decorative detail, which help to hide the shoulders a little.
The cap sleeves look marvelous with all the wedding silhouettes from ball gowns to sheath ones. Moreover, they go well with any material from satin to tulle. For example, a lace wedding dress with cap sleeves is a very nice idea for a spring/summer wedding.
Lace Mermaid Wedding Dress with Sleeves
Undoubtedly, a mermaid wedding dress with sleeves looks sexy and modest at the same time. The mermaid silhouette as well as lace goes well with the sleeves of any length from cap to full length ones.
Also, the sleeves can be of some interesting designs like flutter, illusion, bishop, off-shoulder, cold shoulder and even cape. They can be also made of lace or be of other fabrics, usually tulle or chiffon.
Cold Shoulder Wedding Dress
A wedding dress with cold shoulders looks creative and very interesting. Such models aren't widespread and it can be a challenge to find the one for sale. Though, you always have an opportunity to sew a wedding dress and make it meet all your demands.
Fitted cold shoulders look the best at a long sleeve lace wedding dress. At the same time, more voluminous ones, like flutter sleeves, look very romantic if they are short.
Flutter Sleeve Wedding Dress
Flutter sleeves look very light and romantic. They are a great variant for beach and country wedding dresses. Also, they are an astonishing addition to vintage and bohemian gowns. Flutter sleeves are usually used on the dresses of A-line and empire waist silhouettes. Some cool variants with mermaid and sheath gowns are possible.
The flutter sleeves look very beautiful if they are made of thin transparent or semi-transparent materials. The most important is that they flow. Also, lace sleeves wedding dresses may look fantastic with the flutter sleeves if the lace is thin and delicate.
Illusion Sleeves Wedding Dress
Needless to say that illusion bodices and sleeves are in trend now. Many brides are fond of them thanks to the design, which allows closing and revealing some parts at the same time. As a rule, illusion sleeves are made of thin tulle, which is almost invisible and are adorned with lace.
Also, wedding dresses with lace sleeves may have the illusion design. In such a case, they are fully made of lace, but feature no fabric background like the rest of the gown.
Satin Wedding Dress with Sleeves and Open Back
If you are fond of minimalism, you will like the idea of a fully satin wedding dress with sleeves. Sexiness to the bridal look can be added with an open back no matter what length of sleeves you prefer.
If the dress is fully made of satin, it's better to opt for the sleeves, which are fitted. The lengths can be various. Cap, short, elbow, ¾ and long sleeves are suitable.
Bishop Sleeves Wedding Dress
Bishop sleeves are often used for blouses, but they are much rarer for wedding gowns. In the majority of cases, they are used at vintage and bohemian wedding gowns. The silhouettes they suit are empire waist and sheath. Some variants of A-line gowns are possible.
Basically, sleeved lace wedding dresses, which feature bishop sleeves, are often made of chiffon or, at least, have chiffon sleeves. Also, lace gowns may look cute with the bishop sleeves, made of Chantilly or any other delicate lace.
In a nutshell, you can wear almost every variant of wedding gowns with sleeves from satin dresses with short sleeves to long sleeve lace wedding dresses. Of course, the season may influence your choice of the dress, but it mustn't be the key criterion. Choose the gown, taking into account, first of all, your body type and personal taste.