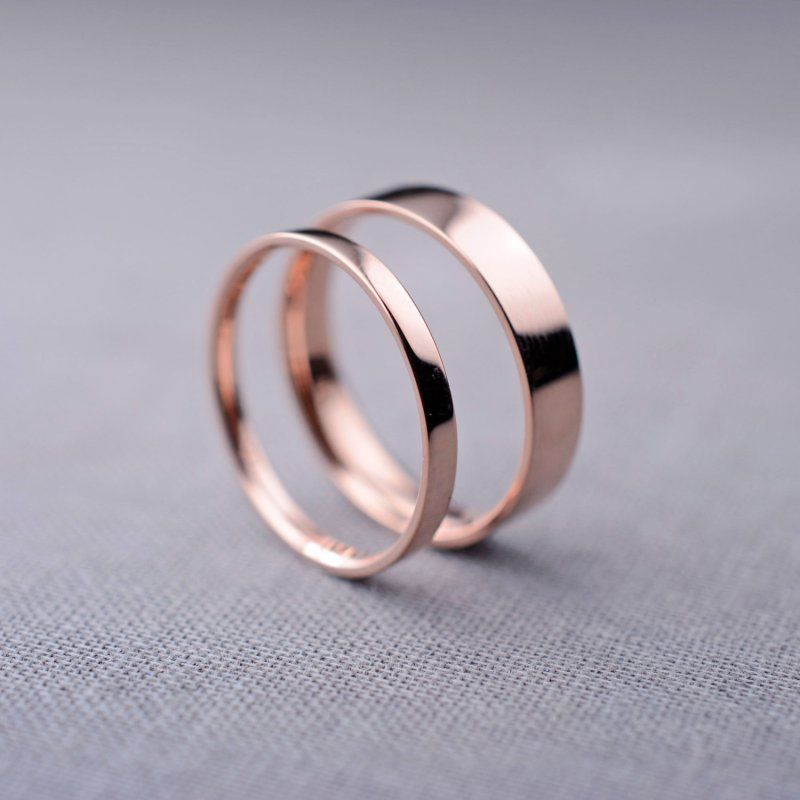 Will Simple Wedding Rings Save Your Wedding Budget?
Sooner or later, every couple which plans to get married needs to choose the wedding rings. At first sight, it seems to be pretty easy. However, in reality, the search of the rings which both look good and have a good price can be rather troublesome.
Of course, the choice of wedding rings is pretty vast: from plain gold bands to diamond encrusted rings. However, if your budget isn't very big, you can't afford everything you want and try to find the rings which suit both your wallet and aesthetical feelings.
Many people think that they can save pretty much money by giving preference to simple engagement rings and wedding bands. But let's see if the things are really like that or there are some nuances as well.
How Much Should You Spend for Wedding Rings?
Actually, the sum you should spend on your rings directly depends on how much you can afford. We all have different incomes and not everyone is able to spend thousands of dollars on wedding bands. So, prior to starting the search, set the budget for your rings shopping.
The prices for wedding rings can be very different. You are free to buy simple wedding rings cheap and even, very cheap. It can basically cost you even $20. Of course, such rings aren't made of gold and wear out faster than their precious metals counterparts. However, they are a good way to save the wedding budget.
The prices for simple gold wedding rings usually start at $200. Maybe, you will be the lucky one who will find a band for about $160-170. In comparison with engagement rings, this price seems to be more affordable and many people can buy such rings.
Clearly, there are also very expensive wedding rings, the prices for which start at $1000 and may go far to $10,000 and even more. Though such rings may look really gorgeous and unique, they aren't for wider public and only well-off people can afford buying them.
So, you see that there are wedding rings for any budget. The most important is to understand how much you can afford spending without going bankrupt. Remember that wedding bands are just one point in the long list of wedding expenditures. Don't buy one ring for $1500 if your monthly salary is $2000. You'd better go with simpler and less pricy options.
Luxurious Wedding Rings vs Simple Wedding Rings vs Cheap Wedding Rings
As we have already mentioned before, there are three basic types of wedding rings: luxurious, simple and cheap. Let's get to know what the difference between them is and what the better option is.
Price
The temptation to buy cheap and simple wedding ring sets is pretty big as you may spend just $40-100 on rings for her and for him. Many couples see no sense in spending much money on rings and prefer to use them for a romantic trip or the newlyweds' home renovation.
A simple gold wedding ring costs at least $200 and it means that two rings will cost at least $400. We consider than this price is rather affordable and many couples opt for this variant as it's already has some value. However, this price can be high for a couple who marries on a whim or doesn't plan their nuptials beforehand.
Clearly, the price for unique expensive wedding bands can be shocking for many people. As prices start at $1000, it means that you must have at least $2000 of spare money not to feel how the ring's price beats on your wedding budget.
Quality
Actually, we all understand that a ring for $20 can't boast of super quality and long lifespan. Definitely, it will lose a battle to other two types of rings. But the good news is that today, there are many simple wedding rings for women and men which cost a little and have a relatively good quality. They may serve pretty long and don't become dark in the course of time. Moreover, they don't bend and can withstand a number of different things.
Undoubtedly, gold is rather a reliable and durable material. So, as a rule, all gold items are of pretty good quality. A ring keeps the color and form it has. But, there are different types of gold and the better the material the higher the price is. So, it's possible that the quality of a gold band for $200 will leave much to be desired.
However, the more expensive doesn't always mean better. So, if to compare simple gold and expensive gold rings, only professionals or people who are obsessed with jewelry will notice any difference in quality. Moreover, the quality more depends on the exact manufacturer than the price. So, you can spend thousands of dollars on your wedding rings and see no difference with the ones for several hundreds.
Design
As cheap rings are pretty popular, they are available in all possible designs. They may be pretty simple as well as feature some diamond-like stones. They can go in classic gold and silver colors as well as in a number of other colors. Moreover, cheap rings aren't always made of metal and you can find cool variants made of wood or silicone.
Moreover, due to the great choice of materials, cheap rings may feature really cool designs. They may have stones, which look very alike to real rubies, emeralds and sapphires. Or, the bands may be pretty flat and keep some interesting engravings.
Simple marriage rings aren't always as simple as we imagine them and various designs are also for sale. When we talk about simple gold bands, the majority of us imagine the most traditional rings with flat structure and simple form. However, modern designers have already created many gorgeous options.
Thus, gold rings may feature beautiful engravings with geometrical or nature-inspired patterns. Or, a ring may be adorned with semi-precious stones. Of course, they are not diamonds, but their price is much more affordable. Another cool variant is a wedding ring made of two or three types of gold. Such rings look very interesting and can be combined with jewelry of any color.
If to talk about expensive wedding rings, their designs are adorable. There are many great jewelry designers who create really unique items which it's impossible to look away from. They often feature diamonds and other precious stones. Many affordable jewelry companies try to copy such rings, but it's pretty hard to do that. However, you should keep in mind that even simple diamond wedding rings by a luxury brand cost very much.
Meaning
In truth, wedding rings are your expression of love and commitment to each other. However, not every couple considers it as a basic attribute of their love believing that feelings are much more important than material things. At the same time, there are couples who believe in the magic force of a wedding band.
If you belong to the first type, you may be satisfied with a ring for less than $100 and invest money into something more solid like a house or a family car instead. Or, you may spend the money on an unforgettable journey with your second half and fill your life with bright emotions. Also, such rings are a good way out if you are short of money. Later, when your financial situation enhances, you will be able to replace your rings with gold ones.
Gold wedding bands are traditional and they are chosen by the majority of the couples. They are precious and have a special meaning for both spouses.
At the same time, luxury wedding bands are usually chosen by rich people, whose surrounding demands having top-brand rings of the most expensive materials. Such rings are a status indicator and always demonstrate a solid position in society.
Additional Options
When you buy cheap wedding rings, don't wait that a seller will offer some additional options to you. They can pack the rings beautifully but nothings else.
The cool thing about gold rings of all prices is that you can make them even more unique by ordering to engrave your names, wedding date or anything else. Also, some manufactures are free to customization and can create the rings which suit all your requirements.
How to Buy Simple Wedding Bands?
The first thing you need to buy even very simple wedding rings is time. The earlier you start the search the better as you will have enough time to have a look at all the possible options and make the right decision. When in hurry, some mistakes and hasty decisions are possible. As a result, you can spend more than you initially plan or buy rings of low quality.
Actually, you must have at least 2 weeks for the search but it's better to have about 4-6 weeks in store. And it you prepare for the wedding beforehand, you may try your luck and wait for Black Friday or some seasonal sales.
Start the search with your local jewelry rings to see what they offer and what the prices are. If the prices are pretty high, visit online jewelry stores. As a rule, the prices at online shops are lower and you can save up to 20%. Also, some stores offer additional discounts if you are buying a set of simple wedding rings for her and him.
If gold rings are too pricy for you, there are many alternatives. The first idea which comes to mind is silver. But you are also free to have rings made of titanium and tungsten, which are gaining popularity now. Both these metals are scratch-resistant and durable. Moreover, titanium is even hypoallergenic.
Moreover, take into account that many other materials can be employed for wedding ring creation. Thus, you may find silicone and wood rings for sale.
Another option to save money on a wedding ring is to seek for simple vintage wedding rings. They may cost less or maybe you can get the one from your grandparents or other relatives. Or, you may use the rings you already have.
Furthermore, some couples prefer not to wear rings at all and make tattoos on their ring fingers instead. For instance, Beyonce and Jay-Z tattooed the Roman numeral for 4 on their ring fingers, symbolizing their birthdays. Or, Kristen Bell's husband Dax Shepard has a tattoo of a bell on his ring finger, dedicated to his wife.
So, the answer to the question we asked in the post title is yes, simple wedding rings can assist you in saving some money from your wedding budget. However, it concerns only simple rings made of various non-precious materials and the simple gold ones. If you dream about rings with diamonds or created by a famed jewelry brand, be ready to spend much money.
The choice of simple elegant wedding rings is pretty big. However, if you seek for the cheapest variants, be ready that the quality can be not excellent as non-gold rings may get darker after being used for some time while cheap gold may also have some shortcomings.