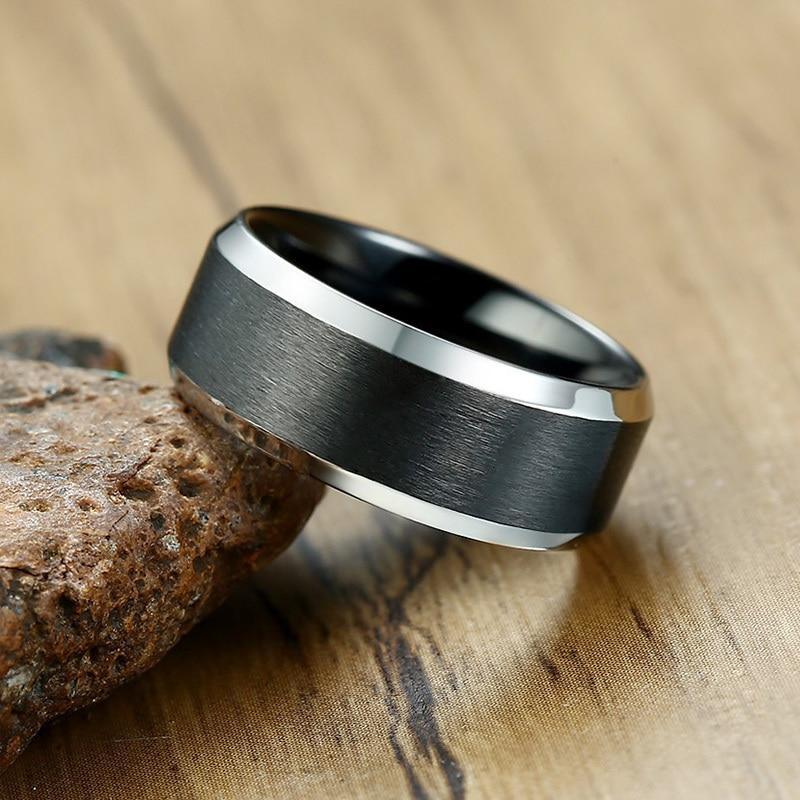 What Are the Best Ideas of Affordable Wedding Bands for Men?
Do you think that it's a big challenge to find wedding bands for men, which look beautiful but are pretty affordable? Actually, this task isn't so hard as it seems to be at first sight. Today, there are dozens of alternatives to gold and platinum wedding rings, which look both beautiful and stylish.
So, let's dig a little deeper and discover how to choose wedding rings for men as well as get inspired by 5 cool examples of rings the price of which doesn't exceed $30.
What You Need to Know about Choosing Wedding Bands for Men
First of all, you may be interested in what the best metal for men's wedding band is. Actually, there is no universal answer to this question. However, we have picked up the most widespread variants of affordable metals for wedding rings. Here they are:
1. Stainless steel is a strong and affordable metal. Such rings are scratch and tarnish-resistant and can serve pretty long. They can resist corrosion, heat as well as withstand the sun, the sand and the sea. Moreover, stainless steel is a hypoallergenic metal. Such rings are available in various colors, including classic silver and gold as well as more non-traditional variants like black.
2. Tungsten is the most durable metal in the world. However, wedding bands aren't made of pure tungsten but of tungsten carbide, containing also carbon atoms. Such rings are scratch and corrosion-resistant. So, they can keep their shining appearance for ages even without any plating. Their minus is that tungsten rings can't be resized. So, pick up the size very attentively. In general, tungsten wedding rings look sleek and modern. As a rule, they are pretty flat and very convenient.
3. Titanium is rather a lightweight metal, which is simultaneously rather durable and crack-resistant. Actually, it's a perfect choice for men who aren't accustomed to wearing jewelry. Such rings usually go in silver, grey and black colors. Moreover, you may play with finishing. It can be pretty glossy as well as matte or even textured.
Also, the rings can be made of some other metals like cobalt and palladium, but they aren't so widespread. Moreover, there are some non-metal variants. For instance, silicone wedding bands for men are pretty popular though they can't boast of great durability and are more like a temporary alternative to more qualitative bands. Also, some couples use wood and ceramic wedding rings, but they can't compete with metal in longevity as well.
Secondly, you need to know what style suits you more. While visiting jewelry stores for men's wedding bands purchase, you may notice that men's as well as women's wedding rings are available in a wide range of designs. They can be pretty simple or feature some interesting details.
Prior to making the final choice, consider your lifestyle. If you are a blue collar worker, give preference to minimalist designs as such rings are more durable and are more resistant to dirt. And if your job doesn't imply manual work, you can definitely opt for more interesting designs. As a rule, man don't use rings with precious stones. However, if you want a ring of a unique design, you need to pay attention to rings featuring two colors or different textures.
Thirdly, you may wonder if a man needs to have matching rings with his wife. Several decades ago, the choice of wedding bands was more restricted and the spouses used to wear identical rings. Many modern couples follow that tradition and choose matching wedding bands. And, in truth, that's very romantic and cute.
However, there are no strict rules and you are free to opt for the rings taking into account your personal taste. So, you are free to have different rings, especially if you have different tastes or your lifestyles differ considerably. However, it's good when the rings are made of the same metal and are of identical color. In such a way, you have different rings, but which unite you thanks to similar details. For instance, pretty often, men prefer simple gold color bands while their spouses opt for rings of the same style but featuring a diamond or a rhinestone.
5 Great Ideas of Affordable Wedding Rings for Men
Now, let's get from theory to practice and have a look at 5 ideas of men's wedding bands, which everyone can afford buying.
Undoubtedly, this ring doesn't look like a traditional wedding band at all. Its matte texture looks very unusual and, maybe, even a little brutal. However, many men love such style, which is compatible with casual and sport clothes as well as can be worn with more formal attires. The ring is made of stainless steel, which is considered to be the best material for men's wedding bands if you have a tight budget.
The ring is available in three colors: black (like pictured), silver and gold. The sizes are from 7 to 12 while the ring's width is 8 mm.
If you need a massive ring, which looks like a traditional wedding band, pay attention to this item. Though it looks like a classic gold wedding ring, it features two textures, which definitely add uniqueness to this band. It's made of tungsten carbide, a material, which is gaining popularity now as an alternative to traditional stainless steel.
This band is a great example of cheap wedding bands for men and women as it's available in sizes from 5 to 14. So, you can get matching rings with your significant other. Moreover, you are free to choose the width: either 6 mm or 8 mm.
This ring is another idea of matching wedding bands for men and women. Though the basic color of the ring is silver, it features some gold details, which make this ring compatible with almost any type of jewelry. Moreover, such a combination of colors looks very stylish. The material used is titanium steel, which is pretty durable and solid.
It's supposed that the rings for men are 8 mm wide while the ones for women have the width of 6 mm. However, actually the rings of any width are available in a wide range of sizes: from 5 to 14.
If you like the combination of two colors in one ring and seek for non traditional wedding bands for men, you may like the pictured above band. While its main color is black, it features cute gold details, which make the ring look more luxurious and interesting. Moreover, this band looks very stylish and will be liked by young people who take care of their looks.
The sizes in stock include the ones from 7 to 12. The ring is available in 8 mm width only.
We have picked up this ring among a wide range of thick wedding bands for men for its classic look. Though it costs not much, it seems to be a decent alternative to gold or platinum bands. It's rather hefty and durable. So, it's a great example of men's wedding bands for work, which won't get destructed even if you do much manual work.
This ring is available in silver (like pictured), black and gold colors. The possible sizes are 6-13 while the width is 8 mm.
So, we hope that you already know what wedding bands for men you like more and are aware of how to make the right choice. Moreover, our ideas of bands under $30 are the proofs that you don't need to spend much money on a ring.