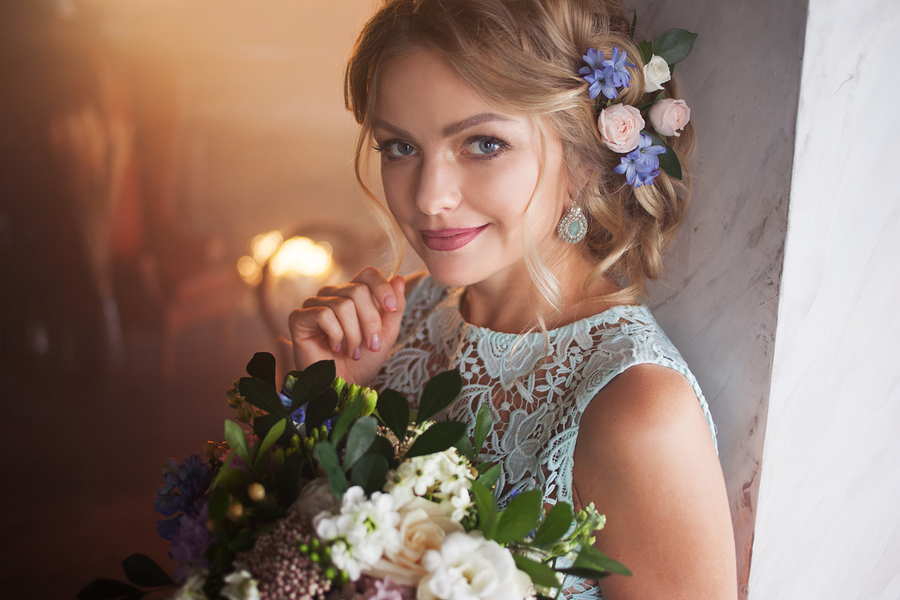 How to Use Hair Flowers for Your Bridal Look?
Do you consider using hair flowers instead of traditional tiaras and headbands? We absolutely support you in these thoughts. Flowers look extremely cool and very romantic. They can be used with a veil as well as separately. Moreover, they are the perfect choice for spring and summer weddings.
Good news: there are dozens of ideas how to use flowers for your wedding hairstyle and there are hundreds of possible designs of hair accessories featuring flowers. By the way, you may use not only fresh blooms but also handmade fabric flowers. The latter are more durable and are fixed to the hair easier. Moreover, the manufactures often attach them to hair hoops, pins, clips and hair vines, making the creation of your bridal look quick and easy.
Now, let's proceed with discovering how to make your flowers in hair look really stylish and beautiful along with getting some inspiration of bridal hairstyles with flowers.
Updos with Flowers
Undoubtedly, wedding hair flowers can make a bridal updo look more interesting and romantic. And the main plus of such a hair accessory is that you can find the suitable flower or flower compositions for any type of the updo, from classic buns to intricate braided hairstyles.
For instance, a high ballerina bun can be surrounded by delicate flowers for a romantic look. But, at the same time, you can use bigger flowers to reach a wow effect. Or, flowers look very stylish with messy hairstyles, which are very popular among modern brides. Moreover, side swept buns and braided updos also go well with flowers.
Depending on the updo, there are several types of accessories, which can be used. If you have a bun, flower hair pins or hair vines with flowers will be a good choice. At the same time, messy hairstyles as well as braided ones can also be adorned with pins, but the other solutions are floral hair combs. Some hairstyles may look astonishing with delicate flower crowns as well.
Hair Half Up Half Down with Flowers
The flower hair accessories for hair half up half down hairstyles are actually the same as for the updos. Pretty simple hairstyles are often complemented by floral crowns and intricate flower compositions. Simultaneously, a stylish messy ponytail doesn't demand many accessories and an elegant composition of flowers or a hair clip is enough.
Moreover, small flowers for hair are suitable for many hairstyles of this kind. They can be scattered around the hairstyle or be concentrated in one place. Also, you may try adding one big flower: a peony, a rose or an orchard.
And if your hairstyle features braids, you may try interweaving flowers into the braid. It looks very cool and is especially good for bohemian, country, beach and rustic weddings.
Braids with Hair Flowers
Usually, braids are loved by the girls with tender and romantic personality. That's why, flowers are the ideal way to adorn such a hairstyle. If you opt for a braided hairstyle with your hair all up or hair half up half down, all the stated above variants work for you. That means that you can try everything from a small pin to a statement flower crown.
And if you have a big volume braid, you may try having the bridal hair flowers scattered around the hairstyle. Moreover, it looks even more gorgeous when the flowers are interweaved into the braid. Pretty often, you don't need to buy flowers for hair separately, but can use a hair vine with flowers. It can be easily added to the hairstyle with no special knowledge demanded.
Loose Hair with Flowers Décor
The most free-spirited brides give preference to loose hair. And, of course, such a hairstyle demands some accessories to make a girl looking like a real bride. And, once again, flowers can become your great assistants.
For instance, a flower can be placed on one side of your head. Large hair flowers like a Hawaiian hair flower or an orchid will be a great choice. By the way, instead of fresh flowers, you may also try flower hair clips. They will be fixed more securely and there are many cool designs they are available in.
Undoubtedly, we can't miss such a great hair accessory as a flower crown. We think that it's the best option for loose hair at it makes the look fantastic and festive just in the wink of the eye. There are many cool variants of wreaths in all possible colors and shapes. Moreover, there are even flower crowns on hair hoops, which are very convenient.
Flowers Which Are Interweaved into Hair
And finally, let's talk about interweaving flowers into your bridal hairstyle. We have already mentioned that such a technique works well with braided hairstyles. However, you may also try it with some other styles as well. For instance, little hair flowers can be interweaved into a ponytail or a hair half up half down hairstyle if it features curls, which help to fix the flowers.
Moreover, some messy updos may also feature interweaved flowers. The messy hairstyles may not have any braids, but they have the texture and volume, allowing fixing some flowers to the strands.
So, you see that it's pretty easy to create an unforgettable bridal look with the help of flowers. And the good news is that you can buy hair flowers online and don't waste time on strolling around the city in the search of the perfect blooms.