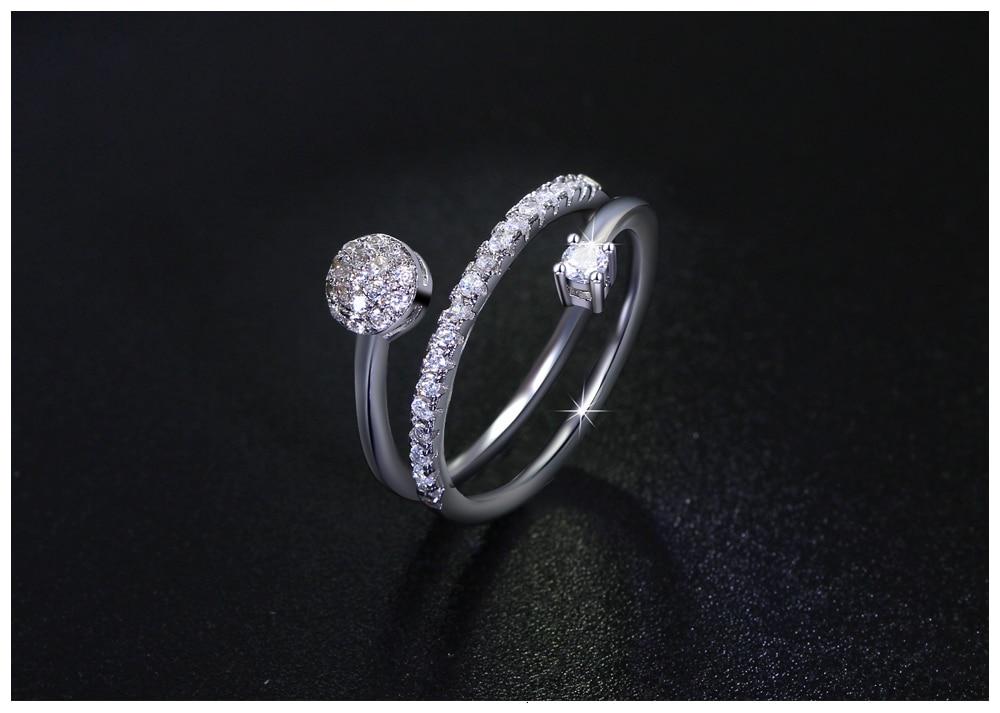 Top 5 Wedding Rings for Women with Cubic Zirconia + Key Facts about Them
Are you seeking for affordable variants of wedding rings for women? Do you dream about diamonds but can't afford them? We have found a solution for you – a ring adorned with cubic zirconia! This material is synthetic and costs much cheaper than diamonds while it looks really good and beautiful.
So, let's get to know some facts about rings with cubic zirconia. Moreover, we have prepared our top 5 list of classic and cool alternatives to diamond wedding rings for women.
Key Facts about Wedding Bands for Women with Cubic Zirconia
Here are the basic facts about cubic zirconia rings, which you should be aware of.
What is cubic zirconia?
Cubic zirconia is a colorless, synthetic gemstone made of the cubic crystalline form of zirconium dioxide (ZrO2). As visually it resembles a diamond, it's often used as a cheaper alternative to this precious stone. Moreover, cubic zirconia has a great durability and can be used for a big number of wedding ring sets for women.
What are its main differences from a diamond?
First of all, these two materials have different value. Diamonds are precious stones and that's why, items featuring them cost thousands of dollars. As cubic zirconia can be made in any amount at a lab, its cost is pretty low and affords creating rather cheap wedding rings for women.
Secondly, cubic zirconia is completely colorless while a real diamond still has some yellowish brown tint. Also, the light enters these stones differently. If you turn them upside down, the bottom of a diamond will give off the entire rainbow of color reflections while zirconia has orange and blue flashes.
Thirdly, a diamond has greater density and is harder. Diamonds are ranked 10 on the Mohs scale of hardness while cubic zirconia is 8.5. That's why, even if it's of the same size with the cubic zirconia, it will weigh more.
Fourthly, diamonds are more durable. Their hardness leads to their great longevity with minimal maintenance. Diamonds don't lose their sparkle and beauty while their cheaper counterparts can be scratched and become cloudy in the course of time.
And finally, true diamonds may have some imperfections because of their natural origin. Simultaneously, cubic zirconia is created artificially and looks flawless.
Do rings with cubic zirconia look like the ones with diamonds?
Actually, rings with cubic zirconia resemble diamond rings very much. An average person will need to make many efforts to distinguish them. However, clearly, the professionals can do that within a couple of minutes as they know the characteristics of both materials well.
Besides, there are many wedding ring styles for women with both diamonds and cubic zirconia. And very often, while creating their products, the manufacturers of affordable wedding rings get inspired by the rings with diamonds.
Is it normal to have a cubic zirconia wedding ring?
Yes, it's absolutely normal. Not all people can afford buying diamond rings and the ones with cubic zirconia is a great way to get a beautiful ring with a stone cheap.
5 Best Examples of Cubic Zirconia Women's Wedding Bands
Now, let's have a look at 5 best examples of female wedding rings with cubic zirconia, which look classy and gorgeous while their price is under $30.
If you like classic designs of wedding rings for women with a big central stone, pay attention to this variant. It's made of sterling silver and it means that it can serve you for a long period as this material is one of the most durable budget variants.
This ring looks pretty decent and is a great affordable alternative to a traditional diamond ring. Moreover, in addition to a central stone, the ring is adorned with smaller crystals. So, it's very sparkling.
In case, you are a fan of minimalist female wedding bands, you may like this delicate and elegant ring with one central stone. The stone is framed and it means that you will feel very comfortable wearing it as it won't cling to clothes.
Undoubtedly, this ring of sterling silver featuring cubic zirconia is classic and universal. It will look great no matter what clothes you wear. Moreover, it's made of good-quality materials which will allow this piece to serve you for many years.
The girls who like to attract attention usually give preference to unique wedding rings for women. For instance, the pictured above ring will definitely become a great addition to your daily and evening look.
Though this ring is made of a non-precious metal, it looks very decent and can be pretty durable. At first sight, it seems to be too big and too sparkling, but, actually, it looks very elegant and beautiful.
Basically, gold wedding rings for women aren't always made of real gold. The brides, who have already sought for cheaper variants, know that copper covered with high-quality gold plating looks really cool, especially if the ring is also adorned with cubic zirconia.
Such a ring looks pretty classic, but, at the same time, is rather unique. That's why, it will suit girls with various tastes and lifestyles. By the way, this ring is available in platinum color as well.
This ring is made of 925 sterling silver and is adorned with small cubic zirconia stones. It looks pretty traditional, but, at the same time, features a very interesting geometric design.
What we like about this variant is that it's universal and suitable for any girl no matter how old she is or what style she prefers. The sterling silver material will make this ring last pretty long.
So, you see that wedding rings for women can be pretty affordable and zircons are a pretty good alternative to diamonds for those who have a tight wedding budget.