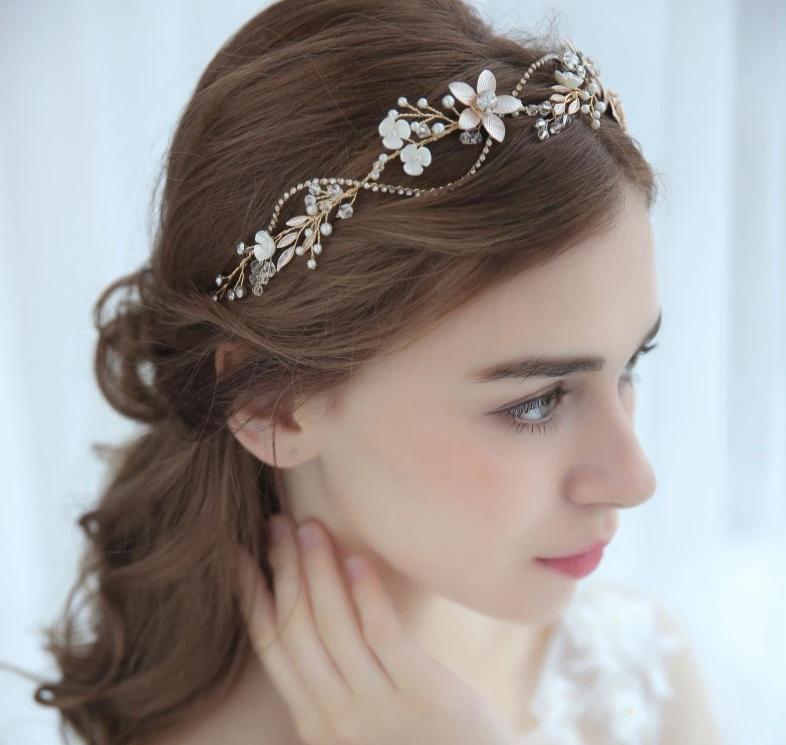 What Are Alternatives to a Traditional Wedding Veil?
A wedding veil is an integral part of a bridal look, which is believed not only to complete the look but also to protect a bride on such a special day. However, more and more modern brides reject wearing this accessory because of various reasons, which we are going to discuss further.
But what are alternatives to cathedral wedding veils or short ones? In this post, we are going to show you the best ways of being an incredibly beautiful and stylish bride without a veil. So, let's get started!
Why Do Modern Brides Often Reject Wearing a Wedding Veil?
There are dozens of reasons why some girls don't use a wedding veil. However, the basic ones are the following:
1. You are not a classic bride. Today, it's pretty widespread to have some extravagant and unique weddings. And, if you have an alternative wedding dress, you may face difficulties in finding the proper long or short wedding veils.
2. You have a casual wedding. Today, many couples opt for low-key ceremonies, considering that there are many more decent money investments that a big wedding. In such cases, brides often wear pretty simple dresses, which look weird in combination with traditional veils.
3. A veil doesn't go well with your wedding dress. It sounds pretty surprising but there are some wedding dresses, which look better without any veil. For instance, if a dress features a beautiful back design, you will want to demonstrate that and not to hide under the veil.
4. You don't believe in myths about a wedding veil. It's believed that a veil protects a bride from an evil eye. Moreover, a veil is a symbol of virginity and purity. However, the majority of brides pay no attention to such things now.
5. You avoid extra expenditures. Clearly, a veil is one more point in the list of your wedding expenditures. And as it's not so important as a dress or shoes, some brides just skip this point and find some cheaper alternatives. Of course, there are some cheap wedding veils for sale and you can surely complement your bridal look without spending too much money.
7 Alternatives to a Bridal Veil
Now, it's time to see how you can replace a veil and look beautiful and stylish.
Flower Crowns
Flower crowns look very feminine and fresh. They are gaining popularity now and many girls opt for romantic hairstyles with flower crowns instead of a cathedral wedding veil. These hair accessories are perfect if you plan a wedding or a photoshoot in fresh air as it will look very harmonious with the surrounding nature. So, if you think about having a country or beach wedding, consider adding such a piece to your bridal look.
Thin floral crowns can go well with almost any type of wedding dress. Simultaneously, big statement crowns look the best with A-line, boho and empire waist wedding dresses. By the way, you can buy a crown of fresh flowers as well as the one of artificial ones. The latter are available in a greater number of styles and colors. They can also serve for some other occasions after the nuptials.
Keep in mind that bright wreaths or the ones with much greenery look more popping and interesting. There is no need to order a wreath of the same hue with your wedding dress. Vice versa, we recommend experimenting with other colors. Some pastel shades like blush, light blue or mint look really great. Moreover, you can go with darker hues like burgundy or purple.
Birdcage Veils
A birdcage veil occupies a special place among wedding veil styles as it differs from any classic veil in both form and usage. It's a pretty specific accessory, which isn't suitable for any girl and isn't a universal accessory for any wedding dress type.
A birdcage wedding veil is a perfect choice if you have a vintage wedding dress or a short one. It can also be used with some alternative wedding outfits like pantsuits and jumpsuits. While giving preference to this headpiece, you need to think carefully about the hairstyle. As a rule, brides have a low bun or hair all down hairstyles. Also, a birdcage veil looks amazing on brides with short hair.
Basically, many people think that birdcage veils suit older brides while too young girls may look pretty awkward wearing them. It's not a strict rule and there are always some exceptions, but this accessory looks better on the brides who are 30+ or the ones whose style is feminine and elegant.
Tiaras
Have you ever wanted to be a princess or a queen? We think, every girl has dreamt about that at least once. A bridal tiara can make your dreams true and turn you into a real queen in the wink of the eye. It always looks luxurious and expensive.
A tiara or a crown is the best fit for classic wedding dresses in A-line and ball gown silhouettes. However, it may also look amazing with sheath and mermaid wedding dresses depending on their embellishment and details. Actually, a tiara looks unforgettable in combination with a dress featuring beading, crystals, lace and some other kinds of embellishment.
By the way, tiaras are available in various styles, colors and sizes. So, you will definitely find the one, which fits your dress and hairstyle perfectly.
Headbands and Hair Vines
Headbands and hair vines featuring crystals, beads and rhinestones are universal soldiers as well as the trendiest bridal hair accessories. They are often used for wedding hairstyles with veil, but they look astonishing if they are applied independently as well. Moreover, they go well with almost every hairstyle: from a classic bun to hair all down.
As a rule, hair vines and the majority of headbands are made of a jewelry wire, which easily bends and allows changing the shape of this hair accessory depending on how you need to arrange it.
What we like about these hair accessories is that they are available in so many shapes and styles that they can be used by every bride no matter if she has long or short hair. Moreover, they are compatible with all possible styles of weddings dresses: from minimalist Greek-style dresses to luxurious princess ones.
Combs
Actually, combs are traditional bridal accessories, which have been used for ages. Modern combs are frequently used with a short or long wedding veil as well as independently. However, unlike absolutely universal headbands, combs are suitable for brides with long or, at least, medium-length hair. Also, they can be applied if you use a chignon or hair extensions.
Just like headbands, combs are often adorned with rhinestones, beads, pearls and crystals. There are also variants with lace or some unique adornments. Moreover, they can be of various sizes and shapes. There are pretty small combs as well as big statement ones. Moreover, they can be of a traditional style as well as be in a form of a butterfly, a flower etc.
The good news: thanks to a vast number of variants, combs are pretty universal and can look harmonious with almost every wedding gown. They can look fantastic with a lace A-line wedding dress, a beaded mermaid dress or even a simple short bridal gown.
Flowers
If you still want to look fresh and romantic, adorn your hair with flowers. Just like flower crowns, this accessory is perfect for outdoor, beach and country weddings. However, it's more universal as it can look great even at an urban wedding or a simple ceremony in a courthouse. Moreover, a beautiful floral composition may go well with traditional bridal gowns.
A cute idea of using flowers is to attach them to a comb. It's very convenient and practical, especially if you prefer artificial flowers.
Hair Pins and Clips
Hair pins and clips are the smallest possible decorations for a bridal hairstyle. However, they can help to create really unique and stylish hairstyles. As a rule, you will need several items to create a beautiful hairstyle, but in some cases, you can cope with a single product.
As there are many cool items for sale, you may choose the piece in any size and any style. Thus, you can go with several pins with a single crystal or a bead or opt for the one featuring an intricate composition with crystals and beads.
All in all, you see that a traditional wedding veil has many alternatives and modern brides often give preference to them. They look feminine and festive, but, at the same time, help to run away from traditions and highlight the bride's personality.