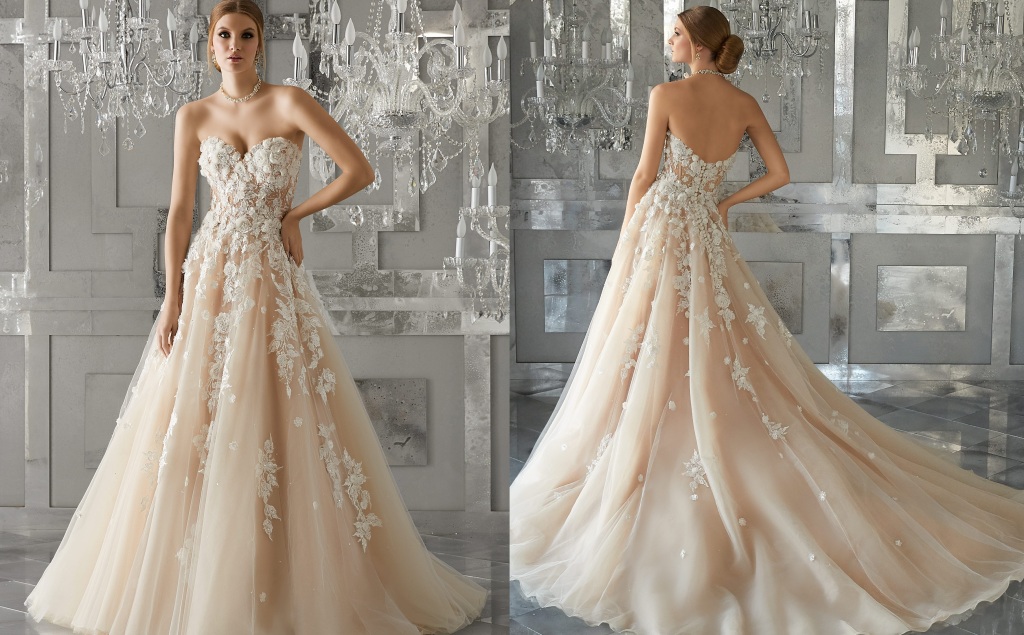 Review of Meadow Morilee Wedding Dress
​
Morilee wedding dresses are known around the world. Their gowns are very beautiful and the majority of them are rather affordable. You can buy a luxurious dress for $1000-2000. This time our attention was attracted by the Meadow wedding dress of the brand, which is decorated with cute three-dimensional flowers.
So, let's take a closer look at this Morilee wedding dress. We are going to tell you who it's suitable for as well as describe the basic characteristics and peculiarities of the gown.
Whom This Dress Is Ideal for?
This Mori Lee sweetheart wedding dress was created by designer Madeline Gardner. The Meadow model is also sold under the style number #8171. It's one of the newest dresses of the brand as it's from the Fall 2017 collection.
Undoubtedly, this model looks classic and stylish at the same time. That's why, if you are inclined to have a traditional bridal look, but want to add some interesting details, Morilee wedding gowns with three-dimensional lace are a great idea.
It's a low back model and so, if you have a beautiful back, it's a great opportunity to show that with the help of this gown. Moreover, the sweetheart neckline will help to show your beautiful breast. However, we recommend you to choose the proper undergarments for it in order to look perfect
The A-line silhouette of this Mori Lee gown allows girls of various body types to wear it. But it will look perfect on the hourglass, pear and apple body types. The plus size brides will also look good in it if they have beautiful arms and breast line. However, if you have wide shoulders, the dress may not suit you.
In addition, the Meadow gown will look good at girls of any height. And its beautiful train will help you to add the festive mood to the gown.
Characteristics of Meadow Wedding Dress Mori Lee
Here are the basic characteristics of the gown:
Silhouette. The gown features the A-line silhouette with a gradual transition from top to hem, which widens to the bottom.
Style. The bodice of the gown features the sweetheart neckline and doesn't have straps. Like the majority of Morilee wedding dresses, the Meadow model has a train. The gown fastens with the help of buttons on the back. The peculiarity of this dress is that it's decorated with 3D lace, which makes it look stylish and creative.
Materials. The wedding dress is made of soft tulle and is decorated with lace and 3D lace applications.
Colors. The Meadow Mori Lee lace dress is available in white, ivory and ivory/nude colors. We show the dress in ivory/nude color.
Sizes. The Mori Lee website states that the gown is available in 0, 2, 4, 6, 8, 10, 12, 14, 16, 18, 20, 22, 24, 26, 28 sizes.
Prices. Mori Lee wedding dress prices are rather affordable for ordinary people. The Meadow model costs $1250. At the moment, you won't find it cheaper among pre-owned dresses as it's a new model. But, if your wedding will be the next year, you have a chance to get it cheaper.
Pros and Cons of Mori Lee Wedding Dress
Clearly, the Meadow wedding gown by Morilee has both merits and demerits:
Pros:
- Wedding dresses by Mori Lee are known throughout the world. The famous brand creates beautiful dresses of good quality. That's why, by buying a gown from a well-known brand, the bride-to-be can be sure in the quality of her gown.
- The gown has an A-line silhouette, which suits girls with various body types. This makes it almost a universal variant, which looks great on both petite and plus size brides.
- The 3D lace flowers add a special chic to the dress.They make the gown look lighter. The 3D applications are more concentrated on the upper part of the dress and so, it can visually make your breast look bigger.
- Many Mori Lee wedding dresses are timeless and this one isn't exclusion. It will be actual for many years and won't look old-fashioned even in 5 or, maybe, even 10 years.
- What we like this gown for is that it combines the classic silhouette and style with creative elements. The three-dimensional colors and the unusual ivory/nude color make it look unforgettable.
Cons:
- While the A-line silhouette suits almost everyone, some details of this wedding dress can be rather tricky. For instance, the strapless sweetheart neckline isn't suitable for girls with large chest or wide-shouldered ones. In the first case, the breast won't get enough support and in the second one, the wide back will be too accentuated.
- Though Mori Lee lace wedding dresses are rather affordable, still not every girl can afford buying them. And, unfortunately, not every bridal salon can offer the rent of this gown.
- Strapless wedding gowns can be inconvenient for some brides.
Alternatives to the Mori Lee Dress
If you don't want to buy Mori Lee bridal dresses because of certain reasons, there are many alternatives to this gown, including the following three ones.
​
Berta Bridal Wedding Dress with 3D Lace
This Berta Bridal gown (code 16-23) is also of A-line silhouette and also features 3D lace. It's a good variant if you want to have something similar to the Morilee gown but with straps. However, this gown is very expensive. It costs between $8000-12 000.
Essence of Australia A-line Gown
If the only thing you don't like about that Morilee dress is the 3D flowers, the Essence of Australia has the gown, which is very similar, but features only lace and no 3D decor. It's the D2218 model. It costs a bit cheaper, between $1000-1500, and it's available in many color variations.
Allover Lace Wedding Dress
If you are tight on a budget, have a look at the Allover a-line wedding dress. It also features lace and is strapless. It costs about $450-500. Of course, it can't be a full substitution to the discussed dress, but it looks pretty good for its price.
So, it's up to you to decide if you want to wear the Morilee wedding dress for your special day or seek for other variants. Remember that you need to choose the wedding gown with your heart and not to concentrate on a certain brand.