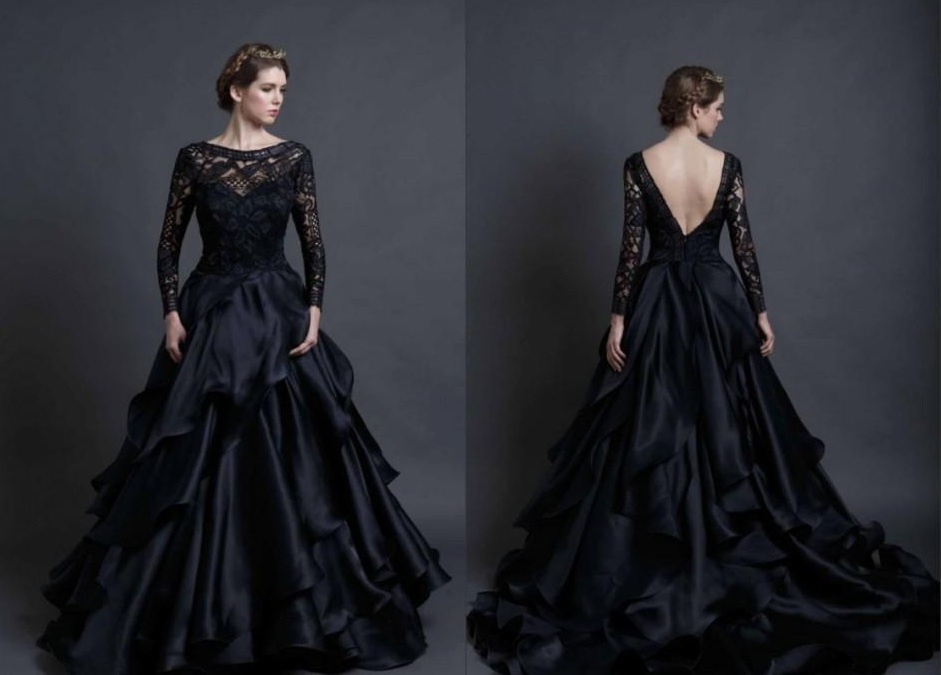 Black Wedding Dresses: Review of Mona Lisa Wedding Gown by Sareh Nouri
A bride in black looks unforgettable. Though many of us consider this color not suitable for wedding, some brides dare to wear the black wedding dresses. Of course, if you wear such a gown for you wedding, some guests may fail to understand your motives. However, we think that you are free to decide what color of the wedding gown is the best for you.
We often consider black as the color of mourning. But, it's not the only meaning. Black is also the color of sexuality, mystery and elegance. Moreover, in some countries, it's absolutely normal to wear black for wedding. For instance, in Spanish culture, it signifies the bride's devotion to marriage till death.
Today, we want to have a closer look at a black wedding dress by Sareh Nouri, called Mona Lisa. So, let's get started.
Why to Wear This Black Wedding Dress?
Sareh Nouri couture bridal brand was established in 2011 in New York. The designer's dresses are known for the astonishing combination of classic silhouettes and whimsical details. And this black dress for wedding is a brilliant example.
The black Sareh Nouri wedding dress is called Mona Lisa. It consists of a satin organza skirt with petals and the lace bodice with long sleeves. The gown is great if you plan a gothic wedding or are going to get married on Halloween.
Though all black wedding dresses aren't considered the best choice for any other wedding theme, we are sure that no one except you is free to decide if to wear the gown of this color for wedding or not. By choosing a black gown, you will stand out from the rest of the brides and show your personality.
Clearly, a bride in black may look rather gloomy. But there are some beautiful black wedding dresses, which are a cool mix of style and tradition. And the Mona Lisa gown is one of them. It features the ball gown silhouette, which is traditional for weddings. That's why, you will look like a bride in general, but, simply, the dress will be of a non-standard color.
The Sareh Nouri wedding dress is a good choice for fall or winter wedding. It features the long sleeves and looks rather warm. Clearly, the lace sleeves won't save you from the cold, but, in general, you will feel more comfortable with them.
If you like the combination of black and white, you can organize a wedding in this color scheme. As a rule, a bride wears a white dress for wedding and a groom has a black tuxedo. But you can do vice versa. You are free to wear a black gown and choose a white outfit for your groom. However, in the majority of cases, the brides give preference to black and white wedding dresses.
Moreover, this black lace wedding gown can be worn for a second wedding. If you have already worn the white dress once, it's possible that you would like to wear something more interesting for your second wedding.
Characteristics of Mona Lisa Bridal Gown by Sareh Nouri
Here are the main characteristics of the gown:
Silhouette: It's a ball gown with a train.
Style: This black wedding gown features an illusion high neck with the sweetheart bodice and a V-back, which opens part of the back. The sleeves are long. The top is fully covered with lace. The skirt consists of satin organza petals.
Materials: satin organza and lace.
Colors: The gown is available in black and white colors.
Sizes: The dress is available in 2-16 sizes and plus sizes 14W-26W.
Prices: The price range for Sareh Nouri wedding dresses is $3000-8000. However, you are free to buy a pre-owned dress for about $2000-3000.
Pros and Cons of Sareh Nouri Wedding Dress
Now, let's consider the pluses and minuses of this gown.
Pros:
- The gown is the perfect variant for Halloween or gothic wedding.
- Black bridal gowns look unusual and are great for brides, who don't want to follow the traditions.
- The dress is suitable for fall and winter weddings.
- It has a train.
- The skirt with petals looks very cute.
Cons:
- Be ready that not all guests at your wedding will understand your choice.
- You may look rather gloomy in this wedding gown with black lace.
- Sareh Nouri bridal gowns are rather pricey and not every bride can afford buying the Mona Lisa model.
- As the gown is from the 2016 Collection, it may take up some time to find it.
Other Ideas of Black Wedding Gowns
Vera Wang Black Wedding Gown
Vera Wang has created several cool dresses in black. But, let's have a look at the iconic Josephine model. This black wedding gown Vera Wang has some parts in ivory and that's why, it looks less gloomy. The V-neck top is decorated with Chantilly lace and the skirt consists of several layers of black and ivory tulle. The price range is $6000-10000.
Truly Zac Posen Wedding Dress
If you seek for something simpler than black lace wedding dress in both style and price, have a look at the gown by Truly Zac Posen. It's made of polyester. The bodice has sleek corset seams and waist-cinching boning. The silhouette is ball gown. The price is $200. Though the dress may look very simple, you can embellish it with your own hands or choose the sparkling accessories.
Black and White Wedding Dress by Maggie Sottero
Obviously, white and black wedding dresses are great if you want to follow the traditions, but, at the same time, look unusual. The strapless ball gown by Maggie Sottero, called Cosette, looks very beautiful, though black and ivory are mixed in it. The dress is ivory, but the black lace, which covers it, adds a special charm. The price is $1000-1500.
So, you see that only the bravest and most creative brides decide to wear black wedding dresses. The Mona Lisa model is a great choice as it doesn't look so gloomy as the majority of other gowns and is very stylish.