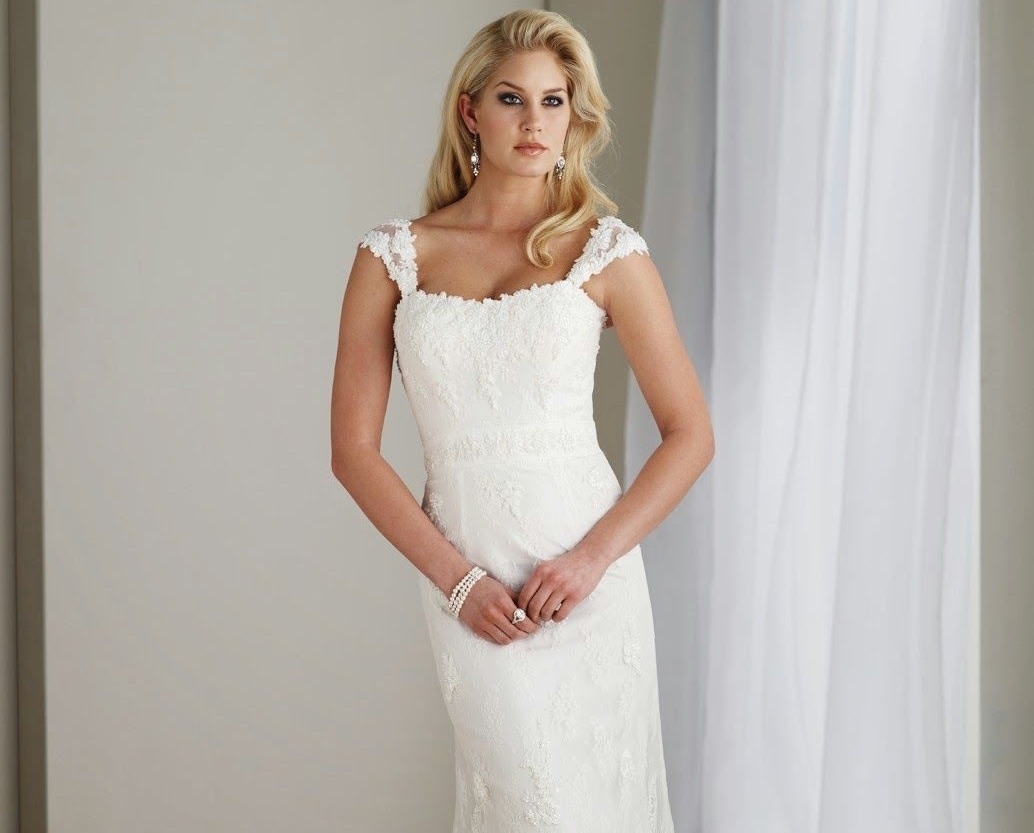 Tips on Choosing Wedding Gowns for Older Brides
While luxurious princess-style wedding dresses look amazing on 20-year-old brides, more mature brides need to opt for something more elegant. Undoubtedly, wedding gowns for older brides need to have a flattering style and allow your personality to shine.
There are many prejudices that an older bride can't wear white or need to cover her arms and shoulders. However, the rules aren't so strict today and each woman is free to choose the most comfortable and suitable outfit for her.
So, let's dig a little deeper to discover what the best bridal dresses for older brides are.
Style
While choosing the style, shop for your body not age. It's important to hide flaws and make an accent on your best features. However, it's not recommended to have big ball gown wedding dresses. They look amazing on young girls and add them confidence, but older brides look a bit weird in such gowns. An alternative is an A-line silhouette. It's more discreet and elegant.
Actually, clean and soft lines work the best. So, consider column and fit & flare gowns. If you have an hourglass body type, you can go with a mermaid silhouette and if you want to hide a tummy, try empire waist gowns. Besides, you can play with the length and have a dress of tea-length, knee-length or a high-low one.
Additionally, have a look at some alternatives to classy wedding dresses for older brides. You can actually walk down the aisle in a suit, either with a skirt or pants, or in a stylish jumpsuit.
Neckline
Many experts claim that an older bride shouldn't opt for dresses with deep V-neckline that exposes too much. However, a soft V-neck is a great option. Also, you may have something more closed like a bateau or a high scoop. Illusion bodices, which are among top trends now, are possible but only in case if they are not too revealing while strapless dresses should be avoided at all.
Sleeves Issue
While many mature brides prefer dresses with sleeves, that's not a strict rule. Sleeves are necessary if you don't like your arms and want to hide them. In other cases, it's appropriate to have sleeveless dresses.
Moreover, keep in mind that sleeves aren't always long or of three-quarter length. You can have a dress with short or even cap sleeves. Also, you may consider some creative sleeve types like bishop or flutter ones, which are very trendy now.
Embellishment
As a rule, older brides prefer dresses with minimal décor. However, it doesn't mean that you need to have a simple satin dress. Basically, the gown can be made of a beautiful fabric or lace. Moreover, it can feature some beading or embroidery. You can definitely find many cool designer wedding gowns for older brides as well as cheaper variants which are both gorgeous and suitable for your age.
The only thing you need to care about is to avoid abundance of details. For instance, a fully sequined dress isn't a good choice or the one featuring dozens of Swarovski crystals.
Color
Despite prejudices that an older bride shouldn't wear white, we are sure that white is the appropriate color for the bride no matter how old she is. So, if you have always wanted to have a white wedding dress, don't hesitate and seek for a dress in the traditional bridal color or its closer analogue, ivory.
However, if you seek for some great ideas of wedding dresses for older brides not white, keep in mind that you are free to wear a dress of whatever color you want. Usually, the brides opt for light hues of blush, blue, lilac or gold. At the same time, red, burgundy, purple and other darker hues are also appropriate.
Accessories
As a mature woman, you may know that bridal wear for older brides needs some accessories as well. Along with shoes, you can complement your look with a bolero or wrap, a beautiful sash or a birdcage veil.
Jewelry is another way to add some shining to your look. Opt for timeless variants with diamonds (or cubic zirconia if you can't afford diamonds) or pearls. A beautiful pair of earrings or a nice bracelet will be a good choice. Also, you can adorn your hair with a hair clip or a delicate comb.
15 Amazing Ideas of Bridal Gowns for Older Brides
Now, let's get from theory to practice and have a look at 15 ideas of chic wedding dresses for older brides.
High Neck A-line Wedding Dress
Wedding gowns for older brides look great if they are rather discreet and feature high necklines. At the same time, A-line silhouette remains the most flattering for a bride of any age and of any body type. The pictured dress is adorned with lace and features cap sleeves that make it look very stylish.
Vintage Wedding Dress
Undoubtedly, vintage style suits wedding dresses for older brides perfectly. Modern designers regularly create vintage-inspired dresses, which look very stylish and not old-fashioned. For instance, it can be a long flowing dress with flutter sleeves and beautifully beaded bodice.
Lace A-Line Wedding Dress
A-line dresses look extremely chic when they are fully covered with delicate lace. Such gowns are appropriate for all wedding types, from courthouse ceremonies to beach and country weddings. And if you want to accentuate the waistline, you may add a thin sash or a satin ribbon.
Minimalist Sheath Dress
Sheath silhouettes suit slim brides the most, especially if they are rather minimalist like the pictured variant. Though this long sleeve dress looks pretty simple, it's actually a very trendy variant of a bridal outfit. Moreover, you can later turn it into a cocktail dress by shortening it.
Blush Wedding Dress
Blush weddings dresses are pretty popular now and so, you will have no difficulties in finding the proper attire in this color no matter what style and embellishment you prefer. For instance, it can be a chiffon and lace dress with short sleeves.
Lace Mermaid Wedding Dress
​
Clearly, mermaid wedding dresses aren't universal for everyone and look great only on women with beautiful body curves. However, if you are a happy owner of them, you can definitely try this silhouette. It will highlight your femininity while lace will add some chic to the overall bridal look.
Long Sleeved Tea Length Wedding Dress
Tea length wedding gowns for older brides are rather a widespread option. This length is an amazing alternative to long and short dresses, which, simultaneously, looks very interesting and feminine. A tea-length dress with long sleeves and lace is one of the best possible options for mature brides.
Bohemian Wedding Dress
It's hard to explain why we get attracted to bohemian dresses so much. They look chic and a bit vintage while exquisite embellishments win our hearts immediately. The good news is that the choice of such gowns is pretty good and you can find even short wedding gowns for older brides. If you seek for something more classic, try a flowing dress with lace bodice and sleeves.
Elegant Empire Waist Wedding Dress
Basically, empire waist dresses are rather universal and suit all women who are eager to look like Greek goddesses. However, they are a good way out for the brides who have a tummy or are pregnant as the high waist will hide everything located beneath it. Besides, empire waist gowns are a perfect example of beach wedding gowns for older brides.
Wedding Dress with Cape
Capes are among the biggest wedding trends of this year. Lace capes can turn simple wedding gowns for older brides into something unique and extremely beautiful while the ones of the matching fabric look elegant and royal.
Cap Sleeve Tea Length Wedding Dress
It's one more great idea of tea length wedding gowns. Even if you want a dress without sleeves, you will agree that cap sleeves look really cool and they are actually not sleeves of full value. They look especially great on lace dresses.
Minimalist Dress with Draperies
If you are one of those brides who think about simple but elegant wedding gowns for older brides, pay attention to dresses with draperies. They are pretty minimalist but the draped décor add a special charm to them. Moreover, the properly located draperies can make your waist visually slimmer.
Champagne Wedding Dress
Champagne is an amazing alternative to white and ivory wedding dresses. This color looks more mature and very interesting. It can beautifully combined with gold as well. For example, this dress with draperies, sleeves and lace décor looks nothing but gorgeous. Besides, it can be later used as an evening dress.
Short White Dress and a Jacket
Surprisingly enough but many casual wedding gowns for older brides are short. For instance, the pictured gown is pretty simple and is adorned with a brooch for a more festive look. At the same time, the shoulders are covered with a light jacket.
A-line Wedding Dress with Cap Sleeves
Basically, cap sleeves are a great way out for women who want to cover their shoulders but don't want to have sleeves on their wedding dress. This type of wedding gowns for older brides with sleeves is very comfortable and looks amazing no matter what season you are getting married at. Thus, the mix of cap sleeves, V-neckline and A-line silhouette seems to be a perfect bridal dress.
So, you see that the choice of wedding gowns for older brides is pretty big and the majority of gowns are actually universal for any age. Just remember that the most important is that you like your dress and feel comfortable wearing it.
​