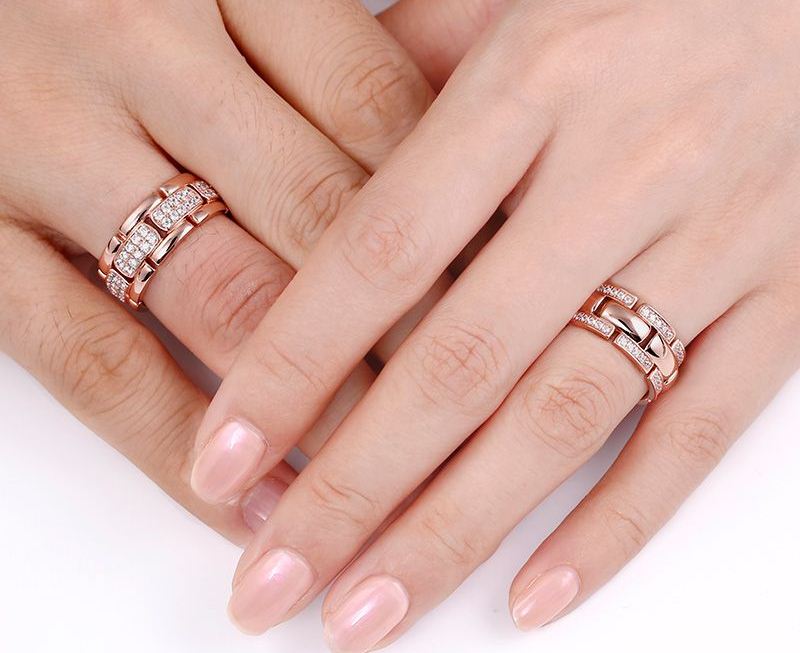 25 Ideas of Unique Wedding Rings for Creative Couples
Are you one of those couples who don't want to have classic gold rings and seek for something more creative? Actually, unique wedding rings are a great way to show your personality and creativity as well as stand out from the rest. As we like everything interesting and original, we absolutely support your decision and are even ready to provide you with some inspiration.
So, let's have a look at 25 unique wedding ring designs that you will surely like.
Affordable Unique Wedding Ring Sets for Him and Her
#1 If you are romantic souls seeking for unique wedding ring sets, you will definitely like this sterling silver rings with hearts design. They cost $130.
#2 Though this ring set costing $155 has nothing extraordinary, it looks very fresh and stylish. While the ring for him is rather minimalist, the ring for her is adorned with crystals.
#3 In case you need to find unique wedding rings cheap, this set is for you as its price is only $75. The rings are made of stainless steel and feature modern design with "forever love" engraving.
#4 That's another variant for the fans of heart designs. The ring for her is the one with a heart-shaped crystal while the ring for him features a heart-shaped cutout and "endless love" words. The price is $100.
#5 Being available for $45, these unique wedding rings are rather minimalsit and are perfect for the couples who prefer the active lifestyle. Each ring features a half of the heart, which becomes whole as soon as the rings are placed side by side.
#6 This set of rings is both classic and creative. It features no excess details but the form of the rings looks really cool. The price is $150.
Gold Wedding Rings
#7 This gold ring would be absolutely classic but for its curved design, which looks really unique. Its cost is $1080 and is available in white gold as well.
#8 Have you ever thought about having a black wedding ring? This $495 band looks very uncommon and is a decent representative of unique modern wedding rings. It's made of gold and is covered with black rhodium.
#9 In case you need something massive, pay attention to this white gold ring with twisted design. It features diamonds and costs $1225.
#10 Chain links design is common for bracelets and necklaces but looks very unusual on rings, especially if combined with diamonds. The price of this masterpiece is $815.
#11 A band with bubbles design will definitely get to the list of the most unique wedding rings. Being sold for $770, it will become a great adornment of your fingers.
#12 This white gold diamond ring enhancer is one of those unique wedding rings for her that catch the attention immediately. It surely costs every cent of its $2465.
#13 Men prefer simple unique wedding rings featuring some nice details. In this ring, this detail is the grooved edge that looks very manly. The ring costs $1510 and can be bought in white gold, gold and rose gold.
#14 The checkered pattern also looks very manly and is the best choice for self-confident men. The price is $1860. The ring is available in white gold, gold and rose gold.
#15 This hammered center and polished edge men's wedding band is sold at $1245 in white gold, gold and rose gold. Its design looks very modern.
#16 The texture of this braided band looks very cute and uncommon. Its price is $455 while the gold options are white, traditional and rose gold.
#17 The fans of luxury accessories will definitely like this diamond ring for $2940. Along with diamonds, this representative of original wedding rings features the combination of rose gold and white gold.
Sterling Silver Wedding Rings
#18 A rather classic crystal ring turns into something unusual thanks to one simple thing- a twisted design that looks astonishing. The band's cost is $99.
#19 Undoubtedly, unique vintage wedding rings with carving occupy a special place on this list. Costing $110, it's a really great way to show your personality.
#20 If you don't know the metal of what color you want more, choose all three colors. Unique wedding rings for women featuring silver, rose gold and gold colors go well with every jewelry piece. The price of the pictured variant is $89.
#21 This rather minimalist ring looks extremely romantic thanks to its hearts design. We also like that this $89 band features both silver and gold colors.
#22 This $129 silver band is one of the most uncommon wedding bands as its design is pretty sophisticated. The crystals add a bit of luxury to the ring of a non-clasisic shape.
#23 Who has told that crystals aren't for men? This ring for $119 is a great example that men can wear rings with crystals and look fantastic.
#24 This $120 band is another proof that unique men's wedding rings with crystals are amazing. The ring design with stripes and crystal inserts is nothing but gorgeous.
#25 Can a ring inspired by the great wall be considered as one of cool wedding ring designs? Definitely, yes. This crystal ring looks creative and beautiful. The price is $99.
So, you see that unique wedding rings are an amazing way to highlight your personalities. They are available in dozens of designs to satisfy the pickiest couples. Moreover, you can find the rings for any budget as there are many materials they can be made of.