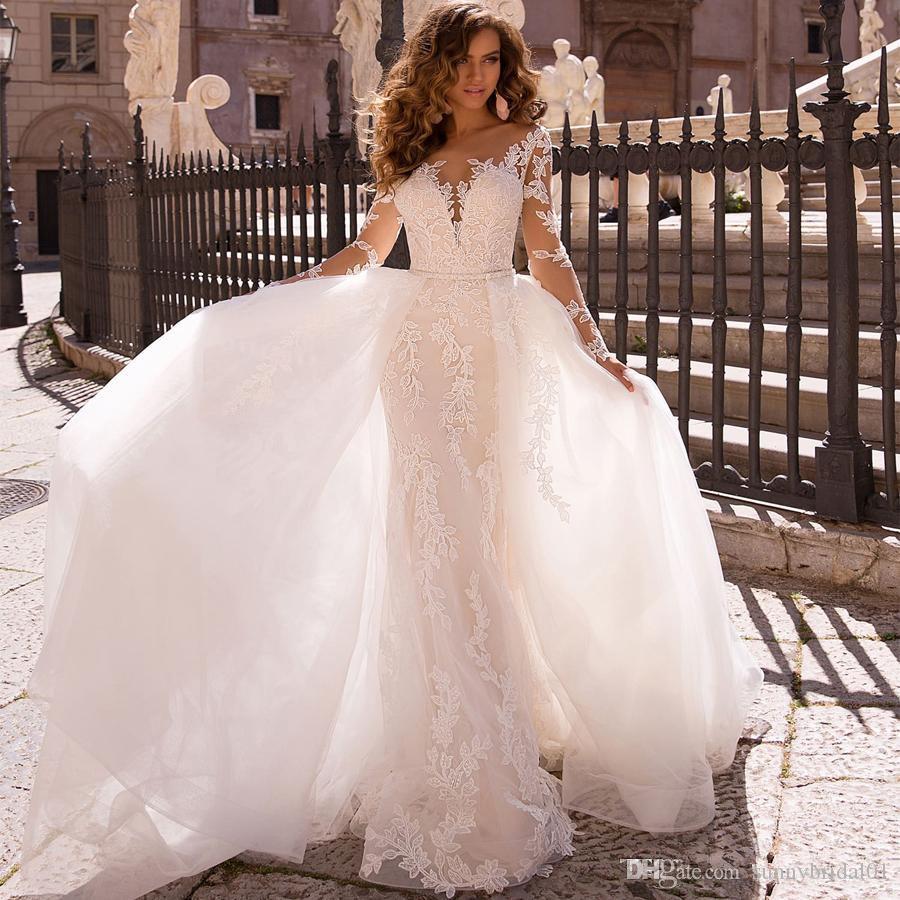 Pros and Cons of Having a Two Piece Wedding Dress
Wedding dresses consisting of two pieces has been trendy for several seasons and still remain one of the trendiest variants of a bridal outfit. They aren't as traditional as the dresses we are used to, however they can be suitable for classic nuptials as well as for outdoor weddings and courthouse ceremonies.
So, let's see what are the advantages and disadvantages of a two piece wedding dress and in what cases it's appropriate to wear it. Moreover, we have created a guide to the most popular types of such bridal outfits.
Basic Types of Two Piece Wedding Dresses and Tips on How to Wear Them
Here are 5 most widespread variations of how a two piece wedding gown can look.
A Skirt and a Crop Top
Such a bridal two piece wedding dress looks fresh and unusual. Though the top can be pretty long, it looks the best when it's short and there is some space, usually about an inch or two, between the skirt and the top. At the same time, it's more appropriate if the dress has a high waist so that the navel isn't seen.
There are many variants for such attire. Both top and skirt can be made of the same material. For instance, it can be a two piece lace wedding dress. Or, the components can be of different fabrics. It looks really cool when the skirt is pretty simple, like tulle or chiffon one, while the top is made of lace, sequined fabric or features beading.
Undoubtedly, a wedding crop top and a skirt is a great idea of a beach wedding dress along with being suitable for any type of outdoor wedding in the spring/summer season. Also, it can be used as an alternative to casual wedding dresses.
A Dress and a Cape/Bolero
You must have seen dozens of wedding gowns, which go together with lace boleros or tops. It's really convenient as you actually get two wedding looks by buying one dress. But today, the trendiest wrap is a cape. It looks really impressive and steals the show immediately.
For instance, you may have an off the shoulder two piece wedding dress featuring a cape, which will cover your shoulders if you have a church ceremony or if the weather isn't too hot. One more plus of capes is that they look fantastic on photos, especially if they are long and feature trains.
Dresses with capes may suit different types of wedding ceremonies depending on their design. If it's a long cape with a train and a luxurious dress, it's a great combination for a traditional wedding. At the same time, you may have a simple wedding dress combined with a short cape made of lace, tulle or chiffon.
A Long Dress and a Detachable Skirt
If you are thinking about having two wedding dresses, first consider the option of buying a two-in-one bridal gown. Thus, you may walk down the aisle in one dress and then, take off the upper skirt and party at the reception in a more convenient outfit.
For example, a two piece mermaid wedding dress may consist of a mermaid dress itself and a fuller detachable skirt. In such a way, you get a traditional A-line or ball gown wedding dress, which turns into a sexy one in the wink of the eye. By the way, the skirt doesn't necessarily need to look like a classic skirt. It can also be a train attached to a waistband, which covers the back but leaves the front of the dress open.
So, this variant is the closest to the traditional bridal outfit. So, it suits all the types of weddings from church ceremonies to outdoor weddings and beach nuptials.
A Short Dress and a Skirt
If you have always wanted to go far away from wedding traditions and have a short wedding dress but still doubt if all your guests will understand your choice, this variant is for you. Two piece short wedding dresses give you a great opportunity to be simultaneously a classic and modern bride.
Like in the case with long gowns, a two piece wedding dress with detachable skirt in the short variant can have a full skirt as well as a train on a waistband, which will help you to demonstrate your beautiful legs. The short dress can go in various silhouettes from tight-fitting to baby doll style. It can be pretty simple or be covered with lace or any other beautiful fabric.
Though this variant isn't so classic as the previous one, it can be used for traditional weddings as well as all other types of them. It will suit a courthouse or backyard wedding and is a really cool variant for a destination wedding.
A Jumpsuit and a Skirt
If you are a fashion enthusiast and love to stand out from the crowd, you may like the idea of wearing a wedding jumpsuit. Modern designers offer some fantastic and very stylish variants of such unusual bridal attire. Moreover, don't think that jumpsuits are only for older brides or the ones who get married for the second time. They look amazing at young girls.
So, in order to make a jumpsuit look more traditional, you may wear it with a detachable skirt. It can be of the same material as well as of the other one. While such a wedding outfit isn't the best choice for a church wedding, it suits modern city hall and courthouse weddings the most.
Now, it's time to consider pluses and minuses of a 2 piece wedding gown.
Pros of a Two Piece Bridal Dress
- It's convenient. No matter if you have a light two piece beach wedding dress or a two piece long sleeve wedding dress, you will definitely feel that it's very convenient to have such an outfit. You may go down the aisle in a luxurious gown and proceed with celebrating in a more convenient one.
- Various styles are for sale. Actually, such gowns are available in all possible styles from simple and two piece wedding dress boho to luxurious variants with rich embellishment.
- It saves a budget. If you initially planned to have two wedding dresses, you may save a considerable sum of money by buying two-in-one wedding gown.
- Combination of traditions and modern style. What we like about such dresses is that they are ultra-trendy but still have some features of a traditional bridal gown.
- Compatibility with accessories. Almost all types of a two piece wedding dress are well compatible with all the basic bridal accessories, including veils, headpieces and jewelry.
Cons of a Two Piece Wedding Outfit
- Departure from tradition. If you have a very traditional family or a religious one, you'd better not risk and try to find a more classic variant. In truth, some styles (but not all!) of such gowns may be considered as inappropriate for weddings by some of your relatives.
- Troubles with sizes. It can be a real challenge to find a two piece wedding dress plus size as not all wedding designers work with plus sizes. Moreover, the variant with a crop top and a skirt is a bad idea for a plump girl as it may highlight your demerits while each girl actually needs to concentrate on your merits.
- Color issues. Such unusual wedding gowns look the best in traditional colors like white and ivory. And while a blush two piece wedding dress may still be appropriate, such variants in blue or red colors look not bridal at all.
So, you see that wearing a two piece wedding dress has more pros than cons and there are some really gorgeous variants of them. So, if you aspire to be an unconventional bride, you should keep in mind this idea.