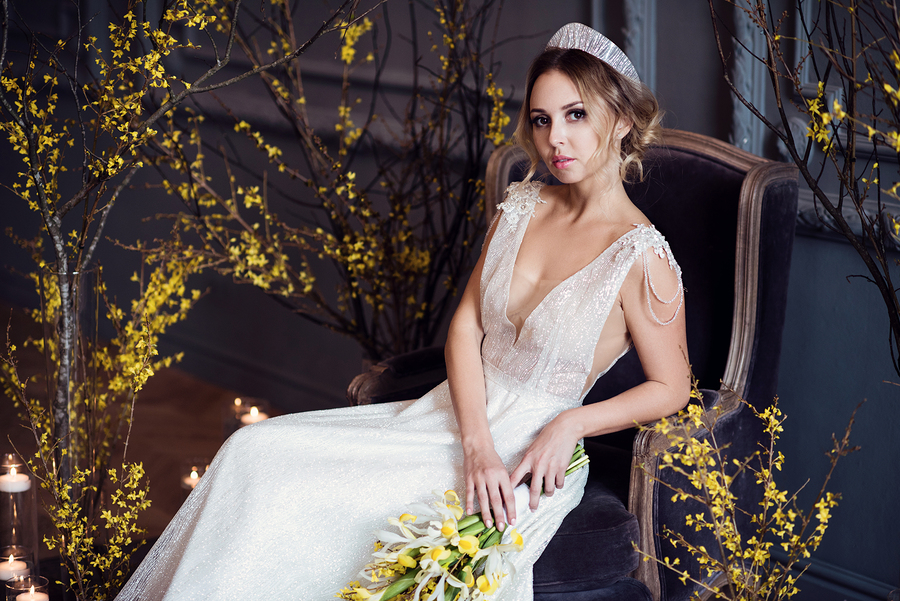 31 Inspirational Ideas of Elegant Wedding Dresses
In truth, not all modern girls dream about a fairytale wedding and a princess wedding dress. Some girls don't like all those luxurious things and just want to get married in something elegant and stylish.
Today, elegant wedding dresses are almost as popular as traditional ones. They usually don't feature too many embellishments like crystals and beading. Everything must be in measure. Also, elegant dresses may feature lace, be of unusual cutting or have creative details. As a rule, such gowns aren't voluminous as sheath, A-line and mermaid silhouettes are preferable.
So, let's see everything with our own eyes and have a look at 31 inspirational ideas of elegant wedding gowns.
1. This A-line dress by The Best Wedding Dresses is a great example of elegance, simplicity and chic. Though this satin dress is simple in its form, the lace bodice and long sleeves make it look more luxurious.
2. This dress by Raffaele Ciuca is suitable for slim girls only as the sheath silhouette in combination with sleek satin fabrics will accentuate any imperfections. However, if you are an owner of the ideal body, you will look astonishing in this gown with halter neck, adorned with slight beading.
3. Simple but elegant wedding dresses can be made from a combination of lace and chiffon. For instance, an A-line wedding dress with a strapless bodice, covered with lace, looks stylish and elegant. It will be ideal if you have beautiful breast and shoulders.
4. Basically, fancy elegant wedding dresses can consist of two pieces: a skirt and a top. For example, this Milla Nova two-piece wedding dress features a sexy lace top with sleeves and a skirt in sheath silhouette. As a result, the dress looks stylish and creative.
5. Delicate lace on a bodice with plunging neckline is perfectly combined with a flowing skirt. This gown in A-line silhouette will suit brides of almost all body types, including plus size girls. A cute accent is a thin belt accentuating the waistline.
6. Elegant dresses for wedding with plunging necklines are extremely popular. They look very feminine and accentuate beautiful décolletage. Moreover, the waist is accentuated with a beautiful waistband.
7. Though elegant maxi dresses for weddings are usually rather simple, it doesn't mean that you can't opt for something more luxurious. Thus, a sheath lace wedding dress, adorned with sequins and beading, is a wonderful example of how beautiful simplicity and luxury can be mixed up in a single item.
8. At first sight, this wedding dress by Eddy K seems to be too simple. But, in fact, despite its minimalist design, it looks very elegant and stylish. Sleek fabrics in combination with a sheath silhouette and a deep plunging neckline look very sexy. Also, cute accents are low cuts on the sides.
9. This fancy wedding dress is another variant of a stylish combination of elegance and luxury. The beaded sheath gown with spaghetti straps would look simply gorgeous, but an upper chiffon skirt turns this dress into a creative and unforgettable masterpiece.
10. Simple elegant wedding dresses may feature some elements of Greek style. Thus, this chiffon gown with a halter neck looks like a dress of a Greek goddess, but, at the same time, is very elegant. Gold beading makes the dress look much more interesting.
11. The fans of mermaid wedding dresses will definitely like this one by David Tutera. An entirely lace wedding dress with beading and train looks very festive. An illusion back adds a special charm to this gown.
12. Another idea of classy wedding dresses was created by thebestweddingdresses. A chiffon skirt plus top with draperies and cute lace accents looks simple but very stylish and sexy. Moreover, this gown has a low back design.
13. Even a simple satin gown may look very interesting thanks to detailing. Thus, this sheath wedding dress features an interesting neckline design: a classic halter neckline is adorned with cute draperied décor. As a result, a dress looks very creative.
14. Mermaid bridal gowns always look luxurious when they are made of lace. This dress is almost classy for a mermaid silhouette. But such details as cap sleeves and a waistband, adorned with crystals, make it stand out from the rest.
15. Thin lace with delicate pattern is perfect for elegant wedding dresses. Such a lace type looks so delicate that every bride will look tender and feminine, wearing a dress, covered with it. This gown looks very elegant and beautiful despite being pretty simple. Moreover, it fits girls with various body types.
16. Off the shoulder wedding dresses are a big trend today. And, of course, elegant dresses also look great with such a neckline. For instance, it can be a sheath gown with a satin skirt and lace bodice, featuring long sleeves.
17. If you are tired of lace, beading and other embellishments, have a look at this Maggie Sottero wedding gown. It's absolutely minimalist with no embellishments at all. Moreover, the dress is of A-line silhouette, which suits a wider range of brides than mermaid or sheath dresses.
18. Elegant lace wedding dresses in mermaid silhouette may be pretty pricy. However, we have a great budget-friendly option for you. This lace dress with plunging neckline looks astonishing but has a very affordable price.
19. Clearly, very elegant wedding dresses can be sexy. A slit adds sexiness to this gown as well as a plunging neckline. What we especially like about this gown is flutter slleves, which look very stylysh and romantic.
20. This lace wedding dress by Riki Dalal looks very interesting thanks to the unusual lace pattern. The illusion V-neck bodice with long sleeves looks very intriguing. This sheath wedding dress looks both simple and unusual.
21. In truth, some fancy wedding gowns in a mermaid silhouette can be more universal than traditional mermaid gowns. For instance, this lace dress with V-neck is designed in such a way that it will look beautiful at both slim and plus size brides.
22. Actually, not only long elegant wedding dresses are for sale, but short ones as well. If you plan a casual wedding ceremony, you are free to wear a short dress in sheath silhouette, covered with lace. The waistline can be accentuated with a colored belt with beading.
23. In some cases, simple and elegant wedding dresses don't need any embellishments and accessories to look great. Thus, this Greek style dress will highlight your femininity and beauty with no extra money spent.
24. This elegant wedding dress is a great example of how details can turn a simple dress into something gorgeous. Thus, a wrap bodice design and small sleeves, made of Chantilly lace, make this sheath gown very cute. A luxury touch is added by a beaded belt.
25. Someone may think that the design of this dress seems to be more suitable for an evening gown. However, despite being very simple, this gown looks very stylish and feminine. A waistband with a bow and buttons on long sleeves make it look more festive.
26. In the front, this long sleeves sheath wedding dress is absolutely minimalist. However, if to have a closer look at it, you will see the intricate lace back design as well as lace appliques, which adorn sleeves.
27. Undoubtedly, fancy wedding dresses are unforgettable if they feature unusual details. The main accent of this wedding dress is the illusion cape. It looks really unique and add a special chic to rather a simple gown.
28. Elegant bridal dresses look fantastic with open back designs. And this gown by Paloma Blanca is a wonderful example of these words. A minimalist satin mermaid wedding dress looks very sexy with open back and a cute design with straps on it.
29. Are you fond of vintage style? Here is an idea of an elegant vintage gown for you. Minimalist design and tea length create a cool ensemble, which will be ideal for a vintage-inspired wedding.
30. High-low wedding dresses are liked for their universality as they are convenient, but, at the same time, look more festive than short dresses. This A-line high-low wedding dress with a draperied bodice and an amazingly embellished belt is a great example of beauty and convenience.
31. As you see, very often elegant bridal gowns are rather minimalist. However, cute details make them look much more interesting. Thus, a minimalist sheath gown looks very unusual with draperied tulle design on the top of the bodice and sleeves.
In a nutshell, there are many variants of cool elegant wedding dresses. So, every girl will find the perfect one, which will look stylish and, at the same time, will highlight her merits.