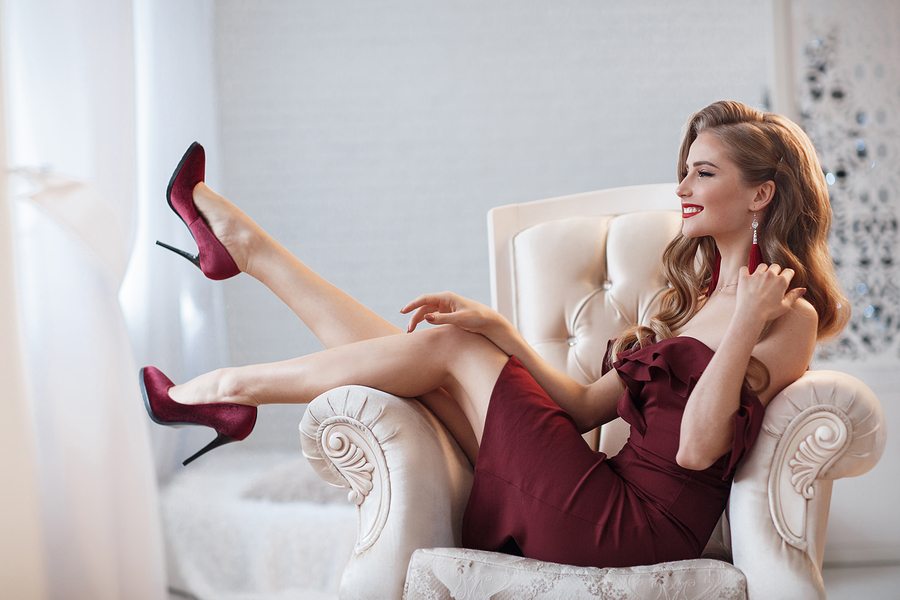 How to Choose Fall Wedding Guest Dresses?
Have you been invited to a fall wedding? Still don't have any idea of what to wear to look stylish and, at the same time, feel comfortable? How fall wedding guest dresses differ from the ones for summer or winter weddings?
Fall is rather a popular choice for weddings because of comfortably cool weather and beautiful backdrops. However, when we are invited for a wedding in fall, many of us don't know what dresses to wear to a fall wedding for a guest. We'd like to provide you with some assistance in choosing the proper attire for a fall wedding.
Things to Consider Before Buying a Dress for a Fall Wedding Guest
One of the main issues when we seek for dresses for attending a fall wedding is the color. Basically, there are no strict rules of what color is the best for a wedding guest attire no matter what season we have. However, very often, fall wedding guests opt for the gowns of colors, which look harmonious with the season like red, burgundy, purple, brown, gold, navy and dark green.
As a rule, white and black dresses aren't recommended for wedding guest attire. Also, you need to find out where the ceremony will take place and if it has a certain dress code. Some weddings can be devoted to certain colors and all wedding guests are asked to follow this guideline. For example, you can be invited to a wedding in gold colors and it's desirable that you have a dress or, at least, accessories of this color.
Another issue is fabrics. Clearly, no one wants to feel uncomfortable and so, you need to take weather conditions in consideration. Usually, velvet, satin and other heavy fabrics are used for fall dresses for a wedding guest, but it's not obligatory. Moreover, if the wedding takes place in early September, all the light summer dresses can still be worn.
Also, if you have found a really cool dress, but it seems to be very light, don't refuse from it immediately. Think about some wraps or accessories, which will complement the dress and make you feel warmer.
Also, many girls wonder if it's better to buy fall wedding guest dresses with sleeves or without them. Of course, a dress with sleeves is a bit warmer than the one without them. However, we don't recommend concentrating on buying a dress with sleeves. Even a strapless dress can be worn and you may feel absolutely comfortable in it if a jacket or bolero is added.
In truth, the most important in choosing fall dresses to wear to a wedding as a guest is how they look at you. The silhouette and neckline of the dress must be flattering to highlight your merits and hide imperfections. The color must also suit you.
Finally, don't forget about accessories. Even if you have a long-sleeved dress, it is not a guarantee that you will feel warm and comfortable. That's why, think about having a jacket, bolero, shawl, wrap or any other piece, which can save you from cold weather. The jewelry, bag, headpieces and other accessories must look harmonious with the dress.
As to the shoes, the classic pumps with various heels height are the most widespread option, which suits almost every dress. However, you can also have other types of shoes, depending on the wedding guest dress you have. In some cases, flats, stilettos, wedges and even ankle boots may be appropriate.
Stylish Ideas of Fall Dresses for Wedding Guests
Now, it's time to consider some examples of fall wedding guest dresses for you to get inspired for the perfect dress shopping.
Satin Dresses
Satin dresses are pretty popular today, especially among fans of minimalism. They can go in various silhouettes and lengths. Thus, you can have a long sheath gown, which accentuates your body as well as a long A-line dress, which is flattering for the majority of body types. Short and midi lengths also look beautiful in combination with satin.
Besides, a satin dress may be adorned with lace, beading, embroidery and crystals for a more luxurious look.
Dresses with Floral Prints
Though floral patterns are more associated with spring and summer, they will look astonishing at fall wedding guest dresses. However, while pastel and bright colors are ideal for summer, in fall, we recommend to give preference to dark and subdued tones. The only exceptions are red and orange as they look harmonious with the season.
Basically, it's not obligatory to have a dress with an entirely floral print. It may have only some elements with flowers. Or a dress may have a monotonous top and a skirt with floral print or vice versa.
Chiffon Dresses
Obviously, chiffon is a light type of fabric, which is ideal for summer dresses and, of course, this fabric isn't usually used for fall and winter clothes. However, evening dresses are exception. As warmth isn't the main criterion in the choice of a wedding guest dress, you can surely buy a chiffon dress.
When you opt for a chiffon dress and don't want it to look too "light", it's better to buy the one in dark colors like purple, navy, dark green or burgundy.
Velvet Dresses
Velvet is the perfect fabric for a fall wedding guest dress. Such gowns look gorgeous and are rather warm. Moreover, fall and winter are the only seasons, when velvet gowns are appropriate. Velvet looks the best in dark colors like black, blue, green, purple, brown and hues of red.
Velvet dresses may feature sleeves both short and long. Also, they look good with strapless bodices and the ones with spaghetti straps.
Wrap Dresses
Wrap dresses are loved by many girls. They look great no matter if they are casual or evening. The ones for wedding guests can be long, tea length and short. They may feature sleeves of all lengths and types as well as be sleeveless.
Moreover, the wrap dresses may be tight fitting as well as more sheer. That makes them suitable for girls with various body types.
Short Dresses
Actually, short wedding guest dresses aren't suitable for all wedding formats. But, if you are invited to a semi-formal or casual wedding, you have an opportunity to demonstrate your beautiful legs by wearing a short dress. However, remember that the length mustn't be too short. Knee length is considered the most appropriate.
Short dresses for wedding guests go in all possible styles from tight fitting to the ones in baby doll style. The fabrics can be also different: from thin chiffon to intricate lace or royal velvet.
Lace Dresses
It's very hard to find a girl, who doesn't like lace. And, in fact, lace is a wonderful choice for a wedding guest dress as it always looks beautiful and luxurious. Though lace dresses are usually considered to be expensive, there are many affordable gowns for sale as well.
Also, a dress may feature some lace parts. For instance, it's quite popular to have a lace bodice on the dress, which is mixed up with a simpler skirt, made of satin, tulle or other fabrics.
Off the Shoulder Dresses
Off the shoulder necklines follow us in everyday clothes and evening attires. Being one of the major trends for bridal dresses, this neckline will also be a cool option for wedding guests. Dresses with open shoulders look good on the girls of almost all body types, except the ones with broad shoulders and big bust.
Off the shoulder dresses can go in various silhouettes and lengths. Also, they look nice with long sleeves as well as thin straps which fall down from the shoulders.
Two Piece Dresses
Two piece dresses are a very convenient variant for a wedding guest. As it consists of a top and a skirt, you can use these items separately and combine them with other clothes. In such a way, you may create different looks by simply changing the top and the skirt and saving money.
The top and the skirt can be of the same fabrics and pattern as well as of different ones. For example, a tulle skirt can be combined with a satin or lace top.
Jumpsuits
If you want to be creative, wear a jumpsuit. Today, there are many cool designs of jumpsuits, which are suitable for attending weddings. They can be made of various fabrics: from light chiffon to heavy velvet.
Jumpsuits can be rather minimalistic. Or, they can have some interesting elements like ruffles, lace or beading.
Tea Length Dresses
Short and long wedding guest dresses for fall aren't the only possible options. Thus, tea length dresses, which are very trendy at the moment, are a great way to combine comfort and beauty in a single item.
Tea length dresses look cool in A-line silhouettes with full skirts. However, you are free to have a dress in a sheath silhouette, which will make look sexier.
Now, you are ready for the search of the best outfit for a fall wedding you have been invited to. You see that there are no strict rules as to the color and silhouette. The most important is that the dress suits the wedding format and is really flattering and comfortable for you.