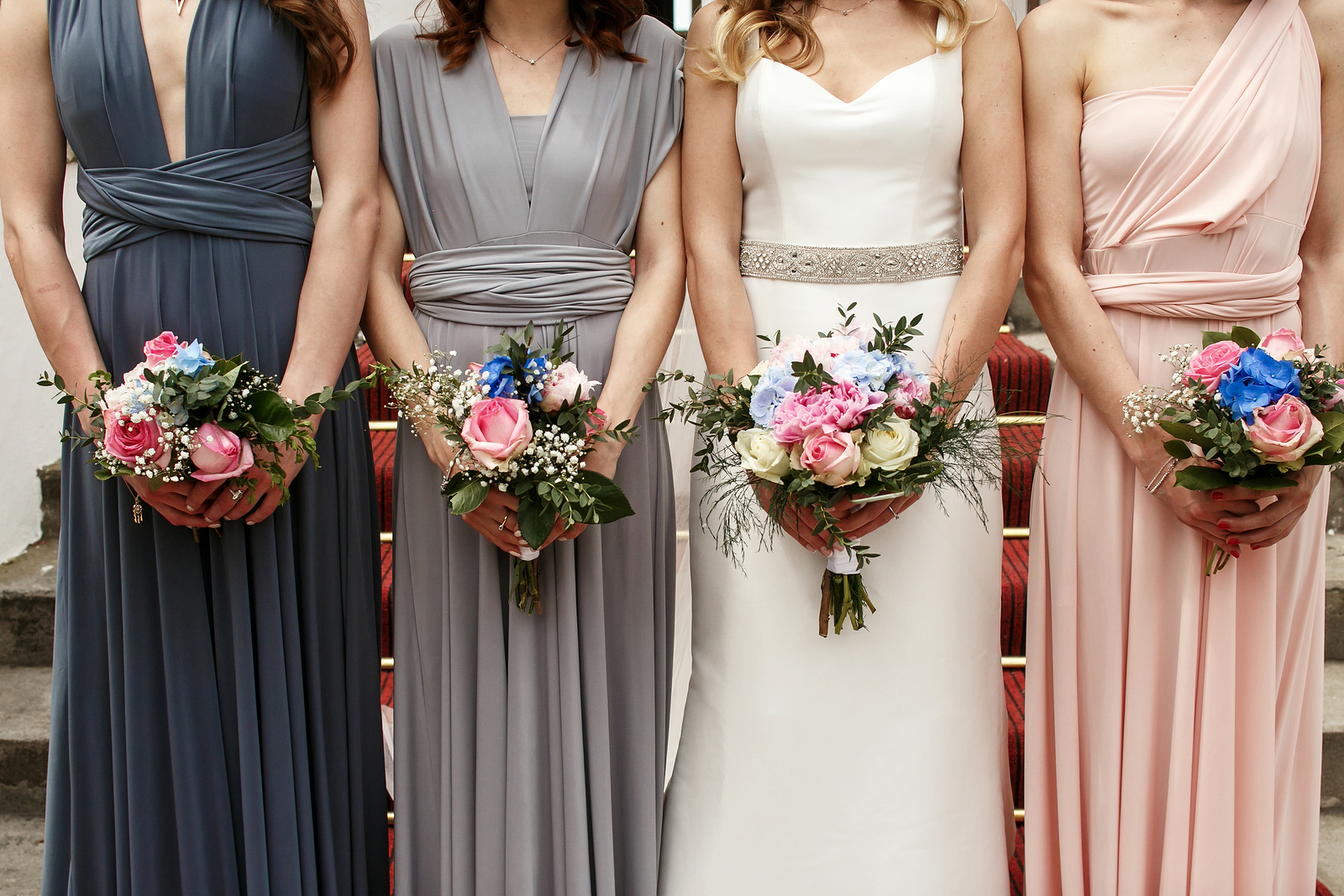 9 Helpful Tips on Choosing Plus Size Bridesmaid Dresses
The process of choosing plus size bridesmaid dresses often turns into a real challenge, because girls don't look alike, everyone has her unique stature and shape. That's why a dress that fits one girl can look totally different on the other.
If you want to feel comfortable and adorable at the wedding party, color and size are not the only options you should take into account! Fabric, embellishment and cut also have a great influence on the overall look. In order to help you, we've prepared 9 helpful tips on choosing a dress, suitable for your body type.
1. Begin with silhouettes and necklines
First of all, take into account that A-line dresses work well for all body types. Try to avoid ball gowns with pompous skirts as they can make you look bigger. When it comes to the neckline, V-neckline always adds a good romantic touch, making a right accent on your neck and bust.
We recommend you to skip the ruffles as they create undesirable volume and accentuate unnecessary parts. Women with wide hips must be careful with embellishments added to the waist as the result of such an experiment can work against them. There must be only one exception for such a decor, when ruffles are placed vertically, so in this case they can lengthen your body.
During the search of the best fabric, avoid shining satin, taffeta and charmeuse as they can enlarge you visually. Also, keep in mind that patterns can play tricks with fuller figures. If you want your dress to be brighter, try to choose simple patterns.
You don't necessarily need a dress. Sometimes it's possible to create a good stylish combination by pairing separate tops and skirts of different length and cut. Don't be afraid to combine lace sleeveless tops with light skirts of bright colors, especially if it comes to informal weddings.
If showing off the legs is not up to you, try another experiment: go for a floor-length skirt and lace top with a high neckline. Such a skirt will nicely fall over your curves, while the lace top will add an elegant touch.
2. Take into account personality and age
Today the bridesmaids have more freedom in choosing their outfit, as the brides don't dictate rules what they have to wear. At least, brides can give a little guideline about the most popular options or advise which materials and silhouettes match each other best of all.
Young bridesmaids are allowed to be brighter, experimenting with flirty and flowing styles, while more mature ones must have a look on elegant and modest gowns first. Also, elder bridesmaids in their 40+ can choose vintage dresses of 1950 or 1960's inspired styles, which provide women with a brilliant fresh look. It's your chance to transform into your favorite actress or, at least, to enjoy the vibe of the past epoch.
3. Choose your color
The choice of colors is always based on the season, the overall style of wedding décor and the venue. Light colors are appropriate in summer, while winter and fall seasons usually come hand in hand with deeper tones.
Each color works differently, creating a certain mood. You must not be limited to white or some other light hues, as unexpected options often lead to surprising results.
Green
It's true that green doesn't look great on everyone. Before making a choice, have a look at the dresses of emerald green hue, which is considered to be universal for all bridesmaids. Also, pale green shades can be a great choice for a wedding, especially if you combine it with white and gold décor.
Black
Black can add a good dramatic touch. It looks simple and impressive, works well in combination with different silhouettes and textures. Moreover, plus size black bridesmaid dresses make you look slimmer!
Neutral
If you have some doubts, always choose neutral colors as they fit everyone. The founder and CEO of online boutique "Vow To Be Chic" Kelsey Doorey, who knows everything about bridesmaid dresses plus size flattering everyone, advises charcoal, beige, champagne and blush in this case.
Plus size navy blue bridesmaid dresses are the perfect choice for those girls who find black quite boring. Navy is the closest black's cousin with a very deep dark shade. However, it looks lighter and softer than black. Dark blue is everywhere since Kate Middleton appeared in an elegant engagement dress of this color.
Designers still take inspiration from this hue because it looks astonishing with almost all types of the skin, being an appropriate option for formal and casual weddings. If you prefer less dramatic vibe, choose grey that fits any wedding season, creating a harmonic combination with most colors.
Pink
Pink color could make a good stress on the natural beauty of your skin, making it look fresh.
White
There's no taboo for choosing white bridesmaid dresses. Actually, if all-white wedding is done in the right way, you'll be beautiful and bright without the risk of outshining the bride.
Purple
As weddings in bright purple are in great request among couples, don't ignore plus size purple bridesmaid dresses. We recommend you to pay attention to neon shades as they spice up the overall look very well.
Ruby red and burgundy
Ruby red dresses bring festive atmosphere and that's why they are good for winter wedding celebrations. Award-winning blogger Gabriella from "Blossom bride" advises to use an embellished belt to make a greater stress on the waist.
Burgundy plus size wedding dresses go together with gold or silver accessories. If you look for a gorgeous color for autumn weddings, that perfectly emphasizes a royal vibe and looks classy and elegant, choose this one.
4. Don't ignore dresses with sleeves
Plus size bridesmaid dresses with sleeves bring much more benefits than you could think. They provide girls with an elegant and modest look as they don't show off the skin too much.
This type of outfit works well if you don't consider your shoulders to be the best part of your body and need some extra arm coverage. It doesn't matter whether you prefer lace or sheer gowns, sleeves would definitely add a very sophisticated touch, accentuating your beautiful curves. Cap sleeves combined with off-the-shoulder design provide your body with more liberty, drawing attention to the neck and emphasizing your natural appeal.
5. Experiment with length
Long bridesmaid dresses combine trendy options with a strong traditional vibe. They look feminine and have some royal flavor at the same time. Designers like Jasmine Bridal, BHLDN have presented a rich collection of monochromatic and multi-colors full length dresses for curvy bridesmaids, which include flowy chiffon dresses, A-line and empire gowns with delicate silhouettes and defined waistline.
You can choose plus size royal blue bridesmaid dresses with decorated belt right under the bust or chiffon dresses of a simple silhouette with high waist. They will create an impression of tall-and-confident-vibe.
Short-length bridesmaid dresses perfectly fit if you're going to participate in casual wedding celebrations which are held in the spring or summer, on beautiful beaches or in blooming gardens. These gowns will provide bridesmaids with a light, airy feel due to the tulle skirts or lace decorations. Moreover, it's a chance to make a stress on your beautiful slim legs.
Short dresses give a total liberty for experimenting with necklines. Both illusion or asymmetrical necklines look appropriate if you want to add some extra unique raisin to the overall style. For vintage inspired ceremonies, choose embroidered organza dresses with floral print. Such an outfit has everything to be eye-catching without showing off too much.
6. Don't be afraid to be shiny
If you want a more glamorous look, pay attention to the collection of plus size gold bridesmaid dresses including a great variety of options from gowns decorated with sequins to dresses with rich shining embellishment. This type of dresses fits girls, who are confident and like when all eyes are locked on them.
Floral beading, geometrical prints, combination of art deco styles and mermaid cut can add a good flirty raisin to your look. Beaded gowns of dark colors should be your choice #1 if you're planning to attend the classic evening wedding. Such a gown will create a magical appeal, shining in the moonlight. Combining metallic shimmer and delicate cut they can help you to stand out among the rest and look astonishing on photos.
7. Be careful with flirty details
Try to emphasize your merits with the right detailing and avoid decorations that can enlarge you. Your task is to find a balance between comfort and attractive look. You should not try going over-the-top and sacrifice your confidence.
Sweetheart neckline suits all kinds of figures and shapes, accentuating only the best parts. It provides bridesmaids with more support and the illusion of fabulous breasts. Off-the-shoulder design works well if your arms are not extra large. If you don't feel confident about your shoulders, it would be better to go for dresses with sleeves or add a beautiful bolero.
V-neckline helps to make a breast look smaller visually by making an accent on the neck. These dresses work best for girls with big bust and large upper arms. We recommend you to avoid over-beaded dresses, creating the unnecessary heaviness.
Don't rely on shapewear to hide all your imperfections. Choose a dress that looks flattering on your natural curves and provides you with confidence. Shapewear must be an extra help, but not the must-have for the wedding day.
8. Don't give up quickly
The size of one dress can actually differ from the other one even if their labels say they look alike. Be ready to try on as many dresses as possible. Boutiques can upset you with small collections worth paying attention to. But in order to avoid undesirable fuss, look through your favorite clothing brands. Maybe, you'll find cheap plus size bridesmaid dresses there or, at least, something bridesmaid-worthy. Never stick to the traditional bridal boutiques. Be open to investigation and experiments!
9. Be ready for online shopping
If the thought of boutique fun run brings more negative than positive emotions, stay home and do some online shopping! You can order several sizes of dresses, which you like most, and then see what suits you best of all. In a cozy home atmosphere, you can devote as much time to trying on as you need. You don't need to queue and share a fitting room with someone else. Don't worry if nothing fits you perfectly. A little tailoring can save the situation, turning a dress you like into a dress, which will make you awesome!
We hope, these tips will ease your hunt for the ideal bridesmaid dress among the endless variety of cuts and styles and you include our recommendations in your to-do list before going shopping. Maybe, you've already picked a few good options and your next visit to boutique will bring you more fun than recent ones. Don't doubt yourself, be open for new and unexpected decisions!