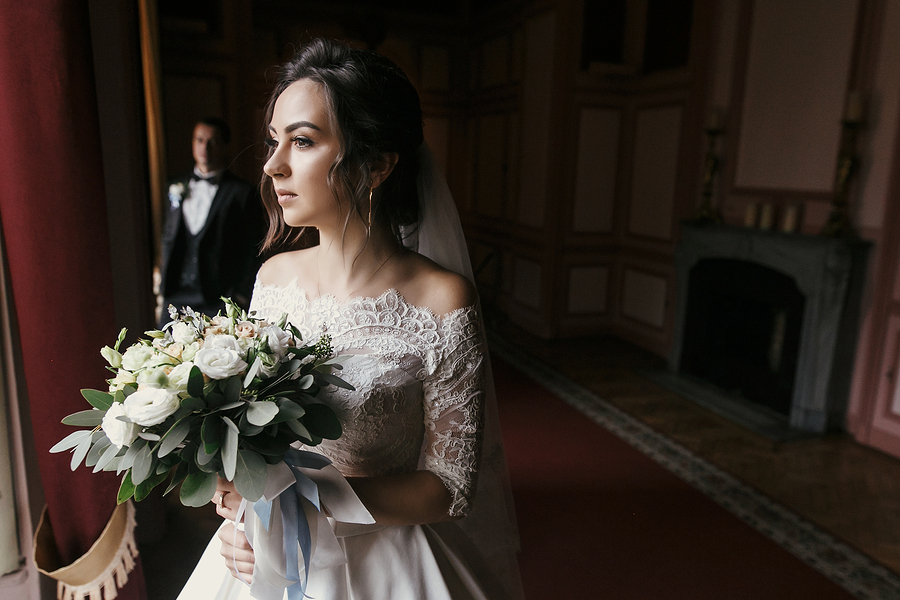 A Guide to the Most Marvelous Off the Shoulder Wedding Dresses
Do you have beautiful shoulders? Why not demonstrate them at your wedding day? In fact, off the shoulder wedding dresses are a great opportunity to accentuate your shoulders and add a bit of romantic spirit to your bridal look.
Today, open shoulders dresses are one of the biggest trends in wedding fashion. And so, their choice is pretty good. You are free to choose whatever silhouette, style and materials you want. Now, let's get to know a bit more about off the shoulder wedding gowns and find out some tips on how to choose the most marvelous one for your wedding.
Off the Shoulder Bridal Dress Trend
Off the shoulder trend started at 2016 spring fashion runways, but it became extremely popular in 2017 and bridal designers decided to use it to their profit. Shoulder-baring wedding dresses remain popular today and seem to be trendy for some more seasons.
Millions of girls around the world are fond of wearing clothes, which leave their shoulders open. And of course, brides just can't pass by this intriguing neckline. And, basically, they have a really great choice. Off the shoulder wedding dresses are available in all possible silhouettes from ball gowns to sheath dresses.
Moreover, such gowns go in various styles. You can have a simple wedding dress with open shoulders as well as the one with luxurious lace and beading. You can go minimalistic as well as be a real princess in a gown with bare shoulders.
Is an Off the Shoulder Wedding Dress Suitable for You?
Actually, off the shoulder wedding dresses suit the majority of body types. The girls with pear-shaped bodies may highlight their tender upper part as well as add some volume to it with the help of ruches or other décor. The brides with rectangle bodies may make their body look visually more feminine. The apple-shaped girls may also wear off the shoulder wedding dresses. And, of course, the brides with hourglass body will look gorgeous in them.
But, there are some exceptions. Thus, if you have wide shoulders, such a neckline can make them visually broader. Or, in some cases, this type of neckline may look weird on the girls with big bust. For example, the gown with open shoulders and ruches is something you don't need to wear anyway if you have the bigger upper part.
Also, you must be careful while choosing a plus size off the shoulder wedding dress. Basically, this neckline suits plus size girls. However, if you have a big bust or wide shoulders, consider wearing a dress with another neckline as your upper part may seem to be bigger than it is.
15 Cool Ideas of Off the Shoulder Wedding Gowns
Now, let's have a look at 15 absolutely astonishing ideas of off the shoulder wedding dresses, which you will definitely fall in love with.
Mermaid Wedding Dresses
Undoubtedly, an off the shoulder mermaid wedding dress will be an ideal option for the girls with hourglass body type. Such gown will accentuate beautiful body curves while bare shoulders will add a bit of romantic spirit.
There are several cool combinations of open shoulders neckline with mermaid silhouette. It can be a minimalistic satin wedding dress with a straight line, opening the shoulders. Or, you may wear a long sleeved lace wedding dress. Another cool option is a combination of lace with chiffon like on the image above. Also, lace is beautifully combined with tulle and satin.
A-line Wedding Dresses
A-line wedding gowns are classic and so, bridal designers don't omit this silhouette while creating trendy dresses with open shoulders. An off the shoulder A line wedding dress looks traditional and, at the same time, fashionable.
A-line gowns can be made of satin, tulle or be fully covered with lace. The most popular variant is a gown with tulle or satin skirt and a lace bodice. Also, the gown may feature all kinds of sleeves from small to long ones, from fitted to puffed.
Empire Waist Bridal Dresses
If you seek for something light, romantic and convenient, or plan a beach wedding ceremony, have a look at off the shoulder dresses of the empire waist silhouette. This silhouette is the most flattering for girls with apple-shaped bodies as well as pregnant brides. However, it's suitable for all other body types as well.
Empire waist dresses look the best if they are made of flowing fabrics like chiffon or soft tulle. They can be adorned with draperies, ruches, embroidery, lace and beading. Such gowns often feature straps, which fall down from the shoulders and open them. But, more traditional variants with all types of sleeves also look beautiful.
Sheath Wedding Gowns
Sheath wedding dresses are a great variant if you want to be elegant. Such gowns look the best on hourglass and petite brides. However, pear-shaped girls may wear them if some volume is added in the upper part, for instance a ruffle.
Sheath dresses with open shoulders look astonishing in all styles. For example, the one made of thin lace and featuring long sleeves will look very tender. Or, you may have a chiffon dress without sleeves if you want to have something light and romantic.
Ball Gown Wedding Dresses
A princess-like look can also be created with the help of off the shoulder wedding dresses. Ball gowns are a good option for girls with rectangle body type. They help to make the figure looking more feminine.
As off the shoulder wedding gowns aren't recommended for the girls with wide shoulders, a ball gown is the only silhouette, which you can try on with such a neckline as the voluminous skirt may distract attention from the broad shoulders. The ball gowns, which are adorned with lace and beading look gorgeous. But you are free to have a minimalist satin gown without any embellishments.
Long Sleeve Wedding Dresses
An off the shoulder long sleeve wedding dress is a good way to look modest and sexy at the same time. Moreover, such a mix looks very beautiful and is ideal for fall and winter weddings.
Off the shoulder wedding dress with sleeves will look fantastic no matter what silhouette it has. Ball gowns look as great as mermaid and sheath gowns. As to materials, lace sleeves look very interesting. They can be a part of an entirely lace gown or the one with lace bodice, including illusion ones.
Wedding Dresses with Ruffles
Want to add a bit of romantic spirit to your wedding look? Opt for a wedding dress with a ruffle on the shoulders. This variant will look very good if you have a pear-shaped body as it will help to make shoulders more balanced with hips.
Very often, such gowns are pretty simple. They are usually of sheath or empire waist silhouette and are made of flowing materials like chiffon. Also, it can be a dress, made of natural fabrics like cotton. Or, if you need a more luxurious look, a wedding dress with a ruffle can be made of thin lace.
Open Back Bridal Gowns
Basically, it's not so easy to combine open shoulders and open back in a single dress if you want to feel comfortable in it. However, some wedding designers prove that it's possible.
For example, it can be not a low back design but a cut in the middle of the back, which will make the upper part of the dress back well fixed and, at the same time, will reveal your beautiful back. Another variant is to use straps, either thin or thick, which are sewn in such a way that good support is provided.
Wedding Dresses with Detached Sleeves
If you can't decide what you want more: an off the shoulder or strapless wedding dress, there is a nice solution for you. Detached sleeves are a great way to combine these two types of necklines and create two unforgettable bridal looks with the help of a single dress. The sleeves can be of all forms from fitted lace to puffed or bell ones. You are free to choose what you like the most.
So, you can buy a ready set of a dress with detachable sleeves. Or, you can buy a strapless wedding dress and seek for the sleeves separately. In fact, detachable sleeves look like long gloves and, in some cases, you can replace sleeves with gloves.
Bohemian Wedding Dresses
Bare shoulders accent is an ideal addition to a bohemian wedding dress. Bohemian dresses as well as off the shoulder dresses are at the peak of popularity and will help you to create a trendy and fashionable bridal look.
Off the shoulder boho wedding dresses look cool in combination with long sleeves. For example, long bell sleeves look very interesting, but even simple fitted ones will look good. Lace is the best material for such a gown. However, a simple cotton dress will look great at a beach, country or casual ceremony.
Lace Wedding Dresses
Almost all girls love lace. That's why, it's one of the main fabrics for the majority of wedding dresses, including off the shoulder ones. Lace dress of the suitable silhouette will make any girl look womanly and beautiful. Lace may be different: from thin Chantilly to the one, embellished with beading and crystals.
An off the shoulder lace wedding dress looks marvelous in any silhouette. Ball gowns with intricate lace pattern look very luxurious while sheath ones, covered with thin lace, are more elegant.
Illusion Wedding Dresses
Needless to say, illusion wedding dresses are in trend now. While only a few brides dare to wear a fully illusion dress, the majority of girls give preference to the gowns with illusion bodices. As a rule, such bodices are adorned with lace.
Basically, if you like off the shoulder wedding dresses, but don't feel comfortable in them, a great way out is to have a dress with an illusion bodice, which covers the shoulders with thin nude tulle, creating the illusion of bare shoulders.
Cold Shoulder Wedding Dresses
Another variant to make an off the shoulder wedding gown more convenient is to buy a cold shoulder wedding dress. While the shoulders remain open, straps help to make the dress fixed on the shoulders.
Though cold shoulder necklines aren't very widespread, they can be combined with all the styles and silhouettes. They look good with various materials. Also, in some cases, straps can be added to a ready off the shoulder gown if you want to make it more comfortable.
Minimalistic Wedding Gowns
If you aren't a fan of lace, embroidery, beading and other embellishments, you may look very stylish in a minimalist wedding dress. Usually, it's made of satin, tulle or chiffon and features no embellishments. However, such a gown may have some other accents, for instance, open shoulders.
Despite lack of accessories, minimalist gowns don't look very simple if they are made of high-quality fabrics. Moreover, you can add some accessories yourself. For example, you can adorn a dress with a beautiful belt.
Tea Length Wedding Dresses
Tea length wedding dresses are often associated with vintage style, but, in fact, they can be very stylish. By combining open shoulders and tea length, you will be able to demonstrate your shoulders and legs, remaining absolutely not vulgar.
Off the shoulder tea length wedding gowns look the best in sheath and A-line silhouettes. The latter looks more festive. As to materials, minimalist satin, fluffy tulle, intricate lace and various combinations of these fabrics are possible.
All in all, a bride in an off the shoulder wedding dress looks astonishing. Bare shoulders make the bridal look very romantic and sexy. So, if you have beautiful shoulders, don't hesitate to demonstrate them at your wedding day.