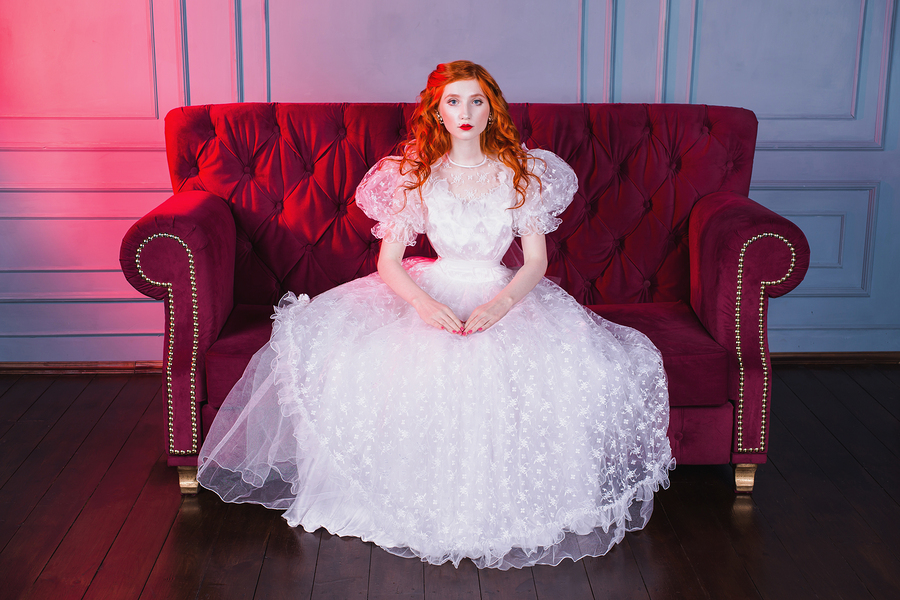 What Are Curious Facts about Victorian Wedding Dresses?
Have you always dreamt about the true luxury and a royal wedding? In such a case, a Victorian style wedding is the ideal option for you. And, of course, it's better to start the preparation with the choice of a wedding gown.
Victorian wedding dresses look very luxurious and are a great way to feel like a queen at your wedding. Let's find out a bit more about the gowns in this style and see if they are appropriate for modern weddings.
Short History of a Victorian Wedding Dress
Before the 19th century, the brides got married, wearing their most expensive dresses without paying much attention to the color of the gown. However, in the 19th century, Queen of the United Kingdom, Victoria, set the new wedding standards. She ordered a white dress for her wedding and soon, all brides started to wear the wedding gowns of the same color.
At that time, white color was associated with luxury and wealth as only rich people could afford white clothing, which gets dirty pretty fast.
What Are the Main Features of Victorian Wedding Dresses?
Victorian era wedding dresses feature tight-fitting bodices, adorned with lace and draperies. Sleeves and high neck are the other key characteristics of this style. Also, such gowns have various kinds of ruffles and frills. The puffed sleeves are one more distinctive feature of such dresses.
As a rule, Victorian gowns are of a ball gown silhouette and are worn with petticoats. Train is a must for Victorian dresses. It adds luxury to the gown and is great for wedding photos.
Clearly, vintage Victorian wedding dresses are rather specific and they look great only if the wedding is dedicated to this theme. You must to think over the groom's outfit, location, décor, accessories and many other things. Only if everything corresponds to the chosen style, you will have an amazing and unforgettable wedding.
However, if you like some elements of old Victorian style wedding dresses, but aren't ready to have a wedding, dedicated to this style, you can borrow some elements. Thus, you may have an absolutely modern and stylish wedding dress, which, at the same time, has some elements of the vintage style. And this option is the most widespread today.
Moreover, many modern wedding dress designers draw inspiration from Victorian style wedding dresses while creating their collections. So, it doesn't seem to be a problem to find a gown with some elements of Victorian style, but, which, at the same time, looks absolutely modern.
For example, it can be a princess gown with three-quarters sleeves, adorned with lace. Or, it can be a long straight gown with a flowing skirt, featuring bishop sleeves. Another idea is a gown with a lace tiered skirt. In fact, there are much more cool ideas of Victorian inspired wedding dresses. You just need to choose the one, which suits your body type and taste the most.
Also, the dresses, inspired by the Victorian era, may feature some gilded elements, beading and embroidery.
9 Ideas of Modern Victorian Wedding Gowns
In truth, you won't find too many variants of purely Victorian style wedding dresses for sale. However, if you don't plan to organize the wedding ceremony in this style, draw inspiration from these vintage gowns, but opt for something more stylish. Here are some ideas of the gowns, inspired by Victorian bridal gowns, but which are absolutely modern.
Victorian Lace Wedding Dresses
Almost all girls love lace wedding gowns. So did Queen Victoria. Lace can make any gown look more luxurious and add a royal chic to it. And it looks extremely cool when the gown is entirely covered with lace. However, it may feature some lace details on the bodice, sleeves and skirt as well. The high-neck, long or three-quarters sleeves as well as a train will make the wedding gown ideal.
Lace is also a wonderful material for plus size Victorian wedding dresses. The correctly chosen pattern and silhouette may help you to be visually slimmer. Thus, an A-line wedding dress with sleeves and medium lace pattern will be the perfect variant.
Victorian Wedding Dresses with Sleeves
Basically, sleeves are one of the main features of Victorian wedding dresses. The puff sleeves, which were popular in the Victorian era, can hardly be harmoniously added to modern wedding dresses. The alternatives are bell sleeves, which start to flow at the elbow or a bit lower. Another cool variant is bishop sleeves. Both bell and bishop sleeves look the best if they are very light and are made of tulle, chiffon or thin lace.
Also, the traditional fitted sleeves are suitable. Long and three-quarters ones are the best option. The fitted sleeves can be transparent thanks to lace detailing as well as be closed. Cap sleeves, which are loved by many brides, aren't suitable as they look too modern.
Wedding Dresses with Ruffles
Ruffles aren't only one of the features of a Victorian wedding gown, but also a way to add romantic and feminine touch to a dress. The ones on the shoulders look extremely cool. As a rule, off-the-shoulder dresses look the best with such ruffles. But, you can also combine them with the illusion high neck, like on the photo above.
However, if you have wide shoulders or big bust, think twice before wearing a wedding dress with a big ruffle on the shoulders. It may add the unnecessary volume in the bust and shoulder area and will make you look bigger. You may consider adding ruffles in other parts of the dress. For instance, a basque on the waist will look cute.
Wedding Gowns with Tiered Skirts
Though Queen Victoria had rather a simple skirt design at her wedding dress, you may add some interesting details to yours. Multi-tiered skirts look very interesting and festive. They can be combined with various types of necklines.
As a rule, the gowns with such creative skirts have more minimalist design like the one with draperies or simple lace. However, the bodice with luxurious beading will be ideal for your royal-styled wedding.
Wedding Dresses with Gold Accents
Undoubtedly, gold elements will make even the simplest dress look much more luxurious and expensive. The best way to add gilded details to a Victorian dress is to adorn it with gold lace. Another way to add some gold sparkling is to have the dress beaded or embroidered.
But, it's important not to overdo with gold. Too many gold details will make you looking like a person with a bad taste.
Bridal Dresses with Much Beading
Clearly, such gowns won't be among cheap Victorian wedding dresses. The hand-made beading may cost pretty much and so, not every bride can afford buying such a gown. However, if your budget is rather big, a wedding dress with beading will make you a real princess at your wedding day.
Usually, gowns have bodices, adorned with beading and crystals. Also, the beaded elements can be present on the skirt. Or, if you want a more affordable dress, it may feature the beaded waistband, which will add a bit of chic to the dress.
Transformer Victorian Wedding Dress
Undoubtedly, the majority of girls will agree that it's very convenient to have a transformer wedding dress. It allows you creating two different looks with the help of the same dress. The basic dress is usually of sheath or mermaid silhouette while the detachable skirt is fuller, making the gown looking like a ball gown or, at least, A-line wedding dress.
For example, it can be a lace sheath wedding dress with long sleeves, which is mixed up with a fuller skirt for creating the more luxurious bridal look. Or, beaded gowns may also look great in combination with detachable skirts.
Sexy Victorian Wedding Dresses
At first sight, it's hard to imagine how a Victorian wedding gown and sexy wedding dress can be combined into one. However, it's possible. For instance, Galia Lahav's Victorian-inspired collection features really sexy gowns, which, at the same time, have some Victorian features.
For instance, it can be a gown in sheath or mermaid silhouette, the one with open back or deep décolletage as well as an illusion wedding dress. But, it may have long sleeves of bishop or bell type as well as some luxurious details. And don't forget about lace.
Gothic Victorian Wedding Dresses
And finally, if you plan a gothic wedding, you may choose the ideal dress among black Victorian wedding dresses. This style suits the gothic theme the most and looks very creative. Though traditional Victorian dresses, as well as classic wedding gowns, are white, you are free to run away from traditions for your thematic wedding.
So, you see that a Victorian style wedding dress isn't just an old-fashioned dress. Today, there are many cool variants of stylish gowns, featuring details, which are peculiar for Victorian style like ruffles, lace and sleeves. So, you are free to look like a queen on your wedding day without sacrificing your style and taste.