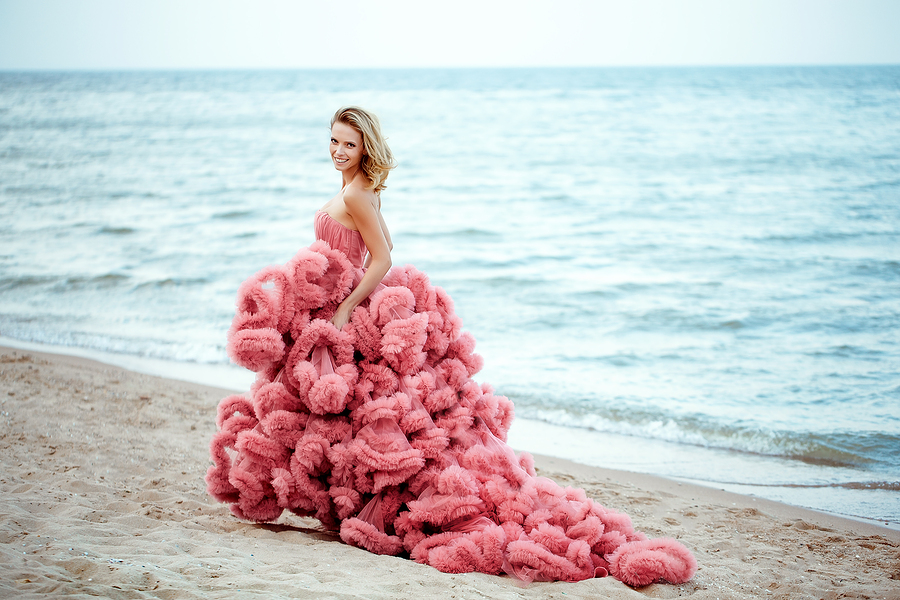 10 Cool Ideas of Colorful Bridal Dresses for Wedding and Reasons to Wear Them
Think about wearing a colorful wedding dress? Modern brides know that it's not obligatory to wear a traditional white wedding dress. Though the choice of the white color and its hues is the most widespread, some girls prefer to experiment with the color of the gown. As a result, they get unique and 100% personal gowns, which stand out in the world of white dresses.
If you are considering if to wear or not to wear colorful dresses for wedding, we'd like to provide you with the reasons to say "yes" to a dress of unusual color as well as show 10 fantastic ideas of colorful wedding dresses.
Why to Wear a Colorful Wedding Gown?
Some people think that a bride must be in white while dresses for wedding guest can be of all possible colors. But, today's brides are open to experiments and we see wedding gowns in all the colors of the rainbow more and more often. If you want to know the reasons for wearing a colored wedding dress, here they are.
1. By choosing a colored wedding dress, you can select the color, which suits you the most. While stark white isn't suitable for all brides, some girls seek for other shades of white as well as more interesting color solutions. Also, you are free to choose the gown of your favorite color.
2. If you dream about a thematic wedding, a white dress may fail to look organic in certain themes. That's why, in order to create the necessary atmosphere at the wedding, you may not only choose the thematic decorations, but also the appropriate gown. For example, western dresses for weddings can be made in light blue denim-like color with brown details.
3. Almost each girl wants to be a princess. And if we recollect the Disney princesses, all of them wore astonishing colorful dresses. For instance, Belle's yellow dress as well as Aurora's blue gown is great. And you are free to wear something similar and even more luxurious.
4. Undoubtedly, if you want to surprise your wedding guests, opt for a colorful dress. Everyone expects a bride to appear in white or ivory. That's why, if you want to impress everyone, have a colored outfit.
5. If you are afraid of having a dress, which can be confused with dresses for wedding guests, you need to think over all the details very carefully. First of all, the style of the dress is important. Thus, princess and A-line silhouettes are the best option for colored dresses. However, other styles also look cool if they have enough embellishment and don't look too simple.
6. Some brides opt for cocktail dresses for weddings if they have casual ceremonies. However, cocktail gowns look bride-like only if they are in white or ivory colors. A short cocktail dress of, for example, blue color will look like it was made for a guest or bridesmaid and not for a bride.
7. The choice of the colors is really big. If you are a daring personality, you are free to wear a black, red or navy wedding gown. However, pastel colors are more popular. The light shades of pink, blue, mint and lilac look amazing and romantic.
8. When you get married for the second or third time and have already had a white gown, you start to think what to wear to a wedding in order not to look similarly. A colored dress is a good option for such a case.
9. Very often, dresses for wedding with unusual coloring don't need much embellishment. They may look gorgeous even if they are fully made of tulle. That's why, you can save some money by not adorning the dress with expensive lace and crystals.
10. You can choose your wedding outfit among long formal dresses. While seeking for the colorful gown, you will find not so many variants in the color you have chosen. That's why, you also need to visit shops, which sell evening dresses as there are many chances that you may find something suitable there.
11. The dress doesn't have to monotonous. You may combine two colors. For instance, if you want to have a bit of tradition, combine white with your favorite color. White or its hues go well with all colors. Or, you may have a dress, looking like a watercolor painting, with several pastel colors beautifully mixed. Moreover, a wedding dress may have a print, for example, a floral one.
12. If you prefer colorful dresses to wear to a wedding, don't forget about accessories. If you have a princess-style wedding dress, you will definitely look like a bride. But, if you prefer a sheath or mermaid silhouette, you need to complement the look with accessories in order not to look like a bridesmaid. Veils, headpieces, wraps, jewelry, shoes, bag and, even, a wedding bouquet must be chosen with much care.
10 Astonishing Ideas of Colorful Wedding Dresses
Clearly, women's dresses for weddings can be in all the possible colors. The choice depends on your skin type, color of hair and eyes and, of course, your personal taste. However, we offer you to have a look at 10 colors for a wedding gown, which we consider to be the coolest this year.
Blush Wedding Dress
Blush is the second most popular color for a wedding dress after white and its shades. It has been in trend for several years already and continues to be at the peak of popularity. It's loved by many brides because of its neutrality. It suits brides of various age, complexion, with different skin, eyes and hair color. Blush color is close to pink, but is much more interesting and universal.
Many wedding designers have blush wedding gowns in their collections and it won't be a problem to find the gown of any style and featuring any embellishments you want from simple tulle to entirely lace wedding dress.
Nude Color Wedding Dress
In fact, nude-colored dresses for a wedding are also very popular. This color is also considered to be neutral, but, in truth, nude is different for every girl, depending on her skin color. The zest of this color is that it looks almost invisible on the skin and that's why, you need to take into account your skin type, while choosing a dress of this color.
In combination with white or ivory lace, nude wedding dress creates the illusion of transparency, while there may be no open part on the dress at all. Also, nude fabric is often used for creation of illusion parts on the gowns of other colors.
Pink Wedding Dress
Pink is the best color for a princess' dress. If you want to look like a personage from Disney cartoons and have always dreamt about a fairytale wedding, this color is for you. Pink color will make you look romantic and tender. Though it's more associated with spring and summer weddings, some bolder shades will look cool in colder seasons as well.
There are many gowns in various styles and shades of pink. If you want to make a statement, opt for bold colors like hot pink or peony pink. And if you want to create a more romantic look, opt for something lighter like rose.
Mint Wedding Dress
It's not a secret that mint color is loved by many girls and it's often chosen for the wedding decor. And, of course, a wedding dress in mint color is also a great idea. This color is fresh and soothing and is ideal for girls with cool blue/pink skin tones.
Of course, there are many shades of mint from muted tones, which are very close to white, to bold hues. Also, mint looks cool in combination with white and ivory. For example, you can use white lace over the mint dress or opt for a skirt, consisting of white and mint tulle.
Blue Wedding Dress
Do you need "something blue" for your wedding? What about a blue dress? Blue wedding dresses aren't so widespread as pink and blush ones and so, you have a chance to really surprise your wedding guests. Pastel shades of blue look more romantic. But if you seek for a creative gown, you are free to have an electric or navy blue dress.
Blue wedding gowns are often chosen for winter weddings as this color looks cool on the snowy background. But we also think that it's a fantastic option for wedding dresses for the beach as it blends with the ocean or the sea and ideally fits the format of the wedding.
Red Wedding Dress
Red is a traditional color of the wedding dress in India and China. But even if you are neither Indian nor Chinese, you are free to wear a red wedding dress. It's the ideal choice if you want to make a statement. The dresses of this color are the most popular on Christmas and Valentine's Day.
However, we don't recommend wearing short red wedding dresses as they will look more like guest cocktail dresses for weddings and not like a bridal outfit at all. It's better to give preference to traditional bridal silhouettes like princess and A-line. Also, red can be combined with white or ivory for creating a bit more traditional bridal look.
Lilac Wedding Dress
If you are fond of pastel colors, you should also pay attention to the shades of lilac. This color is an unusual option for a wedding dress, but it looks very stylish and romantic. Lilac color is loved for its sophistication as it consists of gray and purple hues.
Clearly, there are light and dark shades of lilac and all of them are suitable for a wedding gown. While choosing this color, it's extremely important to choose the hue, which suits you as lilac isn't so universal as blush or pink.
Gray Wedding Dress
A few brides will consider gray as a possible color for a wedding dress. But, in truth, a gray wedding dress may look absolutely gorgeous. However, we talk about long dresses as short gray bridal outfits may look too casual.
There are many beautiful shades of gray, which can be used for creating a wedding dress. Moreover, gray can be combined with other colors. For instance, an ombre gray-white dress is a cool idea.
Multi-Colored Wedding Dress
If you can't decide what color to choose for your wedding dress, think about interesting color combinations. Thus, you may have a traditional white/ivory gown, which features some elements of other color. Or, the combination of two pastel colors as well as the mix of two hues of one color looks very beautiful.
Moreover, more than two colors can be mixed. Thus, combination of several pastel colors makes the wedding dress look like a watercolor painting. It's very creative and beautiful. Or, you may opt for an ombre wedding gown, in which the color gradation from light to darker/brighter shades makes the main accent.
Wedding Dress with Print
One more way to get a multi-colored wedding dress is to buy the one with print. It can be something abstract like stripes and splashes of color or something closer to nature like the images of flowers and butterflies.
For instance, a floral print is an amazing solution for a bridal dress. It's romantic, feminine and unique. The dress can be of a standard white or ivory color, but feature flowers in pastel colors. If you like brighter accents, the flowers can be of more contrasting colors like red, electric, purple or marsala. Or, vice versa, the colors may be very similar. For example, ivory flowers can be on the nude or blush background.
So, you see that dresses for wedding don't have to be white and you may look astonishing in a colorful wedding dress. Colored gowns are a great alternative for the brides, who appreciate creativity and uniqueness more than wedding traditions. Also, such gowns are a great opportunity to show your personality and create unforgettable bridal look.