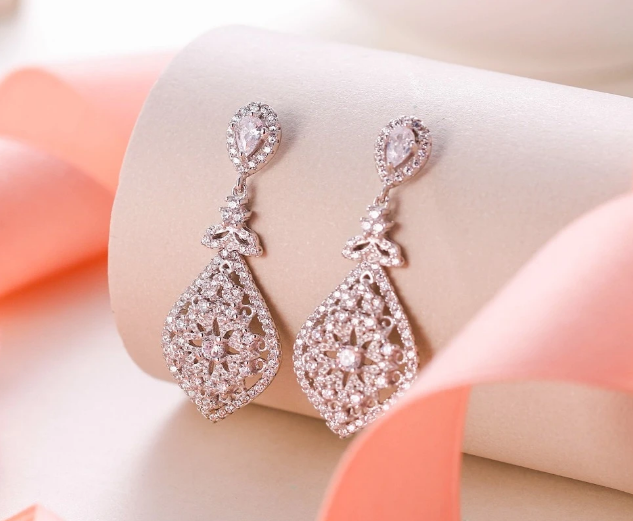 The Basic Types of Wedding Earrings
Wedding earrings are such accessories that can complement the bridal look in the wink of the eye. They frame the face and help to add the necessary shining. And today, we are going to help you to discover how diverse this type of jewelry can be.
So, let's discuss the main types of bridal earrings taking into account their shape, style and material they are made of.
By Shape
Let's start with the basic types of earrings by their shape. Here are eight of them.
Stud Earrings
Evidently, stud earrings are the smallest type and, actually, the most popular one. As a rule, it's a precious or an artificial stone or a metal ball sitting tight on the ears while the bar and back are hidden. Such earrings became popular in the beginning of the 20th century and never lost their popularity since then.
Stud earrings are universal and suit the girls and women of any age as well as suit various occasions: from daily wear to being pretty earrings for wedding or prom. The shape of the main element can be round, square, oval, triangle as well as go in more creative shapes like stars, flowers and hearts.
Cluster Earrings
Cluster earrings have much in common with stud ones. Being based on the same premise, these earrings consist of a number of stones or gems clustered together in a single enchanting composition. They are designed in various sizes, shapes and colors.
Cluster earrings may feature geometric and asymmetrical patterns as well as flowers and some other complicated shapes. Actually, they are a more complex and creative alternative to studs. So, this type suits modern brides the best, whose wedding dress is very stylish and features fashion details.
Wedding Drop Earrings
Drop earrings are also similar to stud earrings, but they hang vertically from the ear. They go in various lengths from several mm to several cm. Usually, drop earrings feature a simple chain or solid metal stem that drops below the ear with elegant designs such as golden baubles, sleek pearls or brilliant gemstone clusters.
Actually, drop earrings are ideal accessories to transform your look and show your femininity and grace. They are usually used for official occasions, including weddings, but there are also more casual variants for daily wear.
Also, there are dangle earrings for wedding, which are a more complex version of drop earrings. They also hang down vertically but while drop earrings are more stationary, bulkier dangle earrings are more movable.
Chandelier Earrings
Chandelier earrings wedding are among the biggest types. They often feature pretty complex designs with multi-layered decorative pieces and an interweaving of multiple precious stones. Chandeliers are often referred as a kind of dangle earrings but their extending shape resembles a chandelier.
Clearly, chandelier earrings look luxurious and can easily become a statement detail of your bridal look. By the way, it's not obligatory to have earrings with white stones and a bride can look fantastic wearing colored earrings like the ones with blue or purple colors.
Hoop Earrings
Hoop earrings are large, round earrings resembling hoops. The wire threads through the ear piercing it and creating a complete circle. Traditionally, these earrings are circular, but modern designers have already created such earrings in triangular and square shapes. They go in various styles or sizes but aren't longer than shoulder length.
Hoop earrings are liked for the perfect mix of sophistication and daring. Depending on their length, thickness and adornments, they can be a graceful accessory as well as a statement one. They are also a great example of wedding earrings for bride, especially if they feature crystals and other intricate details.
Threader Earrings
Threader earrings, the other names of which are Earth Reader and Ear String, are usually quite minimalist and elegant. They contain a thin chain that slips into the hole of the ear and then comes out dangles. The chain is often adorned with a crystal or a pearl.
Though threader earrings are pretty simple, they are a perfect addition to a casual or simple wedding dress. Moreover, there are already some more extravagant and unique designs of such a jewelry piece.
Cuff Earrings
Cuff earrings are definitely the most modern variant. They cover the majority of the ear from the earlobe to the top and run up the edge of the ear. This type is available in different styles, shapes and sizes.
Definitely, cuff earrings look pretty exotic and unusual. They are frequently used as fashion accessories. However, there are some designs, which allow wearing such earrings for weddings. Still, they look the best with ultra-modern and fashionable dresses as well as more daring ones like short bridal dresses or the ones with high slits.
Huggy Earrings
The title suggests that these earrings are going to hug your earlobes. Huggy earrings encircle the earlobes and sit close to the ear. Traditionally thicker but smaller than hoops, these jewelry pieces can accommodate rows of pave diamonds for extra brilliance.
Huggy earrings are usually of circular shape but you can also find the pieces in rectangular or even heart shape. They are a good choice to complement your bridal look.
By Style
Of course, there are dozens of earrings styles. But let's consider 6 of them, which are the most widespread.
Classic Earrings
Classic earrings are usually not very large and are often adorned with crystals or diamonds. Stud and drop earrings are the brightest examples of this style. Their main advantage is that they suit any type of a wedding dress and any girl no matter how she looks. Such earrings can be used with a necklace or with a bracelet.
Statement Earrings
Statement earrings attract the attention immediately. They are massive, bright and sparkling. Chandelier earrings are the best representatives of this style. As a rule, this type of jewelry suits traditional wedding dresses the most. However, the properly chosen earrings may look great with sleek modern styles. By using statement earrings, be careful with other accessories. In the majority of cases, they are absolutely self-sufficient and you don't need to complement them with a necklace or a bracelet.
Minimalist Earrings
Wedding earrings in minimalist style are elegant and stylish. They look the best with minimalist dresses and casual ones. Also, they may feature a creative design fitting a specific wedding theme. Such earrings can be made of a solid metal as well as feature crystals, diamonds or pearls.
Fashion Earrings
Fashion earrings are rather specific as they are ultra-trendy. They suit only modern types of wedding dresses and aren't always compatible with other jewelry pieces. However, by wearing them you will definitely steal the show.
Boho Wedding Earrings
Bohemian earrings are the perfect choice for bohemian wedding dresses but can also work well with casual and simple wedding dresses. There are many possible designs. For instance, it can be a set of earrings in the form of a dreamcatcher or the ones featuring feathers or beads.
Vintage Wedding Earrings
Wedding earrings in vintage style aren't for vintage wedding gowns only. They can also serve as an amazing accessory for traditional as well as minimalist and casual wedding dresses. They can be complemented by a necklace or a bracelet in the same style.
By Material
Now, it's time to discover what the main materials for wedding earrings are.
Gold Earrings
Wedding earrings gold are the most traditional and timeless variant as well as the most durable one. After the nuptials, such jewelry pieces can be used for many more years and even turn into a family relic as gold is actually the most durable variant for earrings, which doesn't tarnish.
You can opt between traditional gold, white gold and rose gold wedding earrings. Moreover, such accessories can be adorned with precious or semi-precious stones. The variety of designs is very good.
Silver Bridal Earrings
Sterling silver is a precious metal which is commonly used to make fashion jewelry including rings, necklaces, bracelets and, of course, earrings. It's cheaper than gold but is also very durable. If to take care of the jewelry, it will serve you for many years.
Wedding earrings silver are preferred by many brides as they look amazing but are more affordable than gold ones. They are available in hundreds of cool designs: from minimalist studs to luxurious chandeliers.
Diamond Wedding Earrings
Diamond earrings aren't an accessory that every bride can afford. However, they look fantastic and timeless. Diamonds are usually used with either platinum or gold and are often either studs or drop earrings.
The elegant, sparkling beauty of diamond jewelry can complete a wonderful look with your traditional as well as casual wedding dress.
Pearl Wedding Earrings
Pearl earrings will make you feel like a vintage beauty with their subtle gleam. Pearls can adorn studs as well as dangle earrings. You can buy earrings with sea pearls, freshwater pearls as well as faux ones. Moreover, pearls don't go in white color only but are available in some other hues, including black and blue.
Traditionally, pearls suit vintage and traditional wedding dresses. However, if the earrings' style is modern, they can go well with a variety of other dresses.
Non-Precious Metals and Stones
Non-precious metals like stainless steel, copper and zinc alloy, are used for wedding jewelry pretty often as well as non-precious stones like cubic zirconia. Their main advantage is the affordable price which allows any bride look astonishing no matter how much money she has.
The choice of jewelry of non-precious materials really impresses. As the materials are cheap, many jewelry designers work with them and create fantastic pieces from simple to luxurious ones. Moreover, in some cases, such accessories look like the ones of precious metals.
All in all, you see that there are many types of pretty wedding earrings and each girl can find the most suitable variant taking into account her dress and personal taste. And the good news is that the majority of earrings are rather universal and can be used for other occasions as well.